Alaskan puzzles, monitoring provide insight about North Pacific salmon runs
May 21, 2005
Saturday

The University of Washington Alaska Salmon Program, the world's longest-running effort to monitor salmon and their ecosystems, has received nearly $2.4 million from the Gordon and Betty Moore Foundation to expand its sampling scope and sophistication.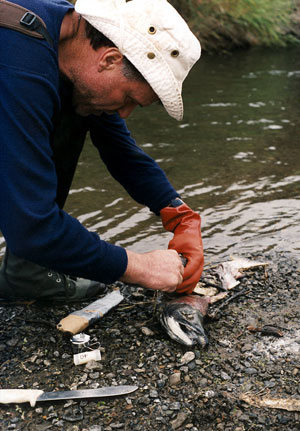 Ray Hilborn retrieves otoliths - earbones which carry information about how old a fish is and where it spent its adult life - from a sockeye salmon that has died after spawning in one of the streams surveyed under the Alaska Salmon Program, a part of the UW's School of Aquatic and Fishery Sciences.
The Alaska-based program has applications for Pacific salmon all along the West Coast, providing insights into the fluctuating fortunes of salmon runs and their management.
The grant boosts research into climate and other factors affecting salmon in the Northeast Pacific and determining such things as how much habitat ­ parts of streams or entire watersheds ­ is needed to sustain salmon.
Puzzles include Alaska's Kvichak River, the world's most important salmon-producing river. It has had runs of more than 50 million sockeye salmon in the past, representing more value than all the salmon in the lower 48 combined back when those stocks were pristine. Kvichak stocks, however, have declined for a decade, failing even to replace themselves in spite of an almost complete halt to harvesting, says Ray Hilborn, UW professor of aquatic and fishery sciences.
"The Kvichak sounds a lot like Columbia River or Puget Sound stocks," he says.
Still, 20 miles away from the Kvichak are similar lakes and rivers with record production.
"Our research is directed toward understanding why these runs see such different trends, by looking broadly at different systems subject to the same climate factors and constructing ecosystem conditions going back hundreds of years," Hilborn says. Hilborn is co-leader of the Alaska Salmon Program with Thomas P. Quinn and Daniel Schindler, faculty with the UW's School of Aquatic and Fishery Sciences.
Another high research priority is exploring harvest strategies that provide better economic benefit. Alaska fishermen have been hurt by competition from farmed fish so that much of the fleet is no longer economically viable, Hilborn says. Last year only 1,200 of the 2,000 licensed boats even bothered to fish and the value of a license to fish there has dropped from a high of $250,000 to perhaps $20,000.
"Rather than maximizing the number of fish harvested, if you maximized the economic value of the catch, including fixed and variable costs, you might consider harvesting very differently," Hilborn says. "For example, you would not take very large harvests in years of big returns because price goes down as does quality."
The Gordon and Betty Moore Foundation grant is for three years and is part of its Wild Pacific Salmon Ecosystem Initiative. The initiative focuses on salmon conservation in pristine areas, in hope of saving healthy systems rather than rehabilitating highly transformed systems, Hilborn says. Other than fishing, the waterways studied by the Alaska Salmon Program are not subject to human activities such as dam building, logging or development.
The money will help expand the scope of monitoring, fund new techniques for sampling and help make the UW database available through the Gordon and Betty Moore Foundation's Salmon Rivers Observatory Network.
The UW has collected information since 1946, more than a decade before Alaska even became a state. At that time, salmon biology was poorly understood. There were no long-term studies integrating salmon and their ecosystems. So UW researchers developed many basic techniques for counting salmon and understanding their life cycle.
Initially launched to help the processing industry and the federal government understand the size of salmon runs, early UW program leaders also collected basic information about weather, lake levels, emerging insects, zooplankton levels and other fish species and juvenile salmon growth, which distinguishes the data set from other salmon monitoring records.
On the Web:
Source of News:
University of Washington
Web Site

E-mail your news & photos to editor@sitnews.us


Publish A Letter on SitNews Read Letters/Opinions
Submit A Letter to the Editor
SitNews
Stories In The News
Ketchikan, Alaska