Mount Wrangell rumbles after Sumatra earthquake
May 20, 2005
Friday

South-central Alaska's Mount Wrangell rumbled for 11 minutes following the Sumatra earthquake in December 2004. A swarm of 14 earthquakes were triggered at Mount Wrangell about one hour after the initial rupture in Indonesia, more than 6,800 miles away.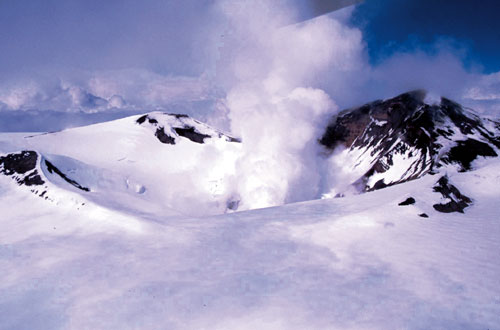 A summit crater on Mt. Wrangell.
The view is to the west looking toward Gennallen. The north crater, a few hundred yards in diameter, is one of three craters on Mt. Wrangell. Steam is normal from this crater and can often be seen from Glennallen. A seismic station on the left shoulder of the crater (just out of site) was one of four stations in the area which recorded the small earthquakes following the 26 December 2004 Sumatra earthquake. These stations are mainatained by the Alaska Volcano Observatory - a joint program of the United States Geological Survey (USGS), the Geophysical Institute of the University of Alaska Fairbanks (UAFGI), and the State of Alaska Division of Geological and Geophysical Surveys (ADGGS).
Photo credit: Guy Tytgat, Alaska Volcano Observatory at the University of Alaska Fairbanks

Mount Wrangell is an active volcano, that displays frequent steaming and seismicity, but the activity recorded in December gained the attention of scientists at the Alaska Volcano Observatory (AVO) at the Geophysical Institute. They're now interested in learning how large global events impact local volcanoes.
Michael West, John J. Sánchez, and Stephen R. McNutt, all of the Alaska Volcano Observatory, authored a paper describing their findings at Mount Wrangell that appear today in the scientific journal Science. Their paper is one of many describing the affects of the magnitude 9.0 Sumatra earthquake in a special section of the journal.
Related news:
Earth still rattled in aftermath of quake and tsunami By LEE BOWMAN Scripps Howard News Service - May 19, 2005
Source of News & Photographs:
Geophysical Institute of the University of Alaska Fairbanks (UAFGI
Web Site



Publish A Letter on SitNews Read Letters/Opinions
Submit A Letter to the Editor

SitNews
Stories In The News
Ketchikan, Alaska