New Digital TV Service Expected to Launch Sept. 1st

High Performance Digital TV Platform;
Triple-play of Voice, Data and Video Services
May 18, 2005
Wednesday

Ketchikan, Alaska - KPU Telecommunications, the city-owned telephone company in Ketchikan, plans to launch its new Digital TV service on September 1, 2005. Van Abbott, Division Manager of KPU Telecommunications, told SitNews Wednesday they expect the new equipment to arrive tomorrow. Currently KPU Telecommunications offers telephone service and high-speed Internet to its business and residential customers.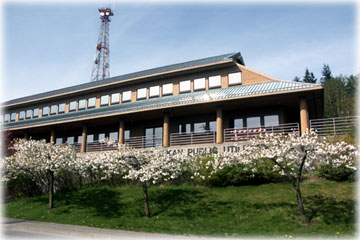 Ketchikan Public Utilities
Photo by Dick Kauffman
Following a public process that ended approximately two months ago, TUT's' Astria(R) video headend was selected by KPU Telecommunications for delivering digital TV over the City of Ketchikan's DSL network to offer to its 7000 subscribers.
"The extensive testing and evaluation process that we are required to go through as a public utility allowed us to fully comprehend the strengths of the Astria digital headend," said Van Abbott, Division Manager of KPU Telecommunications. "Tut Systems brings to the table a unique combination of video and networking skills and understands the challenges that telecommunications providers face when deploying digital TV. The Astria platform provides us with a proven, carrier-class, totally redundant system that is more than just a premium video encoder - it supports all of the video processing functionality required to deliver a compelling and high-quality digital entertainment service over next generation networks."
KPU Telecommunications' new Digital TV service will consist of more than 150 channels, including national broadcast and premium TV, local channels, commercial-free digital music, pay-per-view (PPV) and video-on-demand (VOD).
KPU Telecommunications plans to compete directly with General Communication Inc. (GCI), the state's largest cable operator that currently serves more than 3,700 digital TV subscribers in the city of Ketchikan.
"As a trusted provider throughout its municipality and the Ketchikan Gateway Borough, KPU Telecommunications required a solution with a track record of success and the flexibility to support advanced services such as HDTV and video on demand," said Craig Bender, VP of Marketing & Corporate Development for Tut Systems. "We look forward to helping KPU deliver a compelling suite of digital entertainment service across its community."
Tut Systems Inc.(Nasdaq: TUTS), is known as an industry pioneer in enabling the delivery of next-generation data and video services over broadband networks. More than 100 service providers across North America, Europe and Asia deliver digital TV from Tut Systems digital headends. The Astria family of video processing platforms, which serves as the core of the company's digital headend solution, accommodates both analog and digital broadcast video from multiple satellite and local sources in a variety of formats. The Astria CP provides real-time processing and conditioning of all the audio and video content for distribution over any ATM, IP, or RF broadband network.
As one of three divisions of Ketchikan Public Utilities, KPU Telecommunications is owned by the residents of Ketchikan, Alaska and employs 42 full-time workers. Ketchikan Public Utilities is part of the City of Ketchikan and as such, its operations are overseen by the publicly elected City Council.
NOTE: Astria is a registered trademark of Tut Systems, Inc.
On the web:
KPU Telecommunications
http://www.kputel.com .


Tut Systems, Inc.
http://www.tutsys.com

Source of News:
Tut Systems, Inc.
KPU Telecommunications

Publish A Letter on SitNews
Read Letters/Opinions
Submit A Letter to the Editor
Sitnews
Stories In The News
Ketchikan, Alaska