Copper River salmon just landed;
for the first time in history, branded.

May 18, 2005
Wednesday

In good timing with recent publicity surrounding the fraudulent sale of farmed salmon on the market in New York, Copper River is leading the pack as the first region in Alaska to conduct a tagging promotion of its kind said Rochelle van den Broek who is the Marketing Coordinator of Cordova District Fishermen United.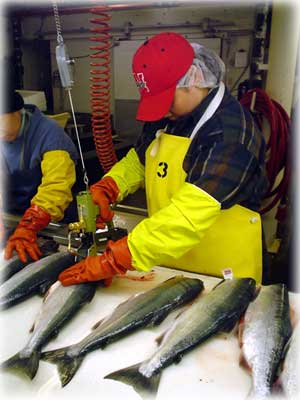 Tagging fresh salmon
Tagged fresh salmon
Just launched Tuesday following the first Copper River commercial fishery opener of the season (May 16), all genuine salmon harvested on Alaska's Copper River are branded with a tag of authenticity to provide consumers with proof of origin, and to eliminate mislabeled salmon said Broek. The first shipment of freshly branded Copper River salmon have already left Cordova on the jet, on the fast track to eagerly awaiting distributors and consumers in the lower 48 and overseas, she said.

Broek said each year several million pounds of Copper River salmon are sold to consumers worldwide, though only approximately 1 million salmon are harvested on the Copper River. In an effort to eliminate imposter salmon in the market place, and in collaboration with processors and direct marketers of Copper River salmon, all Chinook, Sockeye and Coho salmon are to be branded with the new tag of authenticity. Tags will be applied during processing and will lie flat during packaging clearly displaying our new Copper River salmon logo.
Each processor involved in this project has been issued with a separate code printed on the back side of the tag said Broek. She said consumers can visit CDFU's website: www.crsalmon.org and leave valuable feedback on their Copper River salmon experience. This will enable quality monitoring and will help ensure that all salmon branded are in fact genuine, based on quality and satisfaction.
"Bearing a tag to prove origin, consumers can finally rest assured that what they are getting is authentic Copper River salmon. It's wild, Alaskan, and best of all harvested from the pristine waters of the Copper River," said Broek.
The Copper River tagging project is coordinated by Cordova District Fishermen United - celebrating 70 years of service to commercial fishermen in Cordova, Alaska.
Source of News & Photographs:
Cordova District Fishermen United
www.crsalmon.org
E-mail your news & photos to editor@sitnews.us

Publish A Letter on SitNews Read Letters/Opinions
Submit A Letter to the Editor
Sitnews
Stories In The News
Ketchikan, Alaska