News In Photos
'Countdown Star Wars'
Front Page Photo by Carl Thompson
May 17, 2005
Tuesday
Ketchikan, Alaska - As Yoda might say, "Begun countdown to the start, we have." With "Star Wars: Episode III - Revenge of the Sith" set to open at midnight Wednesday, Star War fans are beginning to set camp in front of the Coliseum Twin Theatre in downtown Ketchikan.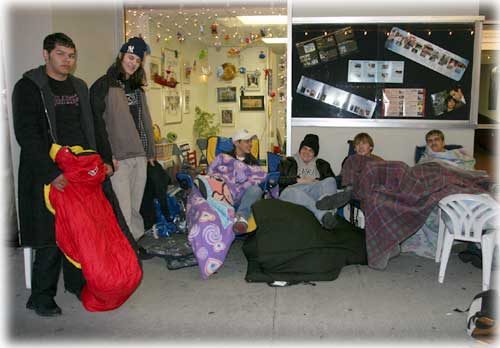 From left to right: Ketchikan Star Wars fans Jason Keizer; Greg Moody; Tony Romero; Ty
Rettke; Marcus Rodecker; and Kenny Droke were photographed Tuesday night.

Now that's dedication! May the weather be with you!
Carl Thompson ©2005
www.carlsphotos.com

Publish A Letter on SitNews
Read Letters/Opinions
Submit A Letter to the Editor
Sitnews
Stories In The News
Ketchikan, Alaska