Totem to Totem Half Marathon Race Results
May 16, 2005
Monday

Ketchikan, Alaska - The Totem to Totem half marathon (13.1 miles) race sponsored by the Ketchikan Running Club (KLC) took place this weekend in Ketchikan. Participants included both runners and walkers in the race which began at Totem Bight State Park north of Ketchikan and ended at Bugge's Beach south of Ketchikan.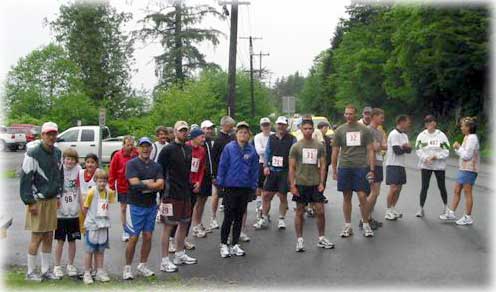 Some of the Totem to Totem half marathon racers pose before the start of the race...
Photo courtesy Ketchikan Running Club

Race Director Gretchen Klein reported KLC tried to get the times for everyone, but it is difficult with the many different starts. She said, "We think everyone was a winner today."
On behalf of the Ketchikan Running Club, Klein thanked Ocean View Restaurant who brought pizza out in the windy and rainy conditions and Nancy Coggins, C.C. Johnson and family for setting up the food table at the end.
The Totem to Totem registration fees will go to support the American Diabetes Association, according to Klein.
The race results released:
| | |
| --- | --- |
| Runner Males | Runners Females |
| 1. 1:39.24 Dan Ortiz | 1. 1:57.38 Karen Lane |
| 2. 1:45.31 Juan Gallegos | 2. 1:58. 44 Dunatra Baker (12 yoa) |
| 3. 1:52.34 Matt Caskey | 3. 2:00.00 Macala Fifield (12 yoa) |
| 4. 1:53.25 Ken Teune | 4. 2:06.00 Kelly Reppert |
| 5. 1:53.58 Scott Browne | 5. 2:33.07 Jessi Pilcher |
| 6. 1:57.39 Chris Nelson | 6. 2:35.28 Brandi Morris & Maranda Yargen |
| 7. 2:00. 36 Brian Geske | 7. 2:41.09 Janet Hanna & Emily Willet |
| 8. 2:05.33 Mike Elerding & Rocky Elerding | 8. 2:42.05 Erin Eddy-Haines |
| 9. 2:06.44 Jay Johnson | 9. 3:06.14 Misty Amburgy |
| 10. 2:11. 21 Wayne Phillips | 10. 3:10.40 Leah Raine |
| 11. 2:20.20 Aramis Calderon | |
| 12. 2:23.50 Doug Hayward | |
| 13. 2:24.26 Robert Clark | |
| 14. 2:57.55 Mark Raine | |
Official Race Walkers 2 Member Team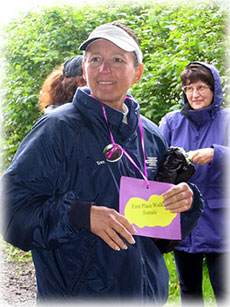 1st Place Walker
Photo by Nancy Coggins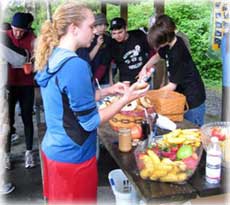 Food table at the end of the race...
Photo by Nancy Coggins

1. 2:29.03 Cindy Craig 1. 1:43.59 Greg Singstad & Tom Fowler
2. 3:00.00 Elizabeth Richardson
3. 3:03.01 April Thomas
4. 3:23. 23 Michelle Troll and Chip Porter

Walkers un-official time
There are only 2 official walkers the rest may have
started earlier or ran walked at points of the race.

1. 2:39.00 Kathy Graham
2. 2:39.00 Randy Quick
3. 2:42.10 Barbara Betthkee
4. 2:42.12 Jordan Foy
5. 2:48.58 Pat Willet
6. 3:30.25 Jr. Skultka
7. 3:50.00 Claudia Seaver
8. 3:50.10 Ryan Krantas
9. 3:45.00 Esme Brandyn
10. 3:47.00 Gary Boatwright
11. 4:03.00 Michael Milne
12. 4:03.0 Katrina Rifenburg
13. 4:03.00 Bryce Timm
14. 7:30.00 Courtney Enright & Robyn Buchanan


4 Member Team

1. Clover Pass School Group
2:10.13 Alysia Fifield, Brett Fifield, Ana Maria Baker, and Liy Ripley

3 Member Team

1. 1:43.55 Angie Taggart, Eileen Truitt, and Gary Boatwright
2. 1:47. 53 Erick Pihl, Molly Ortiz, and Sarah Eichner,

8 Member Team

1. 1:57.41 Yvonne Starks, Sheila Blankenship, Melissa Johnson, Lacey Effenberger.
Ken Johnson, Nick Martin, Alexus Edwards, and Geri Lewis

Note: There was no time recorded for Christie Willet, Kerri Deal or Marlie Wild

On the Web:
Ketchikan Running Club
Web Site

E-mail your news & photos to editor@sitnews.us


Publish A Letter on SitNews Read Letters/Opinions
Submit A Letter to the Editor
Sitnews
Stories In The News
Ketchikan, Alaska