Alaskan boulder to honor Seward at Union College, NY

Union Class of 2000 erects memorial to William H. Seward, Class of 1820
May 14, 2005
Saturday

A boulder from near Seward Highway in Alaska recently traveled to Seward Place in Schenectady, N.Y., where it now rests in honor of William Henry Seward.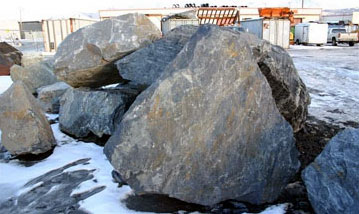 Boulder at the Anchorage Sand & Gravel Co. Inc.
Photo courtesy Anchorage Sand & Gravel Co. Inc.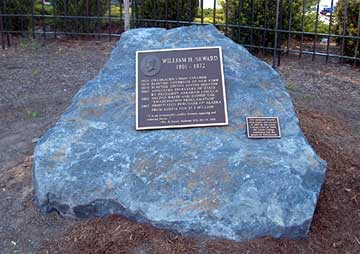 Alaskan boulder at Schenectady, N.Y
Photo by Duncan Crary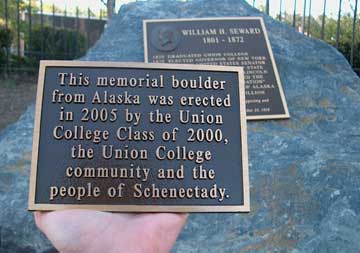 Photo by Duncan Crary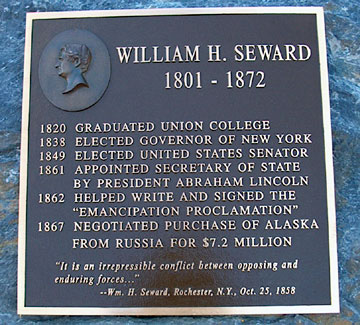 Photo by Duncan Crary
An 1820 graduate of Union College, William H. Seward is perhaps best known for engineering the $7.2 million United States purchase of Alaska from Russia in 1867. As a parting gift to the college and the city of Schenectady, the Class of 2000 set out to honor Union's most prominent alumnus. Five years in the making, the project will be completed in time for the 204th anniversary of Seward's birth this May 16.
The Class of 2000 of Union College will dedicate the memorial to Seward during its five-year reunion on May 21, at 2 p.m. The memorial consists of an Alaskan boulder with two bronze plaques noting some of Seward's accomplishments. During his career, Seward served as New York State governor, U.S. senator and secretary of state under Abraham Lincoln.
The 3,700 pound triangular boulder is five feet tall, four feet wide and 18 inches thick. It was originally located near Seward Highway in Alaska. This March the Class of 2000 purchased the boulder from Anchorage Sand & Gravel Co. Inc. in Anchorage, Alaska. Soon after, it was shipped across the country to Union College. In May, it was placed in a park-like corner of the college at the intersection of Seward Place and Nott Street in Schenectady.
Duncan Crary, 26, is a member of the Class of 2000 who helped convince his classmates to honor Seward with their parting senior class gift. "After I learned of William Seward's connection to Union College, I was surprised that the college had no significant tribute to him," he said. "Many students and residents of Schenectady have no idea who Seward Place is named after. And those who know of Seward usually only remember 'Seward's Folly' -- a mockery of his Alaska purchase - which was not actually a folly."
While the Class of 2000 was working to erect a permanent tribute to Seward, they also named the campus shuttle "Seward's Trolley." The student shuttle is a refurbished trolley.
Cal Crary, 28, is a member of the Class of 2000 who worked closely with the college's annual giving office to create the memorial. "It is important to remember historical figures like Seward so we can learn from them. It gives our own lives' perspective," he said.
Palmer Fargnoli, assistant director of annual giving at Union College and a member of the Class of 1993, worked with Cal Crary to acquire the boulder and create the commemorative plaques. "This monument will provide a permanent educational landmark for Union students and alumni, Schenectady residents and everyone affiliated with the college," Fargnoli said.
Read this archived story by June Allen about William H. Seward:
SEWARD'S DAY MARCH 30: Celebrating the Alaska Purchase By June Allen


Publish A Letter on SitNews
Read Letters/Opinions
Submit A Letter to the Editor
SitNews
Stories In The News
Ketchikan, Alaska