Cope Thunder Wraps In Alaska
May 13, 2005
Friday

Cope Thunder participants used Eielson Air Force Base's 62,000 square miles of training airspace and met their objective: to fly, fight and win during Pacific Air Force's premier combat airpower exercise that ended May 6th. Eielson Air Force Base is located in Fairbanks, Alaska.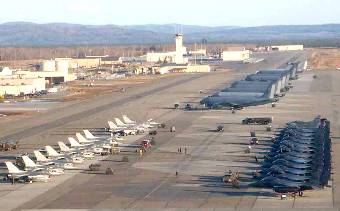 EIELSON AIR FORCE BASE, Alaska
Photo courtesy U.S. Air Force
The two-week exercise, Cope Thunder, was the largest air combat training exercise, involving about 1,000 active-duty and Air National Guard Airmen and 50 aircraft.
"All Cope Thunder units had one collective mission objective I wanted them to accomplish: to take advantage of the great Pacific Alaska Range Complex to get better at what we do for a living -- fly, fight and win," said Col. Michael Boera, 35th Air Expeditionary Wing commander. "I didn't care whether they were here as an aviator, maintainer or a member of the expeditionary combat support team, the mission was to learn while here and get better at what we do."
Missions flown during the exercise prepared pilots and support crews for combat in a realistic environment, officials said. The exercise enhanced tactical training and focused on integrating and conducting air and space superiority, precision engagement and close-air support.
Participating forces were divided into two opposing teams, while they flew air-to-air and air-to-ground combat and combat support missions using a variety of aircraft against a realistic set of threats.
Exercise participants should leave more prepared for real-world deployments, said Capt. Ron Strobach, project officer for the exercise.
"Looking at the aircrew's faces as they came in the door from missions is always a high for me," he said. "To see our young aviators wide-eyed from their experience in the air means we're accomplishing our mission, and we're doing our job to train tomorrow's warriors. There were so many first-time mission and package commanders getting their first taste of ( large-force employment ) within a major exercise."
Participants were: the 35th Fighter Wing and 13th FS F-16 Fighting Falcons from Misawa AB, Japan; 355th FS A-10 Thunderbolt IIs, 63rd FS F-16s from Luke AFB, Ariz.; 90th FS F-15E Strike Eagles from Elmendorf AFB, Alaska; 963rd Airborne Air Control Squadron E-3 Sentrys from Tinker AFB, Okla.; 210th Rescue Squadron HH-60 Pave Hawks from Kulis Air National Guard Base, Alaska; 168th Air Refueling Squadron KC-135 Stratotankers from Eielson; 121st ARS KC-135s from the Ohio ANG and the 25th Air Support Operations Squadron joint terminal attack controllers from Schofield Barracks, Hawaii.

Publish A Letter on SitNews Read Letters/Opinions
Submit A Letter to the Editor

Sitnews
Stories In The News
Ketchikan, Alaska