Paxton Presents Regional Overview of Transportation Projects
by Dick Kauffman
May 05, 2005
Thursday

Ketchikan, Alaska - "Ketchikan has a can do spirit," said Gary Paxton speaking before the Ketchikan Greater Chamber of Commerce Wednesday.
Paxton, Southeast Region Director of the Alaska Department of Transportation, presented a regional overview of the Juneau Access Project, the Across Baranof Project, the Bradfield Project, and a project of particular interest to citizens of Ketchikan, the Gravina Access Project.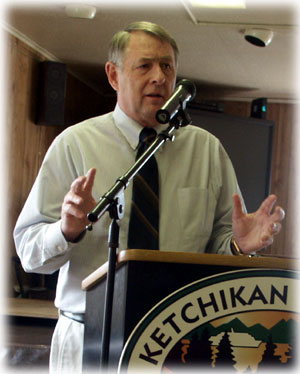 Gary Paxton, Southeast Region Director /Alaska Department of Transportation
Photo by Dick Kauffman
Paxton said there are three major economic centers in southeast: Ketchikan in the south, Juneau in the north, and Sitka. As these economic centers expand their economic base in linking with out ports, the whole region is successful, he said. Paxton said he thought Ketchikan and Juneau are in for some significant economic expansion.
There are three very important road corridors for the Southeast region in opening out port links, "The first two, Juneau Access and Across Baranof, in my view are critical to solving some of the intrinsic problems we have with the Alaska Marine Highway System," said Paxton. When you get those two roads built then you're going be able to configure a plate of vehicles that can move goods and products quickly and cheaply into the federal highway system, said Paxton.
The Juneau Access process is going along although rigorous and slow, said Paxton. The preferred alternative for the Juneau Access Project is a road up the east side of Lynn Canal connecting Juneau to Skagway, and includes a short shuttle ferry crossing to Haines.
The public process has been finished for the Juneau Access Project and they have a quality document that will probably be out this October said Paxton. "There is no reason why we can't start building Juneau Access next year, notwithstanding litigation." Paxton said, "That should be a goal for all of us because it just provides a link to the federal highway system for our goods and services." Paxton stressed this road is important for cost, convenience and capacity. He said the cost to the user is one-tenth of what it would cost to use the Alaska Marine Highway System. Paxton said we will always need the Alaska Marine Highway System (AMHS), it is important. However, he noted with the road, the AMHS ships will not have to be sent up the Lynn Canal, a savings to the State.
In terms of convenience, Paxton said a road can be traveled when you want - day or night - not withstanding some infrequent avalanche activity.
"Even more important than cost is capacity," said Paxton. "We have not increased in capacity in the Lynn Canal in twenty years." With a road, there will be more hauling capacity.
Addressing the Baranof Access Project Paxton said, "That's my home town. People are going to fuss with me when I go back home but I'm going to do my best to listen to both sides and say we've got to get across Baranof so we can shorten the route to either Kake, Petersburg, and Juneau and not have to worry about the tides."
A highway from Sitka across Baranof Island would improve the level of ferry service to Sitka and reduce cost to the traveler and the state, according to the Alaska Department of Transportation.
Paxton said they are a month late in getting the recon survey completed. He expects that will be done by the end of July which will be followed up by an Environmental Impact Statement (EIS) - and the best alternatives to get across Baranof will be identified.
Paxton said, "I just want to stress that I'm a big supporter of the Alaska Marine Highway System, but if you really want to simplify in terms of cost, convenience, and schedule, those two roads are critical."
Paxton said the recon survey is completed for Bradfield, the central region access, and with the reauthorization of the federal highway bill there will be money to pursue the Environmental Impact Statement (EIS). Paxton said there are a lot of issues here but we are putting ourselves in the position to take advantage of this corridor should the opportunity avail itself.
In southern Southeast, the construction of new highways would establish a through connection from Ketchikan to the Cassiar Highway in Canada. This new route would also include connections to Wrangell and Petersburg. Initially these highway routes would require several shuttle ferry links, which ultimately could be replaced with bridges according to information on the Department of Transportation's website. With these links in place, travel between these communities and trips into Canada, would no longer require a lengthy ferry trip.
And lastly, Paxton presented an update on the Gravina Access Project. Although the Gravina Access Project is "speculative in terms of the reauthorization of the highway bill, it looks good," said Paxton. "We should be thankful for Don Young and the rest of our delegation for what they have done for our state and region."
Paxton said by now everyone knows the preferred alternative is across Pennock on to Gravina and then to the airport. He said this is the alternative (F1) they have worked with Don Young's office to put money in place.
Working the past six months on a design to build Gravina Access, Paxton said, "This is no small task." An advertisement Request for Qualifications is expected in July 2005. The advertisement for Request for Proposal is expected in October 2005, contingent on federal and State funding. Paxton said, "If those time lines are met, then we would award a contract in March of 2006 with completion of the project expected in the fall of 2010.
"About six months ago I had the difficult task of going to my boss and saying well, the amount we said that we are going to do the Gravina Access for has grown." Paxton said it has grown for a lot of reasons, the cost of fuel, cement, steel. The current project estimate is $315 million. He said they took it up the line and then to Don Young's office and were given "proceed ahead".
Paxton said of the $315 million, they expect the actual construction cost to be about $280 million.
In terms of the actual funding, Paxton said because of Don Young's proposal in the House reauthorization bill, funding for the project from the federal side is critical. There are two high priority earmarks in the bill said Paxton. One for $125 million and one for $48 million with another $50 million in bridge funds for a total of $223 million. Added to the money at hand, and with the state match there would be money to build the Gravina Access.
Paxton said, "You've got to wait for the federal process to work out." He said, "All indications are, the funding is going to be in place."
"Hopefully, this time next year that bridge bid is out on the street and we're seeing work being done," said Paxton.
Paxton stressed, "We will not do an RFP until we have the federal funding package in line."
He said they have received several calls from world-class bridge building companies about the Gravina Project. Paxton thinks they will have 2, 3 or 4 applications for the project once the project is open for bid.
Paxton said it may take two years to get all the right-of-way issues squared away, however, one could expect some road work and other kinds of things being done shortly after the contract is let.
E-mail your news & photos to editor@sitnews.us


Publish A Letter on SitNews Read Letters/Opinions
Submit A Letter to the Editor

Sitnews
Stories In The News
Ketchikan, Alaska