Lifestyles
"Adventure With Sprouts"
By Nancy Coggins
May 02, 2005
Monday

Ketchikan, Alaska - "What is a Sprout-Tasting Party?" exclaimed son-in-law Rob Skinner in disbelief with a mocking sneer.
He got his reply, "Don't know, just made it up," hostess Nancy Coggins replied. "But, sprouts are 'just about the best food you can eat.' " (Robert O. Young, Ph.D., The pH Miracle)
On the Sprout-Tasting Party day, Rob and 15 other guests ages 2 1/2 to 80 ogled the festive spread of food around the buffet table including its eight bowls of organic sprouts. These little living crops of sprout plants had been grown from seeds, beans and grains over the previous six days on the kitchen counter with only light and water!
Sprouts and dressings:
Eight kinds of sprouts (foreground), four salad dressings (middle, right) and numerous flavorings and accompaniments offer a healthy feast.
Photo by Priscilla Barnett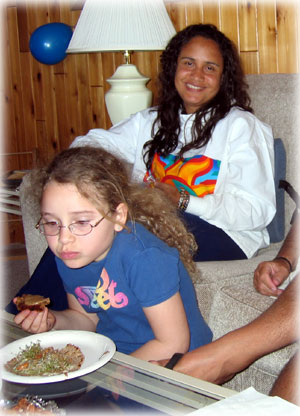 McKenzie thinks about sprouts and
Kimberly Skinner enjoys the moment...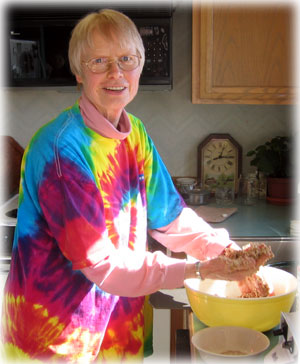 Nancy with Essene dough slab: Preparing to
bake wheat-sprouted Essene bread...
Photo by Priscilla Barnett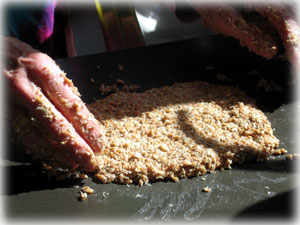 Nancy pushes dough into a slab on cookie sheet...
Photo by Priscilla Barnett
To the tune of "Home On The Range," the guests enjoyed singing the Essene Bread song from Steve Meyerowitz' Sproutman's Kitchen Garden Cookbook. They sang, "Oh, give me a bread whose nutrition is not dead, Where the enzymes and the vitamins abound"
Sprouts have had various incarnations in popularity over time. Why do they keep cropping up? Microbiologist/nutritionist Robert O. Young, Ph.D., D.Sc., believes these living foods reclaim health.
Rob continued grousing. "The easy part is picking up a so-called Fat Flush Sprouted Tortilla, but how do these sprouts taste on it?"
Each of the guests circled skeptically around the table, tentatively choosing a filling of sprouts (from www.sproutpeople.com), and then went on to sample the four dressings that had been created especially for them. Clinical Holistic Practitioner Ann Louise Gittleman had granted permission for her Lime-Scented Flax Dressing (Fat Flush Plan) to appear on one of the informative handouts.
"Hey, maybe these dressings will cover up the grass taste of these sprouts," Rob piped up.
Most of the foods were alkalizing. There were complementary seasonings of crushed fresh ginger and garlic, flax and sunflower oils, and all kinds of un-sprouted organic nuts and seeds. By the time each partygoer had tried the homemade Essene and store-bought Manna sprouted breads and dabbled in the nut and seed butters, topped off with diced lemons, sun-dried tomatoes, cucumbers and jicama, their hesitancy had disappeared. They started "oo"ing and "ahh"ing as they lapped up that nutrition-dense food, especially teenager Joel who went back for seconds, thirds and even fourths.
"Which sprouts are spicy tasting?" asked Joel Galli. Next, "Which are nutty?" Then awhile later, "Which are sour and which are sweet?"
What, no Gatorade?
The punchbowl sported a bright green smoothie above the cooler full of bottled spring water. Just about everybody favored the smoothie over the water, but only three were able to fill in a few items on the quiz regarding what eight ingredients it contained. The tiebreaker was finally broken after they were given a hint at a fourth ingredient, and the keenest food taster won the loaf of sprouted wheat Manna bread (from Nature's Path Foods in B.C.).

Then each guest had the opportunity to bake wheat-sprouted Essene bread from scratch.
"Come on, Bonnie Siltman," Bertha Hansen called to her friend, "let's join the bread-making."
Essene bread dates back to the Dead Sea Scrolls era when people stone ground their grains to make loaves that were then baked in the sun. By contrast, guests watched the pre-sprouted hard red winter wheat being ground in a modern food processor. After the kernels were chopped into little pieces, the dough was dumped into a large bowl to be kneaded into a mush. When the mush held a ball shape, it was rolled in sesame seeds to keep it from sticking to the cookie sheet. Then, right on the cookie sheet, the ball was pushed down into a 1/4" to 3/8" rectangular slab and baked one hour in the 160-degree pre-heated oven. Success! Guests had bread fresher than what they had just eaten from the table!
A Goody Bag?
After a hands-on demonstration, showing easy and fun sprouting procedures in stackable 5" x 7" trays, all were eager to see what they could pull out of one of the two grab bags. The "would-be" sprouters had a chance to grab either a seed-filled sprouting tray or bucket, while the "active" sprouters, either a bag of sprouting seeds or a package of Evert Fresh bags (www.healthy-eating.com).
Choosing a pseudonym, rivaling Ann Louise Gittleman's "First Lady of Nutrition," led to a momentary silencing of the excited chatter and noise level that had been escalating during the party. Nancy's: "Seed Sproutin' Gramma." Joel's: "The Earl of Clover." Kimberly's: "Dietary Diva." And Priscilla Barnett's: "Queen Bean."
This Sprout-Tasting Party turned into a group of people who had tapped into the power of sprouts, eager to go home and grow their own. Enthusiastic comments: "These sprouts are so good," from a meticulous entertainer, "a smashing success," from the meat-eating diehard, "more parties like this," yearned the most senior guest, and "a life-changing event," from a person who constantly makes a positive difference in the lives of others.
By the end of the party, each participant had experienced the joy of eating sprouts. The son-in-law's "sneer" had turned to appreciation and respect for the little organic living plants, bursting with lots of concentrated nutrition and free from pesticides and other chemicals often used to grow crops. The nutritionally satisfied adults and children left the party, carrying their grab-bag goodies, fresh Essene bread and what remained of the sprouts.
The ultimate test of the party's success: No child had uttered the word "Yuk" about any of the food choices! The party is the "talk of the town."
The Sprout-Tasting Party had turned out to be an "Adventure With Sprouts." For more information about sprout growing, call or e-mail Nancy Coggins at: 907-254-1938 or ncoggins(AT)kpunet.net.
Nancy Coggins is a freelance writer living in Ketchikan, Alaska.
Contact Nancy at ncoggins(AT)kpunet.net

Publish A Letter on SitNews Read Letters/Opinions
Submit A Letter to the Editor

Sitnews
Stories In The News
Ketchikan, Alaska