Borough Seeks Reaction To Draft Coastal Plan
May 01, 2005
Sunday

Ketchikan, Alaska - The Ketchikan Gateway Borough Planning Department has published a draft of its revised Coastal Management Plan and is inviting the public to weigh in with comments during the coming weeks. The current plan, last updated in 1984, has undergone substantial revisions to reflect Ketchikan's current and future development needs, as well consistency with recent changes in State coastal planning laws.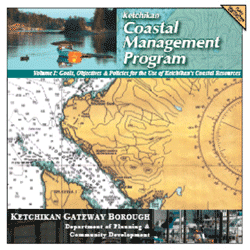 "This project has been a Borough priority for years," said David Taylor, the department's Principal Planner. "Its chief benefit for Ketchikan is that it lays out the case for our unique development needs to the many State and Federal agencies that review development projects here, giving the local community a seat at the decision-making table," he explained. The plan, if adopted by the Assembly and approved by the State and Federal governments, will require that agencies like the Army Corps of Engineers make permitting decisions consistent with Ketchikan's local plan. "What has happened in the past is that if we can't adequately explain the public need or local justification for certain types of projects, they'll do it for us. State and Federal regulations, especially those related to shorelines, wetlands, and coastal development, just don't take into account the reality of the development limitations we have in Ketchikan," Taylor said. "For example, the most common state and federal permit here is for shoreline fill. The revised plan, while consistent with State and Federal laws, makes the case that in Ketchikan, fill is often the only way to allow the reasonable use of a particular property."
"Folks that have been following the development of this plan will note that there is a great deal more emphasis in this draft on tying plan policies to specific locations," said Gabrielle LaRoche, a consulting Shoreline Planner who assisted with the plan development. "This is largely due to new requirements in the State law, and it's a bonus for developers seeking more predictability in project permitting," she added.
Another emphasis of the plan is maintaining access to coastal resources. According to Taylor, some of the principal issues addressed in the plan include improvement of public access to outdoor recreation areas via new roads, pedestrian and bike trails, and public docks, among others. "Ketchikan's coastal recreation opportunities are one of our most important assets, both for local residents and the visitor industry, and they need to be managed appropriately."
Recent changes to state law that occurred during Ketchikan's planning process mandate that a draft plan amendment be submitted to the State by July 1, 2005. While there is legislation pending to extend this deadline, it is important for the citizens of Ketchikan to let their voice be heard during this public comment period.
Copies of the draft plan may be reviewed at the Planning Department at 344 Front Street, online, or at the public library.
Written comments should be submitted by May 9, 2005 to the Planning Department, or by fax (907-247-8439) or e-mail planning@borough.ketchikan.ak.us. The Planning Commission is scheduled to further consider the draft plan at its next meeting on Tuesday, May 24th at 6:00 p.m. in the City Council chambers.
With Commission approval, the plan would then be forwarded to the Borough Assembly for their review and then to State and Federal agencies for additional review. Final review and local approval of the plan will likely happen sometime in 2006.
On the Web:
Coastal Management Plan (draft)

Download Sections of Volumn 1

Dowload Sections of Volumn 2

Download Volumn 1 & 2
Source of News:
Department of Planning and Community Development
Ketchikan Gateway Borough
Web Site


E-mail your news & photos to editor@sitnews.us


Publish A Letter on SitNews Read Letters/Opinions
Submit A Letter to the Editor

Sitnews
Stories In The News
Ketchikan, Alaska