Landis Announces Candidacy For Alaska State Senate
May 27, 2004
Thursday

Ketchikan, Alaska - Ketchikan resident David Landis announced Tuesday he will be a Democratic candidate for Alaska State Senate in District "A". Landis, currently Borough Vice Mayor and a member of the Assembly, said "I am running because I'm concerned about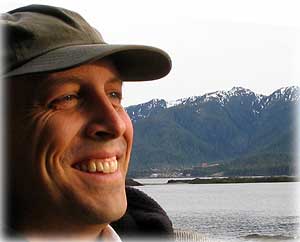 David Landis

Senate decisions that may undermine the basic needs of Alaskans this next regular session or even in the recently-announced special session".

Landis said he wants to make sure there is protection for the Permanent Fund Dividend. "I grew up with the PFD, and know how important it was when I was trying to make ends meet. I can categorically say that I will never vote for anything that will prevent my fellow Alaskans from getting their share of our State's resource wealth"

Landis sees other opportunities for leadership including closing the so-called 'fiscal gap', increasing educational funding, caring for our pioneer Alaskans and ensuring the future of the Alaska Marine Highway System. "There are certainly ways to deal with revenue shortfalls that don't include increasing the tax burden on individuals or raiding our Permanent Fund earnings. I favor making the pie bigger rather than cutting the pieces smaller, recognizing that each piece represents some citizen's vital state service." Landis said he is looking forward to meeting and listening to the constituents of District A. "I intend to travel to all the communities in this district and hear what people have to say. I will be a strong advocate for the citizens of this district. Southern Southeast Alaska is faced with unique challenges, and unique solutions need to be found and acted upon."

A resident of Ketchikan since 1971, David Landis, 39, is married to Danelle, his high-school sweetheart, and has two children in public school. He is the Deputy CEO of Ketchikan Indian Community and previously worked in the construction contracting business, and as a fisherman and marine captain. Landis has been involved in Ketchikan's Rotary Club, Chamber of Commerce, Planning Commission, and the University Advisory Council and attends Clover Pass Community Church. David is a graduate of Ketchikan High School and Oregon State University. The extended Landis family live in the Ketchikan community. His parents are retired schoolteachers and his brother Rod is a professor at the Ketchikan Campus of the UAS-SE.

E-mail your news & photos to editor@sitnews.org


Post a Comment View Comments
Submit an Opinion - Letter

Sitnews
Stories In The News
Ketchikan, Alaska