Governor Murkowski Honors USS Portland Veterans

Proclaims "USS Portland Appreciation Week"
May 26, 2004
Wednesday

Juneau, Alaska - Governor Frank Murkowski has issued an executive proclamation declaring this week, May 24-31, as "USS Portland Appreciation Week," in honor of the highly-decorated World War II heavy cruiser of that name and her crew.
The USS Portland was with the USS Juneau at the naval battle of Guadalcanal in November 1942, when both ships were torpedoed, and the Juneau was sunk at great loss of life.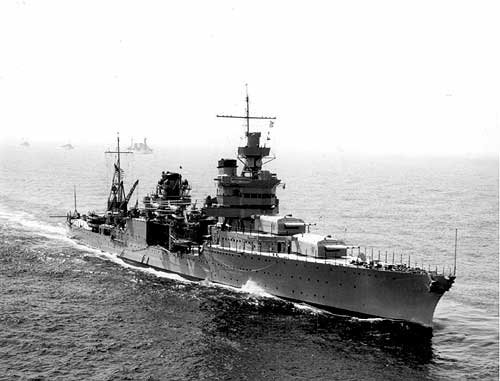 USS Portland, Starboard bow, underway, May 31 1934.
Note range clock on forward mast.
Photograph Courtesy - United States Navy, National Archives

"The USS Portland was the only ship in the history of the Navy to engage enemy battleships in two separate actions, besting them each time," Murkowski said. "The sailors who served aboard earned her 16 battle stars in engagements all across the South Pacific. It is my pleasure to welcome some of those veterans to Alaska, and I encourage Alaskans to honor and appreciate the contributions they made, and the ship on which they served."
The USS Portland participated in naval battles at the Coral Sea, Midway, Guadalcanal, Eastern Solomons, Santa Cruz Islands, Tarawa and Makin, Kwajalein and Eniwetok, Asiatic Pacific Raids, Hollandia, Palu, Leyte, Surigao Strait, Luzon, Minoro and Lingayen Gulf Landings, Corregidor, and Okinawa. It also participated in the Aleutian campaign, helping to liberate the only American territory occupied by the enemy in World War II.
A group of USS Portland veterans will visit Southeast Alaska this week on a cruise aboard the Amsterdam, according to former Juneau Mayor Bill Overstreet, who is also a former crewmember from the USS Portland.
Source of Historical Photograph:
United States Navy, National Archives
Source of News Release:
Office of the Governor
Web Site

E-mail your news & photos to editor@sitnews.org


Post a Comment View Comments
Submit an Opinion - Letter

Sitnews
Stories In The News
Ketchikan, Alaska