Labor of Love, The Leland Gardens
May 22, 2004
Saturday

Ketchikan, Alaska - Ketchikan can claim many beautiful gardens created by the loving hands of skilled gardeners - among them are gardeners Ken and Jully Leland. The gloriously fragrant and colorful spring gardens of the Lelands rank among Ketchikan's most unforgettable gardens.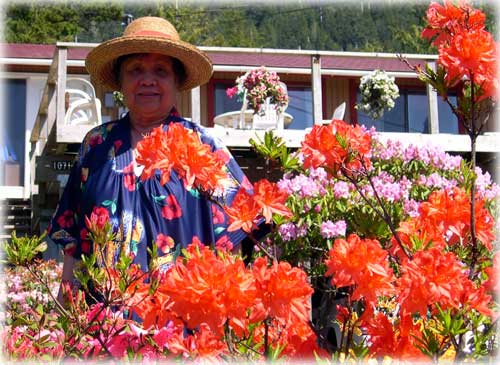 Jully Leland poses with some of their rhododendrons and azaleas...
Photo by Kevin Hicks ©2004

The Lelands' beautiful Ketchikan gardens began when the Lelands moved from Washington, D.C. to Ketchikan in 1976. When the Lelands first bought their Forest Park property they immediately began landscaping and planting their gardens. Over the years as their gardens became packed full of color, their love for flowers naturally extended across the street to a neighbor's home - with the permission of their neighbor of course.
Jully Leland starts her rainforest gardening work during the cool of the day - which she says is 4am. She said they have approximately 250 Rhododendrons, 100 Azaleas and numerous assortments of tulips and other flowers in their gardens. Jully Leland said her favorite tulips are the Black Beauty Tulips called the Queen of the Night.
The Lelands have tried growing roses; however, they report without much success. Next year they are planning to plant English Roses to see how they will do in Ketchikan's weather.
The Lelands' gardens are dazzling and attract tour vans and taxies bringing tourists by to view the beautiful Labor of Love gardens.
Ken Leland retired from the United States Coast Guard Ketchikan in 1981 as the industrial shop manager. The Lelands' have made Ketchikan their retirement home.
The Lelands' Gardens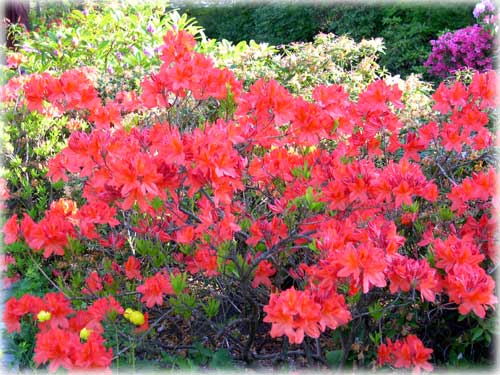 Rhododendrons and azaleas...
Photo by Kevin Hicks ©2004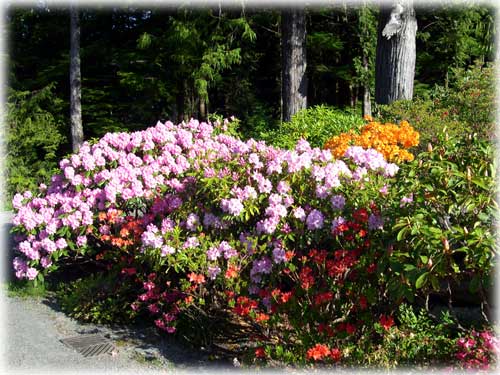 Rhododendrons and azaleas...
Photo by Kevin Hicks ©2004
Jully Leland's favorite tulips are the Black Beauty
Tulips called the Queen of the Night.
Photo by Kevin Hicks ©2004
E-mail your news & photos to editor@sitnews.org


Post a Comment View Comments
Submit an Opinion - Letter

Sitnews
Stories In The News
Ketchikan, Alaska