LeConte Arrives Safely in Ketchikan
May 21, 2004
Friday

Ketchikan, AK - The Alaska Marine Highway System ferry LeConte arrived in Ketchikan at 7:45 am Thursday morning and the vessel is moored safely at Alaska Ship & Dry-dock South Berth awaiting dry-dock availability. The contracted salvor, Crowley Marine, will remain on hand to assist in monitoring the LeConte's condition until the vessel is placed on dry-dock.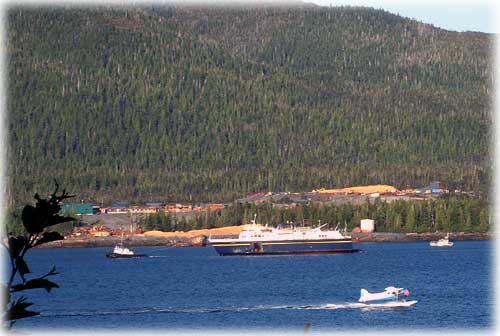 The LeConte was photographed as it was being towed into Ketchikan Thursday am...
Photo by Chris Wilhelm 2004

Earlier this week, the LeConte struck rocks, grounded and took on water about 30 miles north of Sitka in Peril Strait near Cozian Reef Monday. After more than 8 days of intensive investigation, preliminary findings regarding an investigation into the grounding were released by the USCG Tuesday. The preliminary findings:
Master Harvey Williamson and Chief Mate William Petrich were both on the bridge when the grounding occurred.
The LeConte was on a regular scheduled trip between Angoon and Sitka. Conditions during the voyage were good, with clear weather and calm seas.
Chief Mate William Petrich was conning the vessel when the decision was made to alter course for a route inside Otstoia Island. This decision was not pre-planned for the voyage.
After allowing a tug and barge to pass, the Chief Mate turned the ship without first checking the ship's position to determine the proper course.
The Master and Chief Mate did not see a fixed navigation aide marking the proper route past Cozian Reef. The LeConte passed on the wrong side of the aide and grounded on the reef at cruising speed. There were no mechanical problems on the LeConte that contributed to the grounding.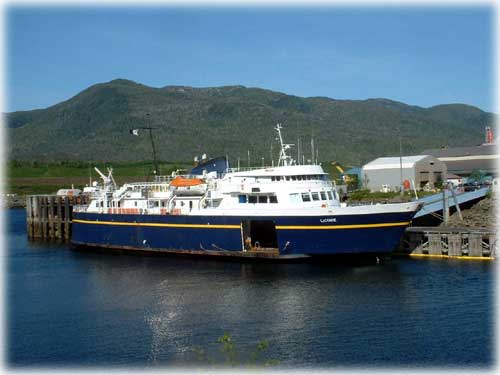 The LeConte moored safely at Alaska Ship & Dry-dock South Berth
awaiting dry-dock availability...
Photo by Chris Wilhelm ©2004

Once on dry-dock in Ketchikan, the Coast Guard and Alaska Marine Highway will be able to fully assess the damage caused by the May 10th grounding. The Coast Guard will oversee all repairs prior to permitting the LeConte to be placed back into service.
Source of News:
United States Coast Guard
Web Site

E-mail your news & photos to editor@sitnews.org


Post a Comment View Comments
Submit an Opinion - Letter

Sitnews
Stories In The News
Ketchikan, Alaska