Rangers Educate Visitors In Wilderness Classroom
May 14, 2004
Friday

Ketchikan, AK - The Forest Service's Wilderness Kayak Ranger Interpretive Program at the Ketchikan-Misty Fiords Ranger District educates visitors to Southeast Alaska in an uncommon classroom.
"The classroom for teaching wilderness values is the wilderness itself," said Karen Brand, Wilderness and Recreation Planner who runs the program.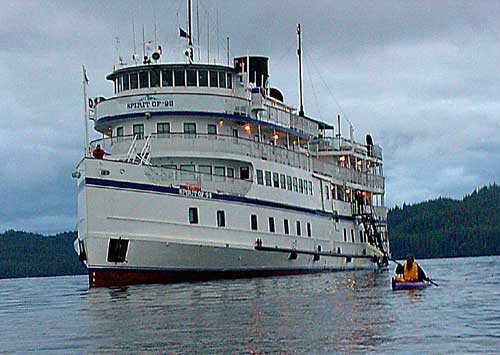 Kayak ranger paddles up to cruise ship Spirit of '98...
Photo Courtesy US Forest Service

The unique program, which recently earned the Forest Service's national Wilderness Education Leadership Award, is an innovative way for kayak rangers to spread their wilderness message to small eco-tourism cruise line passengers traversing Misty Fiords National Monument.
The Forest Service initiated the program in 1991.
The wilderness school bell rings for travelers when kayak rangers board these smaller cruise ships, that carry anywhere from 60 to 130 passengers. The rangers help educate passengers about the issues, threats and values of wilderness in the United States. On average, rangers board 90 ships during the summer season sharing their wilderness knowledge with nearly 9,000 people from around the world.
"We board the vessels while camped out near Rudyerd Bay, an eleven mile fiord that allows people to view many geological features," said Brand. "Embarking and disembarking provides an attraction in itself."
This special approach to wilderness education allows passengers to be in a remote wilderness setting without actually setting foot on the land.
"We are able to capitalize on the unique opportunity to educate so many people in the setting that normally prohibits a group this size," said Brand.
According to Brand, this is the first time many of the passengers have been in the wilderness.
"Many of the people on these ships are from urban areas and have limited knowledge of the wilderness," she said.
The rangers educate the visitors about the history of wilderness, the Wilderness Act, the Misty Fiords National Monument, the differences between managing agencies, the concept of multiple use, wildlife, geology, fisheries, ecology, botany and much more.
"We talk about what it means to be a wilderness steward and try to inspire a love and appreciation for wild places," said Brand.
The program has struck a positive chord with travelers, evidenced by the many compliments the rangers receive.
One customer wrote that the program is a very effective way to introduce tourists to the Alaskan wilderness and to enhance appreciation of efforts to preserve wilderness areas for the future. We learned a lot and deeply appreciate the commitment of the Forest Service to wilderness protection and interpretation.
Another passenger's written comment reads like a diary: 4 a.m., Friday morning, June 21, I saw Misty Barge from the Spirit of Endeavor ship. The ship stopped and two men kayaked from the barge to our ship. What a great surprise. I took pictures as they came aboard at 4:35 a.m. It was a beautiful sunny day.
That's right, 4:35 a.m. Kayak rangers typically greet cruise ship travelers before dawn.
"The alarm wakes you up at 3:30 a.m.," said Lead Wilderness Kayak Ranger Jen Kevil, "Many mornings it is still dark at this time. I turn on my headlamp in the tent and search around for the radio to hail the approaching ship. After settling on a meeting time, I find my uniform and put it on. My partner and I move our kayaks from their resting place for the evening down to the waters edge. We then paddle to the middle of the Behm Canal to meet the ship. Luckily, the paddle is just enough exercise to wake you up before boarding the ship."
Although educating the public is one of the primary purposes of wilderness kayak rangers, they also use their distinct method of travel to carry out their normal day-to-day duties.
"Just as other rangers or Forest Service employees patrol campgrounds and make contacts we also patrol areas, check on cabins and trails," said Brand. "We just get to those places by a unique mode of transportation."
Misty Fiords National Monument has 14 recreation cabins, eight mooring buoys, about 20 miles of trail and four three-sided Adirondack shelters, but Brand admits that aside from the cruise ship passengers they don't have many contacts with other people.
"This area is so remote," said Brand. "It is a real low-impact area when it comes to people."
The kayak rangers accomplish their daily tasks in a grand setting, sharing their workspace with sea lions, harbor seals, whales and Dall's porpoises in one of the world's most beautiful and wild places.
"I have the best job in the world," said Kevil. "Kayaking is a part of my job description and there is nothing better than that. Being able to witness the amazing quirks of nature while you are in a kayak is mind-blowing. From Orcas breaching, to dolphins swimming around you, it is never a dull moment."
Brand said it's not uncommon to find yourself surrounded by a pod of Orcas.
Six-ton killer whales close enough to touch is just another day at the office for the kayak rangers a really big office.
The Misty Fiords National Monument stretches out across more than 2.2 million acres at the southern end of Southeast Alaska. The western border is about 22 air miles from Ketchikan. Misty Fiords has many long, deep fiords with sea cliffs rising for thousands of feet.
When the rangers step out of their kayaks to make their way on foot they are surrounded by forested areas dominated by Sitka spruce, western hemlock and cedar, along with red alder and Pacific silver fir. The area is teeming with wildlife, such as mountain goats, brown and black bears, marten, wolves, wolverines and river otters.
Misty Fiords is just a sliver of the wilderness that can be found within the boundaries of the country's largest national forest. There are 5.8 million acres of designated wilderness on the Tongass National Forest and more than 90 percent of the forest, an area twice the size of Maryland, remains undeveloped, unroaded and wild.
"I feel very lucky to have this job," said Kevil. "It is my dream job in all aspects. I get to work outside and teach people about the wilderness in one of the most beautiful places on earth. I am awed everyday."
Some say "where has all the wilderness gone?"
It's still here.
Just ask a kayak ranger.
Source of Story & Photograph:
US Forest Service - Tongass National Forest
Web Site

E-mail your news & photos to editor@sitnews.org


Post a Comment View Comments
Submit an Opinion - Letter

Sitnews
Stories In The News
Ketchikan, Alaska