Salvage Operators Evaluate LeConte's Stability,
Transit Plan Under Review
May 13, 2004
Thursday

Alaska - Salvage operators boarded the LeConte Thursday morning to evaluate the ferry's stability. The vessel developed a 4.5-degree starboard list Wednesday night during the fuel transfer, which was stopped with about 7,000 gallons remaining. The vessel settled onto an even keel this morning with the outgoing tide and is considered to be sufficiently stable for operations to resume.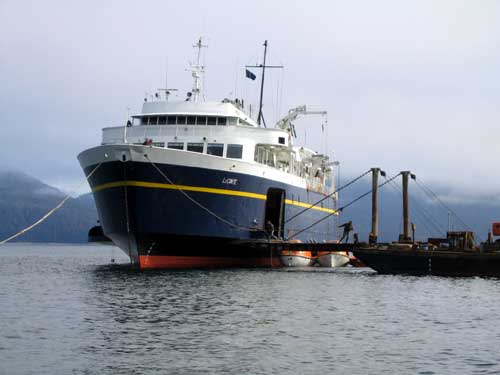 The Alaskan Marine Highway System ferry LeConte is shown grounded on Cozian Reef in the Peril Strait, with an established walkway to ensure safe passage for the crews involved in the salvage operation. A Unified Command comprised of the U.S. Coast Guard, the Alaska Marine Highway System and the Alaska Department of Environmental Conservation are working to salvage the vessel. (Photo by Unified Command)
---
The Unified Command reports that fuel and oil removal has recommenced. An oil containment boom surrounds the vessel and immediate area around the grounding site as an added precautionary measure.
Now that underwater assessments have provided a better understanding of the damage to the LeConte's hull, a preliminary salvage plan has been submitted to Unified Command and is under review. In the unlikely event of a spill, Unified Command has received approval for an oil spill response migratory bird hazing permit from the Alaska Department of Fish and Game as part of its wildlife protection plan. Hazing is an approved rousing method used to temporarily displace birds from oiled habitats. Environmentally sensitive areas such as seal and sea lion haulouts, shorebird habitats, anadromous streams and shorelines have been identified and charted. Additional waste management systems are being implemented to address solid waste issues as salvage operations continue.
The LeConte salvage team looked at vehicle off-load and transfer plans as they relate to vessel stability Thursday. The Alaska Marine Highway is personally contacting all passengers to assure them that their vehicles and belongings will be delivered to them as soon as possible.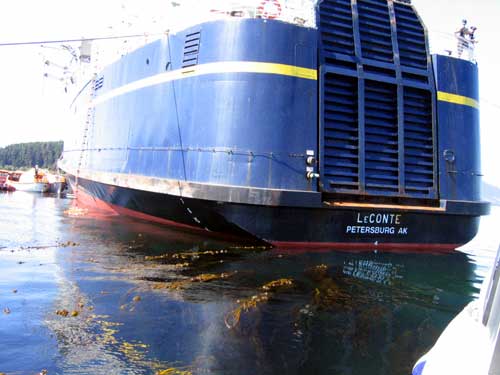 The Alaskan Marine Highway System ferry LeConte is shown grounded on Cozian Reef in the Peril Strait. (Photo by Unified Command)
Source of News & Photos:
Unified Command
E-mail your news & photos to editor@sitnews.org


Post a Comment View Comments
Submit an Opinion - Letter

Sitnews
Stories In The News
Ketchikan, Alaska