Southeast Adventures
Through Muskeg Meadows & Dense Forests
Leask Lakes Hike: A Challenge and An Adventure
Story & Photos by Chris Wilhelm
May 03, 2004
Monday

Ketchikan, AK - Ten hikers hit the trail for the Leask Lakes adventure hike Saturday morning. The weather was calm and warm, a perfect day for the challenge of the three hour hike to the lake. Mica and Nanna, two trail dogs, kept the hikers company as the group left from Lake Harriet Hunt located north of Ketchikan, Alaska.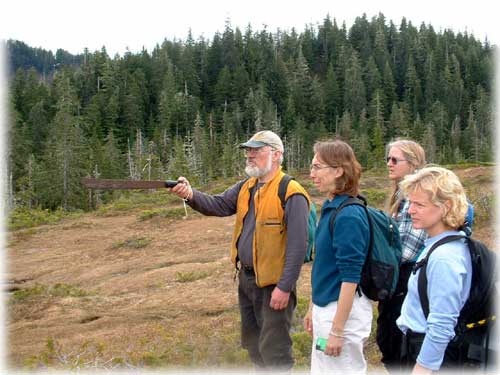 Unofficial trail guide Mike Sallee gestures essential
brushing skills with his two foot machete...
Mike Sallee broke trail as the unofficial trail guide. Sallee had hiked the trail to the lake two days before and demonstrated essential brushing skills with his two foot machete. About half an hour later, the core hikers reached the pass above Harriet Hunt, elevation about 1,000 feet. A superb view of the Leask Lakes drainage area and hike ahead inspired everyone.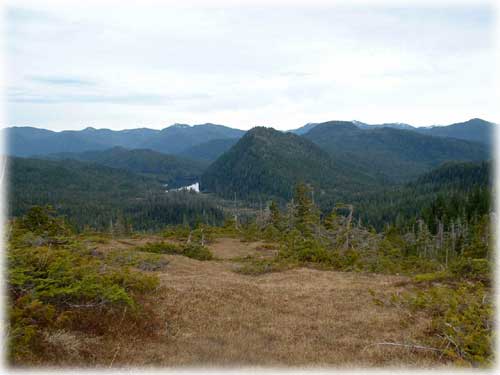 Wolf Lake is visible in the distance.
Leask Lakes lie off to the right of the Wolf Lake and are not visible in the photo.

At the pass, the snow is completely melted and the spring growth is rampant. So were a lot of insects, but a gentle breeze through the pass made it quite tolerable.
The sun reflects on a muskeg pond with lily pads..

The next hour or so involved a downhill trek following a well-marked trail to the valley below.
The Leask Lakes trail crosses the Tongass, as well as university and other state land. The terrain varies from muskeg meadows to densely forested areas. A few areas were quite dense, with salmonberry blossoms competing with devil's club plants for space. Flowing streams were encountered about every 30 minutes or so.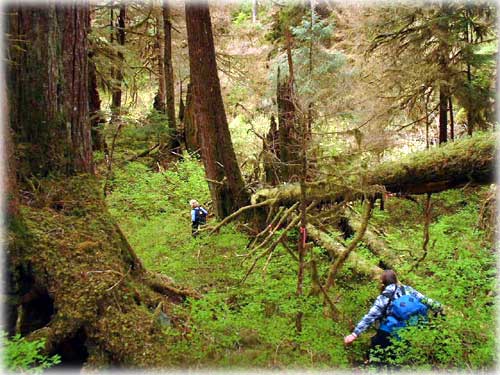 Hikers cross Understory...

About halfway the group encountered evidence of beaver dams, now gone. A large area had been inundated in the recent past, and many enormous, felled logs were so soft that hikers' feet slowly collapsed into them. The creek is once again well-established, and later a beaver dam was discovered.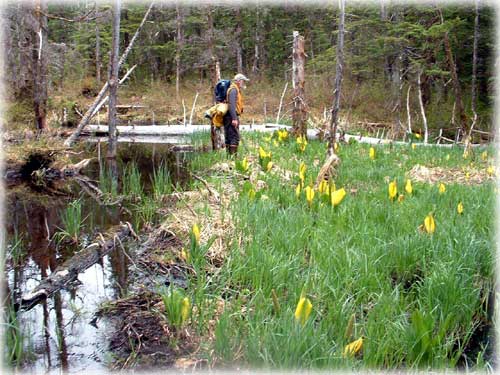 Mike Sallee is photographed standing on a beaver dam...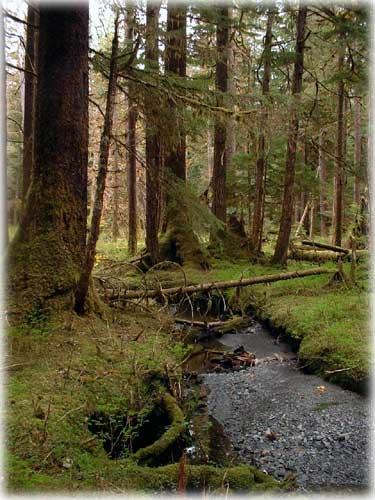 Creek...

After a little over three hours, the hikers reached Leask Lakes. There is a very nice place to picnic or camp near the lake. Allow at least three hours to reach the nearest shore of the lake.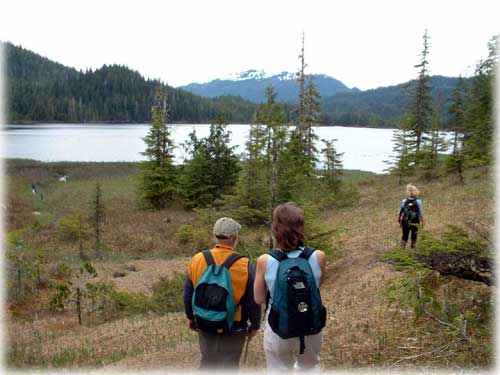 Hikers who made it to the lake were Hillary Koch, Linda Millard, MJ
Turek, Chris Wilhelm, Nanna the dog, and of course Mike Sallee. The other hikers
turned back at different times.
A light lunch was called for. Spending a couple of hours was easy, as the group traced the movements of a loon pair and listened to their cries. It was easy to drink in the natural, completely pristine beauty of Leask Lake. Though a good portion of the return hike was uphill, the return trip was only slightly longer than the hike there. An occasional muskeg patch tested boot materials. Hikers returned to Harriet Hunt by 5 pm.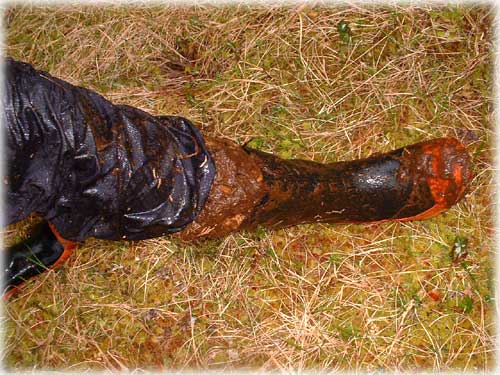 Hiker Mary Jo Turek's muddy boot...

Chris Wilhelm ©2004
E-mail your news & photos to editor@sitnews.org


Post a Comment View Comments
Submit an Opinion - Letter

Sitnews
Stories In The News
Ketchikan, Alaska