Willow Project Construction Begins, U.S. District Court Judge Denies Environmentalists' Initial Efforts to Halt Project
Posted & Edited By MARY KAUFFMAN

April 06, 2023
Thursday

(SitNews) - A federal judge on Monday ruled in favor of ConocoPhillips by denying a motion for preliminary injunction brought by environmental groups as part of a March 15, 2023 lawsuit challenging the Willow project in Alaska's Western Arctic. The ruling allows construction activities planned for the remaining three weeks of the construction season, including constructing roads and a gravel mine as a first step toward developing a the oil-extraction operation.
The U.S. District Court Judge denied initial attempts by environmental groups to halt the Willow Project concluding that the balance of the equities and the public interest tip sharply against preliminary injunctive relief for the plaintiffs. Construction activities, including gravel work, were expected to begin on Willow Tuesday.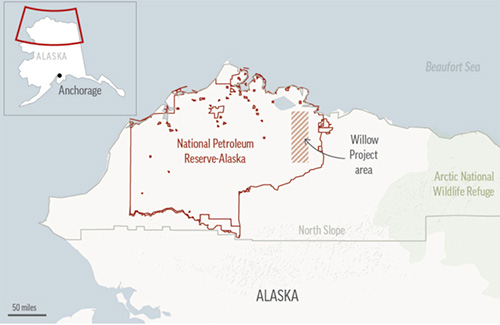 Map of Alaska Willow Oil Project
U.S. Senators Dan Sullivan and Lisa Murkowski (both R-Alaska), and Representative Mary Sattler Peltola (D-Alaska), on Monday welcomed the federal judge's decision denying a preliminary injunction requested by Lower 48 environmental groups against Alaska's Willow Project in the National Petroleum Reserve of Alaska (NPR-A). The Willow Project was reapproved by the Biden administration on March 13, 2023 after years of litigation and environmental review, and following a united statewide push from Alaskans. On March 24, the Alaska congressional delegation submitted an amicus brief in the case that was joined by both bodies of the Alaska Legislature. The judge cited the delegation's amicus, as well as the Alaska Legislature's unanimous resolution in support of Willow, in Monday's ruling against the injunction.
"The ruling on the Willow Project [Monday] is a critical win for Alaska's prosperity and future," said Sen. Sullivan. "It was heartening to see how much weight the court gave to both the congressional amicus brief, which I was honored to lead and which the Alaska Legislature joined, and the Alaska Legislature's unanimous resolution in support of Willow, which I handed to President Biden recently in the Oval Office. The court said that this demonstration of unanimous support from Alaska's elected officials 'tips strongly against' efforts by Lower 48 radical NGOs to halt the Willow Project. Today's ruling will likely face further frivolous legal challenges by these same Lower 48 radical groups who want to impoverish our state and our citizens. But we are prepared to defend the court's most recent decision, including before the Ninth Circuit, and the future prosperity of Alaska for as long as it takes. When Alaskans are united, there is nothing we can't accomplish. I want to thank the thousands of Alaskans from all backgrounds and corners of the state, as well as members of the Alaska Legislature, who spoke up with one voice in support of this project. This made a consequential difference. In particular, this is a win for Alaskans who live on the North Slope, whose ancestors have inhabited the lands closest to this project for thousands of years, and who bravely spoke out in support of the Willow Project."
"This is good news as ConocoPhillips is moving forward, putting Alaskans to work on Willow," said Sen. Murkowski, "While it is unfortunate that a responsible development project is being forced to fight through litigation every step of the way, I appreciate the court's quick ruling to deny a preliminary injunction and let the project continue."
"I am grateful that the court has recognized the fact that Willow is a well-planned and beneficial project for Alaska and the nation, and that this most recent lawsuit should not be allowed to overrule the wishes of Alaskans and the President while it is being litigated," said Rep. Peltola.
Peitola said, "With this decision, the court acknowledges the years that the Willow Project has already spent under extensive litigation and environmental review, the approval of multiple levels of government, and the strong support for the project from the majority of affected Alaska Native groups. It's finally time for Alaskans to get to work, and I look forward to seeing construction begin as we await the final resolution of this case."
"This Court order validates Alaska's high standards for the environment when it comes to oil production. It is also responsive to the unifying bilateral support demonstrated in our Alaska Legislature and from our Congressional Delegation, said Alaska Governor Mike Dunleavy. "Alaskans understand that Willow will reinvigorate the Alaska economy with jobs, billions in State and local taxes and grants to North Slope communities."
If Willow proceeds and produces according to projections, up to $4 billion is estimated to go into a development impact mitigation fund for grants for Alaska residents living near the development.
Up to 2,500 construction jobs and some 300 permanent jobs are projected to be created from Willow.
"It is heartening to hear that the Willow project can move forward, while we have to continue fighting this lawsuit. This will mean progress and jobs for Alaskans," said Alaska Attorney General Treg Taylor.
The Willow Project is an oil development, estimated to produce more than 600 million barrels over 30 years and is described as the largest project in size and scale to be developed on the North Slope in more than 20 years.
The state of Alaska filed to intervene and filed oppositions to the preliminary injunction motions on Willow by the plaintiffs: Sovereign Inupiat for a Living Arctic, Alaska Wilderness League, Environment America, Northern Alaska Environmental Center, Sierra Club, and The Wilderness Society.
U.S. District Court Judge Sharon Gleason denied the six plaintiffs' motion for temporary restraining order and two preliminary injunction motions.
In the order the Court wrote: "In this regard, the Court considers the fact that the Alaska House and Senate unanimously adopted a resolution on February 20, 2023, stating that "a further delay in approval or construction of the Willow project . . . is not in the public interest. … Alaska's Congressional delegation has also expressed its unanimous support of the Willow Project and specifically their support for the construction activities proposed for this winter.169 In the amicus brief filed by the Alaska Congressional Delegation and Alaska State Legislature, they assert that "[i]t is uncontested that an injunction would kill many Alaskan jobs and deprive Alaskans of direct and indirect economic benefits associated with imminent development activities. "Moreover, allowing the Winter 2023 Construction Activities to proceed would be consistent with the Congressional directive to the Secretary of Interior to conduct "an expeditious program of competitive leasing of oil and gas in the NPR-A."
The State of Alaska joined the case with defendants ConocoPhillips, the North Slope Borough, Arctic Regional Slope Corporation (ASRC), and Kuukpik Corporation. The State serves the broader interests of the residents of the state as a sovereign landowner in the development of natural resources.
Sovereign Inupiat for a Living Arctic challenged the U.S. Bureau of Land Management's ("BLM") record of decision ("ROD") on the Willow Master Development Plan ("MDP") and related federal actions. The Willow MDP authorizes ConocoPhillips Alaska, Inc. to construct and operate infrastructure necessary to allow production and transportation to market of oil and gas from ConocoPhillips' leases in the Bear Tooth Unit, commonly known as the Willow Project, in the National Petroleum Reserve in Alaska ("NPR-A").
The environmental groups issued the following statements in response to Monday's ruling:
"It's heartbreaking that ConocoPhillips has been allowed to break ground on Willow before the court has fully assessed whether the project is lawful," said Kristen Monsell, a senior attorney at the Center for Biological Diversity. "But this case isn't over, and we'll keep fighting to protect struggling Arctic wildlife and our climate from this disastrous project. We're hopeful we'll get the Willow project's approval thrown out once again."
"Although the White House and Department of Interior were not persuaded to stop Willow despite the advocacy of more than 5 million individuals, we are now using the power of the law to restore some balance. While this particular round of the legal challenge did not produce the outcome we had hoped for, our court battle continues," said Erik Grafe, deputy managing attorney in Earthjustice's Alaska Regional Office. "We will do everything within our power to protect the climate, wildlife, and people from this dangerous carbon bomb. Climate scientists have warned that we have less than seven years to get it right on climate change, and we cannot afford to lock in three decades of oil drilling that will only serve to open the door to more fossil-fuel extraction."
"Today's decision is a disappointment, but we remain undeterred," said Nicole Whittington-Evans, Defenders of Wildlife's Alaska Program director. "We remain committed to protecting the western Arctic and look forward to the court's full consideration of the Willow project, including its impacts to polar bears threatened with extinction and massive carbon emissions that will worsen the climate crisis for decades to come."
Andy Moderow, Senior Director of Policy, Alaska Wilderness League wrote in a prepared statement, "We went to court over approval of the Willow oil and gas extraction project in Alaska's Arctic because the Biden administration didn't thoroughly consider its project impacts," said Andy Moderow, senior director of policy for Alaska Wilderness League. "Yesterday's ruling is a setback, but we will continue doing everything we can to halt this massive project, because the impacts of development are clear. Make no mistake: we will never stop fighting to address climate change
"We are disappointed that the court decided to allow development of this dangerous carbon bomb while our litigation plays out," said Hallie Templeton, legal director for Friends of the Earth. "However, the fight has just begun. We are confident in our claims that the administration failed to fully assess the range of environmental, social and economic damages that Willow will have. From harming local caribou herds and subsistence communities to fueling the climate crisis, the federal government must revisit its decision to greenlight this disastrous project."
"Allowing ConocoPhillips to bulldoze forward with construction of the largest oil and gas project on public lands before the lawsuits are settled is needlessly destructive," said Natalie Mebane, climate campaign director at Greenpeace USA. "As the largest historical emitter of greenhouse gas emissions, the U.S. cannot afford Willow or any new oil and gas projects if we're going to avoid the worst impacts of the climate crisis. New projects will take years if not decades to complete. They do nothing to meet current energy needs. It will only deepen our dependence on expensive fossil fuels while destroying our climate, harming our health, and polluting communities."
"Willow is a climate bomb that would lock in decades more dependence on fossil fuels, at the very time we need to shift to cleaner energy options," said Ann Alexander, a senior attorney at Natural Resources Defense Council. "It would do irreparable harm to irreplaceable resources. It has no place in our energy future. Its approval was unlawful. We look forward to making that case before the Court."
"This was the right decision for Alaska and our nation," said Ryan Lance, ConocoPhillips chairman and chief executive officer. "Willow fits within the Biden Administration's priorities on environmental and social justice, facilitating the energy transition and enhancing our energy security, all while creating good union jobs and providing benefits to Alaska Native communities."
Quoting a ConocoPhillips news release, after nearly five years of rigorous regulatory and environmental review, the National Environmental Policy Act (NEPA) process is complete. Willow is designed to support and coexist with subsistence activities with many mitigation measures built into the project design.
Located in the National Petroleum Reserve in Alaska (NPR-A), the Willow project is estimated to produce 180,000 barrels of oil per day at its peak, decreasing American dependence on foreign energy supplies. The project is projected to deliver between $8 billion to $17 billion in new revenue for the federal government, the state of Alaska and North Slope Borough communities. Willow will be built using materials primarily made and sourced in the U.S. and has the potential to create over 2,500 construction jobs and approximately 300 long-term jobs.



On the Web:
Download and read the April 03, 2023 U.S. District Court Judge Sharon Gleason's Order - PDF(379KB)
Related News:
3 reasons the Willow Arctic oil drilling project was approved – it's the latest battle in a long fight over Alaska's North Slope; Several oil projects are active in the National Petroleum Reserve-Alaska.
By SCOTT L. MONTGOMERY - SitNews: March 27, 2023




Source of News:

Alaska Dept of Law
www.law.alaska.gov

Office of U.S. Sen Lisa Murkowski
www.murkowski.senate.gov

Office of U.S. Sen Dan Sullivan
www.sullivan.senate.gov

Office of U.S. Rep Mary Sattler Peltola
www.peltola.house.gov

ConocoPhillips
www.conocophillips.com

Alaska Wilderness League
www.alaskawild.org

Center for Biological Diversity
www.biologicaldiversity.org

Earthjustice
www.earthjustice.org

Friends of the Earth
www.foe.org

Natural Resources Defense Council
www.nrdc.org




Representations of fact and opinions in comments posted are solely those of the individual posters and do not represent the opinions of Sitnews.


Send a letter to the editor@sitnews.us
Contact the Editor
SitNews ©2023
Stories In The News
Ketchikan, Alaska

Articles & photographs that appear in SitNews are considered protected by copyright and may not be reprinted without written permission from and payment of any required fees to the proper freelance writers and subscription services.

E-mail your news & photos to editor@sitnews.us

Photographers choosing to submit photographs for publication to SitNews are in doing so granting their permission for publication and for archiving. SitNews does not sell photographs. All requests for purchasing a photograph will be emailed to the photographer.