Scientific Teams Set Out to Track Unprecedented Changes in the Eastern Bering Sea
April 24, 2019
Wednesday PM

(SitNews) - Over the past five years winter atmospheric conditions that influence the Bering Sea have been markedly different from previous years. Strong, warm winds out of the south—sometimes lasting more than 30 days—have forced sea ice northward. Water temperatures have been warmer than normal and NOAA scientists have observed some significant changes in marine species. They are in unexpected places, in larger or smaller numbers than normal, and many are thin. Scientists are also seeing changes in the numbers of young fish that are reaching maturity.

"We predict that changing environmental conditions will continue to affect the marine food web structure—and potentially the productivity of the northeastern Bering Sea shelf ecosystem," said Robert Foy, Director, Alaska Fisheries Science Center. "This is going to be a critical year to survey this region."
Beginning in April and continuing through September, NOAA scientists will conduct vessel surveys in the Bering Sea. Four of these are annual surveys that have been conducted for several decades, providing a good basis of data so scientists can detect trends and changes in the ecosystem. Anothersurvey, the northeastern Bering Sea bottom trawl survey, has been fully conducted just two times in the past decade. In 2018, Researchers we completed a partial survey of the area. This year scientists intend to conduct a full survey to further establish a baseline of data for longer-term monitoring of changes that are taking place.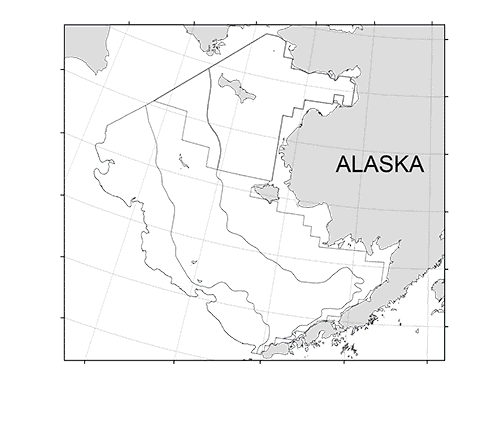 Bottom temperature degrees C 1982-2018
The Important Role of Sea Ice and the Cold Pool in the Bering Sea Ecosystem
Sea-ice extent is the primary determinant of the cold pool, which structures the southeastern Bering Sea ecosystem. The cold pool is approximately a 30-m layer of cold bottom water that is 2°C or less and occurs near the seafloor. It results from melting sea ice in the winter and spring. It often covers a large area from close to shore out to the deep ocean, creating a barrier for commercially important fish species like Pacific cod and pollock that prefer warmer waters. As a result, they are usually restricted in their movements and confined to the southeastern Bering Sea and outer shelf (water deeper than 100 meters).
In 2017 and 2018 the maximum extent of sea ice in the Bering Sea was the lowest on record. The cold pool was dramatically smaller than usual and large numbers of adult Pacific cod and pollock were found in the northern Bering Sea in the spring and summer months.
Elizabeth Siddon, a researcher at the Alaska Fisheries Science Center, compiles the annual Ecosystem Status Report for the Bering Sea. She says the presence of key commercial fish species in the northeastern Bering Sea was not the only reason 2018 was unique.
"We are just beginning to understand the many ways that the low ice extent in the northeastern Bering Sea in 2018 has affected this marine ecosystem," Siddon said.
Changes in the Bering Sea Ecosystem
There was a late spring phytoplankton (marine plant life or algae) bloom. Typically the spring phytoplankton bloom occurs in May, but in 2018 it did not occur until June.
So why does this matter? Since phytoplankton are the basis of the marine food web, any shifts in theircomposition affect the entire ecosystem. The types of phytoplankton found in the northern Bering Sea last year were different than normal.
The northeastern Bering Sea historically has been considered a benthic-dominated ecosystem, which means most of the marine life grows on or near the sea floor. It is usually covered by sea ice for an average of five months a year, so the phytoplankton community grow and develop below the ice. When the ice melts, they fall to the seafloor and are food for marine life such as worms, crabs, and sponges.
In 2018, scientists saw phytoplankton species that grow near the surface of the water when ice isn't present. They also observed an algal bloom that remained in the water column for several weeks, similar to what occurs in the southeastern Bering Sea.
"Zooplankton (small animals and the immature stages of larger animals) that feed on the phytoplankton had less fat than usual. There were low levels of fish like herring and caplen, which are food for larger fish, whales, seals and walruses. We also had numerous reports of seabird deaths," added Siddon.
How is 2019 Shaping Up?
So what do scientists expect to see when the first survey kicks off in the northeastern Bering Sea this week? They aren't quite sure, because despite continuing warm conditions in both 2018 and 2019, sea-ice extent has varied quite a bit in these two years.
"Weather patterns in November 2017 through early January 2018 were really different due to a combination of factors, most notably the duration of the southerly winds. While ice extent during winter months in 2017-2018 was well below previous years, in 2018-2019 ice extent was near normal, only declining to record lows after January," said Phyllis Stabeno, a physical oceanographer at NOAA Research's Pacific Marine Environmental Laboratory.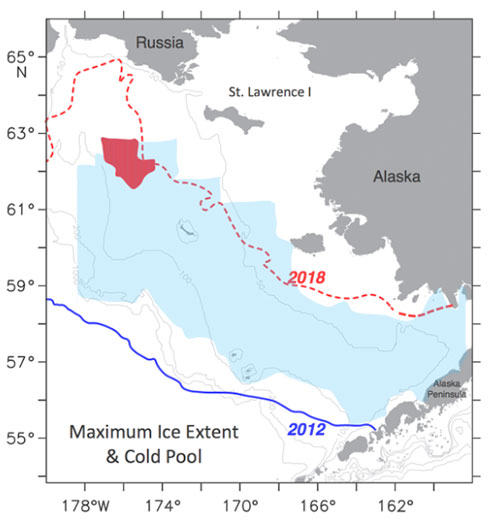 Figure 1. Areal maximum ice extent in 2012 and 2018. The blue shaded area is 2012 cold pool and red is the 2018 cold pool extent. Note that the cold pool on the northern shelf was beyond the maximum ice extent. That is, it formed as a result of frigid atmospheric conditions, not sea ice.
During this year's surveys, oceanographers like Stabeno will be monitoring physical conditions such as ocean temperature, salinity, density, ice and circulation patterns, nutrients and currents. Colleagues at NOAA Fisheries' Alaska Fisheries Science Center will be monitoring how marine species are responding to the variations in annual sea ice extent and timing of sea ice retreat.
Scientists will conduct their surveys from research vessels and chartered fishing vessels. They will use a variety of equipment to sample the marine life that lives on both the surface and in the bottom waters of the Bering Sea. They'll examine everything from the smallest algae to adult fish and crabs.
They also will collect data from an array of four moorings—one of which has been collecting data for 25 years. The moorings are anchored to the seafloor and positioned along the Bering Sea shelf. They include various instruments to measure oceanographic conditions and record ocean sounds such as whale calls and vessel noise. With this acoustic data, scientists who study marine mammals can learn a lot about whether there have been changes in the timing of whale movements through the areas.
"The highly productive Bering Sea marine ecosystem is the lifeblood of Alaska—providing food, income, and a way of life for local fishing communities and Alaska Native villages. Its bounty has helped make Alaska the largest producer of U.S. seafood. With data from our research surveys, we prepare estimates of species abundance and ecosystem condition so Alaska's rich marine resources can be sustainably managed," stressed Foy.
Editing by Mary Kauffman, SitNews
Source of News:
NOAA Fisheries
www.fisheries.noaa.gov

Representations of fact and opinions in comments posted are solely those of the individual posters and do not represent the opinions of Sitnews.
Contact the Editor
SitNews ©2019
Stories In The News
Ketchikan, Alaska

Articles & photographs that appear in SitNews are considered protected by copyright and may not be reprinted without written permission from and payment of any required fees to the proper freelance writers and subscription services.

E-mail your news & photos to editor@sitnews.us

Photographers choosing to submit photographs for publication to SitNews are in doing so granting their permission for publication and for archiving. SitNews does not sell photographs. All requests for purchasing a photograph will be emailed to the photographer.