Jazz Night, The Jerry Galley Memorial Scholarship Concert Featuring Windjammers, Soundwaves and the Kayhi Jazz Band
April 19, 2012
Thursday

(SitNews) Ketchikan, Alaska - The thirteenth annual "Jazz Night" concert will take place on Thursday, April 26th, at 7:00 P.M. in the Ketchikan High School (Kayhi) Auditorium. Donations for the Scholarship Fund will be accepted at the door. The Kayhi scholarship helps high school seniors who are interested in pursuing their education in music or the arts.
The performance will feature the Kayhi Jazz Band, Soundwaves and Windjammers and a combined band of 43 musicians. Kayhi, directed by Deidra Nuss, will open the concert with the Zawinul favorite, "Birdland", and will follow with the Lennon/McCartney hit "Eleanor Rigby". Also in the line-up is Duke Ellington's "Satin Doll", "Samba de Orfeu" and "Hoedown" by Carl Strommen.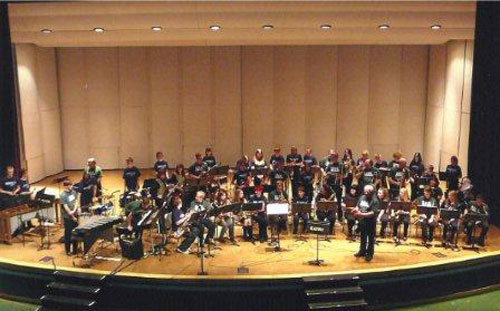 A recent photograph of the Windjammers, Soundwaves, & the Kayhi Jazz Band combined, directed by Roy McPherson.
Photo courtesy McPherson's Music

The Soundwaves band, directed by Roy McPherson will open their part of the concert with the Buddy Rich tune, "Groovin' Hard" featuring the saxophones in a challenging soli section of the piece. "My One True Friend" a ballad made famous by Bette Midler, will feature Katie Powers on alto saxophone. Latin rock style will follow with Carlos Santana's "Maria, Maria" featuring guitarist Matthew Johnson. The Miles Davis swing tune, "All Blues" is next, with that laid-back bluesy feel to it. "Green Onions" made famous by Booker T and the MG's will feature the trombones. The sax melody part has been re-written for trombones, and will debut the new Jiggs Pbone, manufactured by the Conn-Selmer Company. This unique instrument is made out of plastic and plays like a regular brass trombone. The Pbones come in 4 colors with a matching plastic mouthpiece, although a metal mouthpiece is preferred by some players. Pbonists are Amber Junker, Kinani Halvorsen, Shawn Sande, Michaela Wojcik and Chesley Lovell (both are trumpet players in the band), Stan Aegerter, Don Struthers, Roy McPherson, Tina McPherson, and Dr. Dave Johnson and Ralph Beardsworth, guests from the Ketchikan Community Concert Band. The Cuban song by Moises Simons, "Peanut Vendor" was first recorded in the late 1920's for Columbia Records, and was a Stan Kenton hit in 1947. The Michael Sweeney arrangement is featured here to finish the Soundwaves portion of the concert.
Duke Ellington, on giving Billy Strayhorn directions to his house included "Take the A Train" which turned into this famous title, composed by Billy Strayhorn, which opens the Windjammers set. This arrangement is penned by Alan Baylock, the chief arranger for the "Airmen of Note" jazz ensemble in Washington D.C. Jillianne Fazakerley will be featured on flugelhorn in the next piece, "If I Could", written by Pat Metheny who is one of the most recognized names in the jazz guitar/composer world. The Windjammers trombone section made up of Rob Holston, Don Struthers, Stan Aegerter and Tina McPherson will be featured in "How High The Moon", a jazz standard first recorded in 1940 by the Benny Goodman Orchestra. Next up is "Explosion", featuring Sy Hovik, Austin Hays and Kim Kleinschmidt on drums, and it is written by saxophonist/pianist/ conductor/composer Matt Catingub. Catingub is the son of famous vocalist, Mavis Rivers. He joined the Louie Bellson Band at 17 years of age,and also was a member of the Toshiko Akiyoshi/Lew Tabackin Big Band."Explosion" is recorded by the Louie Bellson Band on their album "Dynamite". "Where Is The Love" is a popular song recorded by Roberta Flack and Donny Hathaway, and is also featured on Woody Herman's "Children of Lima" album, with this arrangement by Alan Broadbent. Featured will be Kathleen Light on oboe and bassoonist Deidra Nuss - a rare combination of instrumentation in the jazz ensemble. Don Ellis' "Goood Feelin' " featuring Dale Curtis on trumpet and Chesley Lovell on vibraslap, is a fun and musically-challenging piece with many interesting stylistic surprises for the audience. We have previously performed "Go Back Home" also by Don Ellis, a favorite of musicians and audiences alike.
All bands will combine to total over 40 people on stage, for "Salt Peanuts" and close with "Blue Flame", made famous by Woody Herman.
Again, the thirteenth annual "Jazz Night" concert will take place on Thursday, April 26th, at 7:00 P.M. in the Ketchikan High School Auditorium.
E-mail your news & photos to editor@sitnews.us


Publish A Letter in SitNews Read Letters/Opinions
Contact the Editor
SitNews ©2012
Stories In The News
Ketchikan, Alaska

Articles & photographs that appear in SitNews may be protected by copyright and may not be reprinted without written permission from and payment of any required fees to the proper sources.