'Nolan the Colon' To Tour Prince of Wales
April 26, 2011
Tuesday

(SitNews) Klawock, Alaska - Nolan the Colon is coming to Prince of Wales Island for the first time on May 2-5. The SouthEast Alaska Regional Health Consortium (SEARHC) will host "Nolan the Colon" for a tour of Klawock, Hydaburg, Craig and Thorne Bay.
Nolan the Colon is an inflatable, interactive super colon, standing more than 10 feet tall and 25 feet long, designed to raise awareness about the importance of colorectal cancer screening. Nolan is big enough for people to walk through, so they can see what a healthy colon looks like and see how precancerous polyps can grow to become colorectal cancer. Colorectal cancer (cancer of the colon or rectum) ranks among the leading causes of death for Alaska Natives, and Natives are twice as likely to be diagnosed with colorectal cancer as non-Natives.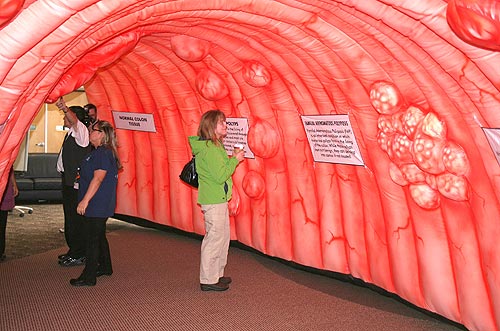 Employees from the Alaska Native Tribal Health Consortium (ANTHC) in Anchorage check out Nolan the Colon during a colorectal cancer awareness event in November 2010.
PHOTO COURTESY OF ALASKA NATIVE TRIBAL HEALTH CONSORTIUM (ANTHC)

The POW trip opens from noon to 6 p.m. on Monday, May 2, when Nolan the Colon will be at the Klawock Alaska Native Brotherhood Hall. In addition to Nolan's visit to Klawock, SEARHC Community Health Care Services Medical Director Dr. David Vastola will give a presentation at 7 p.m. on May 2 at the Klawock ANB Hall.
From noon to 6 p.m. on Tuesday, May 3, Nolan will be at the Hydaburg school gym. Nolan then heads to the Craig Community Association building from 3-7 p.m. on Wednesday, May 4. The POW tour concludes from 3-7 p.m. on Thursday, May 5, when Nolan will be at the Thorne Bay school gym.
Daily door prizes are available to all at each tour stop during Nolan's tour of the region (Nolan the Colon already has been to Juneau, Wrangell and Haines, and he will be in Sitka on Saturday, May 7). Those who meet certain eligibility criteria and visit one of Nolan's events can register for a grand prize of 15,000 miles from Alaska Airlines, enough for one in-state round-trip ticket.
Colorectal cancer is one of the easiest cancers to prevent with a healthy lifestyle and appropriate screening. Colorectal cancer usually is found in people age 50 or older, but younger people also can get it. The risk for colorectal cancer is higher for people who are obese or eat diets with lots of red meat or processed foods. Heavy alcohol use, tobacco use and exposure to secondhand smoke also can increase the risk.
The early stages of colorectal cancer have few symptoms, which makes screening more important. Precancerous polyps can be detected and removed during screening, before they become cancer. All adults age 50 or older should talk with their medical provider about screening, and so should younger adults who have a personal or family history of colorectal cancer or bowel diseases.
For more information about Nolan the Colon's Southeast tour, please call SEARHC WISEWOMAN Women's and Colorectal Health Programs Health Systems Specialist Becky Koslovich at 966-8936. For more information about colorectal cancer and the SEARHC Colorectal Cancer Screening Program, talk to your SEARHC medical provider or call 966-8541. Owned by the Alaska Native Tribal Health Consortium Cancer Program and the Alaska Colorectal Cancer Partnership, Nolan the Colon travels the state to educate people about colorectal cancer and the importance of getting screened.
Source of News:
The SouthEast Alaska Regional Health Consortium (SEARHC)
www.searhc.org
E-mail your news & photos to editor@sitnews.us


Publish A Letter in SitNews Read Letters/Opinions
Contact the Editor
SitNews ©2011
Stories In The News
Ketchikan, Alaska