Sourdough Stampede Results
April 13, 2011
Wednesday PM

(SitNews) Ketchikan, Alaska - Weather magic prevailed Saturday, April 9th as 59 runners and walkers participated in the annual Sourdough Stampede event under clear skies and light winds.
Race director Fred Jorgensen said: "This is a great way to kick off the running season with a good run followed by pancakes and prizes for just about every participant."
The Sourdough Stampede mile race was won by 8 year old Morgan Elerding. The youngest milers were 2 year old Liam Woodward and Jack Styles. This annual event is popular with kids and parents.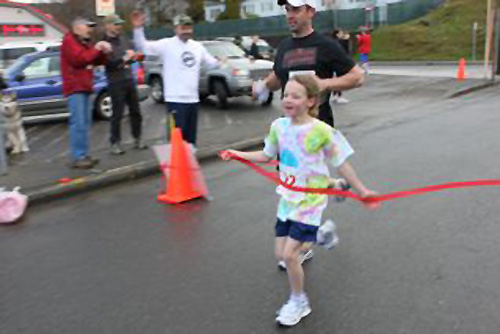 Morgan Elerding, age 8, crosses the finish line first,
followed closely by her dad, Rocky Elerding.
Photograph courtesy Rocky Elerding

The 5K race was won by Greg Singstad. Leigh Woodward finished first for women.
One mile results:
Morgan Elerding 8:05
Melea Greaves 8:31
Rian Farvour 10:01
Aidan Miller 10:10
Owen Woodward 10:25
Ella Stockhousen 11:40
Seth Webb 12:39
Carol Wallace 14:21
Emily Catlett 14:21
Casey Styles 14:45
Jack Styles 15:10
Karen Styles 15:10
Marcus Stockhousen 15:33
Liam Woodward 16:32
Braidyn Young 17:24
5K Results:
Greg Singstad 18:49
Geoff Glover 20:42
Max Mercer 20:56
Carlos Weimer 21:10
Christopher Douglas 21:48
Omar Mendoza 21:53
Tom Fowler 22:13
Dan Ortiz 22:24
Axel Pearson 23:02
Sam Ortiz 23:10
Leigh Woodward 23:12
Warren Murphy 23:19
Ken Teune 23:22
Charles M 24:02
Erin Reeve 24:18
Brennen Schulz 24:20
Bernie Hendricks 26:47
William Kurk 26:49
5K results 2011 Sourdough Stampede continued
Rocky Elerding 27:02
Sarah McCarron 27:03
Randy Sisman 27:04
Kerry Foster 27:05
Jon Tully 27:06
Mike Elerding 27:07
Lisa Delaet 27:22
Daniel Dlose 27:47
Wynelle Snow 29:00
Jeff Wedekind 29:26
Darcel Williams 30:17
Falene Reeve 30:27
Karen Styles 30:54
JJNA Block 31:33
Rhea Kahle 31:56
Marilyn Holter 32:10
Kim S 33:06
Joseph Block 35:24
Mike Firari 37:35
Jack Kaye 37:35
Brady Kaye 37:35
Maria Dudzak 39:00
Carol Wallace 39:36
Linda Schrack 41:29
Eliasica Timmerman 41:32
Margie Sullivan 44:04

E-mail your news & photos to editor@sitnews.us


Publish A Letter in SitNews Read Letters/Opinions
Contact the Editor
SitNews ©2011
Stories In The News
Ketchikan, Alaska