REDOUBTS' LIGHTNING JACKPOT HIT
By Thomas Guengerich
April 08, 2009
Wednesday

SOCORRO, N.M. - New Mexico Tech lightning researchers hit the jackpot last week, when, for the first time ever, they began recording data from a volcanic eruption right from the start.
Largely funded through the National Science Foundation, the New Mexico Tech volcanic lightning studies aim to advance the understanding of electrical activity during an eruption.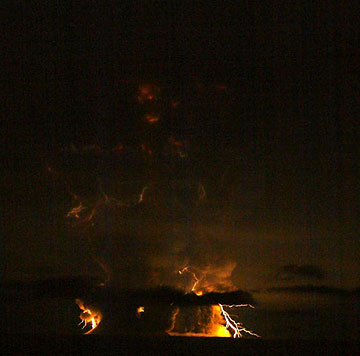 Alaska's Redoubt Volcano
Photo of lightning from Redoubt Volcano during its 11:20 p.m. eruption on March 27, 2009.
Photo by Brentwood Higman
Photo Courtesy Alaska Volcano Observatory
"What's really exciting is that we got the Lightning Mapping Array set up before the initial eruption," doctoral student Sonja Behnke said. "We're getting data from the beginning of the eruptive phase of the volcano. We're seeing everything from the beginning to the end."
When Alaska's Redoubt Volcano started rumbling in January, a team of Tech researchers hurried to south central Alaska to deploy a series of radio sensors. When the volcano began erupting overnight on March 22 and 23, the array of stations started returning clear and dramatic information about the electricity created within volcanic plumes and the resulting lightning.
"We're getting all the data we hoped to get and a lot more," principal investigator Dr. Ron Thomas said. "Absolutely, the quality and quantity of the data will allow us to better understand the electrical charge structure inside a volcanic plume. That should help us understand how the plume is becoming electrified and how that evolves over time."
Dr. Bradley Smull, associate program director with the NSF, said the Redoubt Volcano data is likely to help scientists understand fundamental electrical mechanisms within plumes of ash, steam and other hot gases above active volcanoes.
"Given a bit more time to gather and digest the Lightning Mapping Array data, I'm sure that exciting details of the plume-induced atmospheric electrical structure will emerge," Smull said. "The opportunity for both stand-alone analysis and comparisons with last year's observations of Chaiten Volcano in Chile are extremely exciting."
Behnke, a second-year Ph.D. student in physics, will spend the next few months - or the next few years - processing and analyzing the data from Redoubt.
"We haven't looked at the data in great detail yet," she said. "I'm still pretty busy downloading all the data, making sure the stations are still operating and documenting the eruptions."
Redoubt erupted explosively about 20 times in the first seven days of activity, with seismic activity decelerating in recent days. Most volcanic eruptions have several distinct stages. In the case of Redoubt, a stage of explosive activity is followed by a second stage that includes dome-building and slow venting of ash, rock and gasses. Within the individual explosive eruptions, different phases of electrical activity are observed.
"First, we see an eruptive or explosive phase," physics professor Paul Krehbiel said. "Electrical activity is continuous and strong. We see a lot of small electrical discharges as hot gasses come out of the volcano."
The second phase involves the ash cloud as it drifts away from the volcano with the wind. This phase is punctuated by discrete lightning - or lightning bolts.
"After the explosion is over, there is a subsequent phase of plume lightning," Krehbiel said. "Full-fledged lightning occurs in the cloud of ash and water both above and downwind of the volcano."
The Redoubt eruptions are not over yet. After quieting down and appearing to go into a dome-building phase, just before sunrise Saturday, April 4, the volcano blew its top in the biggest eruption so far.
"The lightning activity was as strong as or stronger than we have seen in large Midwestern thunderstorms," Krehbiel said. "The radio frequency noise was so strong and continuous that people living in the area would not have been able to watch broadcast VHF television stations."
Lightning Mapping Arrays are set up in several areas of the country for research studies and are becoming increasingly used by meteorologists to help issue severe weather warnings. The portable stations have been deployed at active volcanoes only twice before.
In 2006, the New Mexico Tech team deployed a two-station array at Mt. St. Augustine, also in south-central Alaska. In 2008, the group deployed a four-station array at Chaiten Volcano in Chile. In both of those instances, the array was not in place until after the initial eruptive phase. In contrast, Redoubt Volcano was very cooperative and the team's advance planning paid major dividends.
"Redoubt, in some ways, has been a perfect laboratory," Krehbiel said. "It erupted on schedule and gave us two months notice."
The National Science Foundation awarded New Mexico Tech a three-year grant to study volcanic lightning in 2007, with the University of Alaska Fairbanks and the Alaska Volcano Observatory as collaborators. Thomas said some colleagues doubted that the Tech team would be able to capture data from an initial eruption.
"This is really exciting for us," Thomas said. "You plan and hope you can do something like this once in a lifetime. It's hard to judge a volcano before it happens and get the sensors set up before it erupts."
"I certainly wouldn't have been surprised if the three years elapsed without us getting the data we wanted," Behnke said. "The stars had to align just right."
Krehbiel said advance warning from the Volcano Observatory was critical to the mission. In late 2008, Redoubt showed initial signs of small-scale seismic activity. Steve McNutt and his colleagues at the Alaska Volcano Observatory started scouting locations for Tech's sensors. In Socorro, Krehbiel, Thomas and the rest of the team had several stations ready for deployment.
"We were prepared," Behnke said. "In January, when seismic activity intensified, we jumped on it."
Krehbiel, Thomas and Behnke made the initial trek to Alaska in late January to join McNutt to set up four Lightning Mapping Array stations, which are portable sensors designed and built at New Mexico Tech. Each station weighs about 40 pounds and has its electronics contained within a modified picnic cooler. The sensing stations can store up to three months of radio wave information and are capable of running unattended.
A few weeks later in February, doctoral student Harald Edens and Krehbiel returned to Alaska to set up the wireless internet feeds from each station, so they could access data in New Mexico.
Just two days before the initial eruption, Edens made a mad dash from New Mexico to Alaska to service a station that was misbehaving. Within 24 hours of Edens' departure from Alaska, Redoubt erupted, sending an ash plume more than 8 kilometers into the atmosphere.
"This volcano, in the space of a week, has had several major eruptions that have produced prolific lightning," Krehbiel said.
The four Lightning Mapping Array stations are along a roughly 60 mile stretch of on the east side of Cook Inlet across from the volcano. Thomas, Krehbiel, Behnke, and McNutt found four cooperative places in accessible locations to host the stations. The northernmost sensor is at a school teacher's house in Nikiski. The second station is at a fire station south of Kenai. In Clam Gulch, Thomas and crew are borrowing space at the Clam Gulch Lodge. The southernmost sensor is at the K-12 public school in Ninilchik.
When Redoubt Volcano erupted, Tech scientists and researchers had their first ever data from an initial eruption of an explosive volcano.
"With Redoubt we have data for all the eruptions and will be well posed to examine trends as a function of time," said McNutt, Coordinating Scientist at the Alaska Volcano Observatory. "We are accumulating a fantastic data set of the eruptions."
In addition to the Lightning Mapping Array, AVO is gathering data from 11 local seismic stations, two infrasound arrays and two radar stations. More data are being recorded by webcam, remote sensing, gas flights, direct observations and sampling.
Ideally, a Lightning Mapping Array would include at least six stations. Permanent arrays include up to 12 sensing stations. Still, with four stations, New Mexico Tech researchers will be able to produce 3-D images.
Signals from four stations will readily produce a two-dimensional image. With more careful analysis, Behnke and Thomas will be able to create three-dimensional images. They will be aided in this by three of the sensing stations being located on the edge of the coastal bluff overlooking Cook Inlet and receiving interference signals - a secondary radio wave reflects off the inlet's water surface.
"We used the sea surface reflections in our study of the Augustine eruption" Thomas said, "and are ready to use them again for the Redoubt eruptions."
Radio waves created by lightning travel about one foot per nanosecond. Each mapping station measures the arrival time of radio signals to the nearest 40 nanoseconds, so that the sensors pinpoint the distance to the lightning source within about 40 feet, Krehbiel said.
Thousands of individual segments of a single lightning stroke can be mapped with the Lightning Mapping Array and later analyzed on high-end computers to reveal how lightning initiates and spreads throughout a thunderstorm ... or within a volcanic plume.
"We receive radio bursts of noise generated from sparks of lightning, just like the static you hear on your car radio during a thunderstorm," Thomas said. "We will use our sensing stations to locate the lightning and track its path."
Tech's pioneering lightning research has led to a series of scientific and technological breakthroughs, including proprietary sensing technology - the Lightning Mapping Array - that allows scientists, meteorologists and storm chasers to pierce the veil of clouds to "see" lightning as it occurs.
"With each lightning flash, we'll be able to monitor how it moves through the clouds and where it goes," Thomas said. "If we take all our theories about lightning created in thunderstorms, we can learn about both types of lightning."
Note:
New Mexico Tech is a collaborator with the Geophysical Institute/Alaska Volcano Observatory on volcanic lightning studies of Redoubt Volcano. GI/AVO helped NMT position four lightning measuring arrays (LMAs) along the Kenai Peninsula shortly before Redoubt began to erupt this year. Data is currently
coming in. Currently, volcanic lightning is not widely understood, and the LMAs have collected data from the very start of Redoubt's eruption
Source of News:
New Mexico Tech

Geophysical Institute/Alaska Volcano Observatory

E-mail your news & photos to editor@sitnews.us


Publish A Letter in SitNews Read Letters/Opinions
Contact the Editor
SitNews ©2009
Stories In The News
Ketchikan, Alaska