North Tongass Volunteer Fire Department Evaluated For Fire Service Rating

April 08, 2009
Wednesday

Ketchikan, Alaska - If you were driving by the old pulp mill site last Saturday morning (April 4th) you might have wondered what was going on. Fire engines and water tankers were lined up waiting for their turn for action. Since its inception in March 2003 by a vote of the North Tongass residents, North Tongass Volunteer Fire Department (NTVFD) has been working toward this day said Fire Chief Dave Hull. "On this day NTVFD was evaluated by the Insurance Services Office (ISO) to see how our firefighting capabilities matched up to their standards and other fire departments in the nation," said Hull.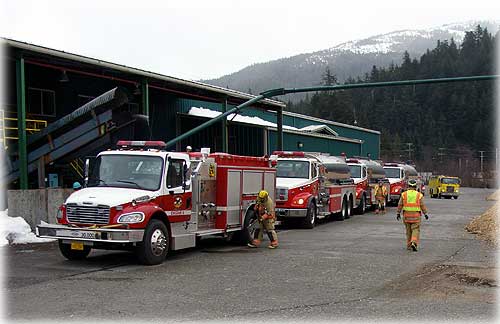 Fire tankers from North Tongass VFD, Ketchikan Fire Department and South Tongass Volunteer Fire Department lined up ready to start the testing in front of the old veneer plant at Ward Cove.
Photograph by Dave Hull

The Insurance Services Office is headquartered in Jersey City, NJ. ISO's Public Protection Classification (PPCTM) Service gauges the capacity of the local fire department to respond if flames engulf a home or commercial property. ISO collects information on a community's public fire protection and analyzes the data using their Fire Suppression Rating Schedule (FSRS). Then they assign a Public Protection Classification from 1 to 10. Class 1 generally represents superior property fire protection, and Class 10 indicates that the area's fire-suppression program doesn't meet ISO's minimum criteria. This classification number is used by many insurance companies to base their insurance rates on.
Under ISO ratings, the North Tongass area is rated as a Class 9 for every structure within five driving miles of a fire station and a Class 10 beyond that. Currently 99% of the structures are within five driving miles of one of two fire stations located in the north end.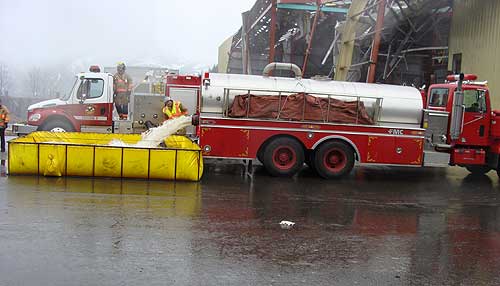 Ketchikan Fire Department's Tanker 3 off loading its 3,000 gallons of water into the drop tank. Greg Brown is driving T-3.
Photograph by Dave Hull

Hull said, "Currently the South End enjoys a Class 5 anywhere within a 1,000 foot driving distance from a hydrant and an 8B beyond." Hull said STVFD was also evaluated this last week in a bid to better their Class 5 rating. Chief Davis and his crew have been working equally hard on their testing said Hull. The city of Ketchikan is a Class 4. Hull said the NTVFD expects to improve upon its current Class 9 rating, but the final result will not be known until October at the earliest.
Hull said, "Thanks need to go out to the South Tongass VFD and the City of Ketchikan FD for participating in this exercise with NTVFD. Their participation factors very favorably in the calculations used to determine our new rate." Automatic Aid agreements allow all three departments to count one another's water tankers and enhance their capabilities said Hull.
Chief Hull said, "A great thanks also needs to go to Lt. Jerry Kiffer who spearheaded the effort to make NTVFD ready to be tested." Evaluated were a number of things, dispatching, record keeping, training schedules, fire reporting, equipment, and of course the ability to deliver water and trained firefighters to the scene of a fire said Hull.
Hull said, "It was a lot of work and a good learning experience".
E-mail your news & photos to editor@sitnews.us


Publish A Letter in SitNews Read Letters/Opinions
Contact the Editor
SitNews ©2009
Stories In The News
Ketchikan, Alaska