Viewpoints
Thanks for Making Ketchikan Better!
By Jerry Cegelske
April 14, 2007
Saturday

The weekend of March 24th gave several groups a relatively nice day to clean up much of the trash in various areas of the Borough. Ketchikan Youth Court members and volunteers worked along North Tongass and directed efforts in three different areas. What was amazing was the variety of materials that were cleaned up. A pool table, an ATM machine, jar canned salmon, bird cages, car parts, mystery parts, liquor and beer bottles, shot up TV's, electronics, electric heaters, vacuum cleaners, tires, grass trimmers, and other various materials were collected. Some of the locations have needed to be cleaned up for years.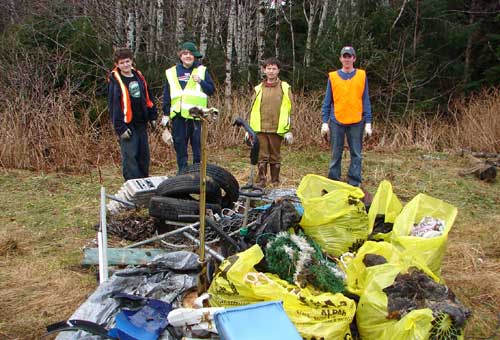 Ketchikan Youth Court Members and Volunteers

The ATM machine is one that was removed at night from Salmon Landing as those outstanding citizens of Ketchikan didn't want to inconvenience anyone using the building during the day. I thought that was very considerate of them. The owner previously told me about it being stolen and how little money was in the machine at the time of the theft. That indicates the intelligence of the thieves- doing $5000.00 worth of damage to get less than $100.00! It was dumped at mile 17 NTH and rested there until removed from it's resting spot to be taken to the landfill.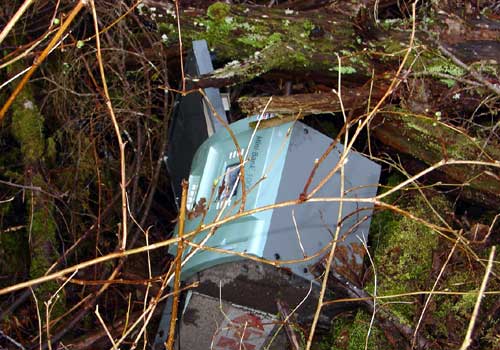 ATM machine stolen from Salmon Landing

Aaron Anderson and Moira Wiggenton volunteered to help keep Ketchikan clean. They collected material on Whipple Spur where people continue to think it is a dump site, despite it being cleaned up several times. They collected a dishwasher, car engine, car parts, trash and a camper shell! How much better if the people that dumped this junk had disposed of it properly.

The Foresters were out again cleaning up Mile 6 N. Tongass. They do an excellent job of keeping their mile of highway clean. I just wish the people hauling trash and materials in the back of their trucks were as conscientious. The Foresters collected a truck door, a large plastic trash can and a five gallon bucket as just part of the material they gathered. How do you miss a truck door when you arrive at your destination? Ever wonder if it fell out and hurt someone? I guess it's better not to worry about that and deny everything in case the injured party wants to sue for the injuries you caused due to your negligence.

April 21 is the start of Spring Clean-up Week which gives you a chance to get rid of those old lawn ornaments and accumulated trash you wanted to get rid of since last year. If you are hauling material to the landfill, please make sure it is covered so it doesn't blow out the back of the truck or trailer.

On the 21st I will be working with volunteers to clean up South Tongass past the Whitman Creek bridge to fulfill the grant requirements for the grant we received last year. Your assistance would be greatly appreciated. I know that there aren't many people that travel to the end of the road, other than the people that dump the trash, but there are local businesses that would appreciate your help in making Ketchikan a cleaner place to live.
Jerry Cegelske
KGB Code Enforcement Officer
Ketchikan, AK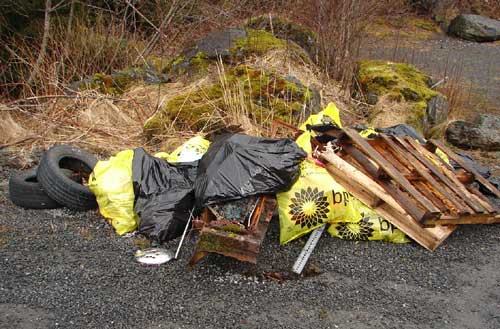 More trash collected at about mile 15.5 NTH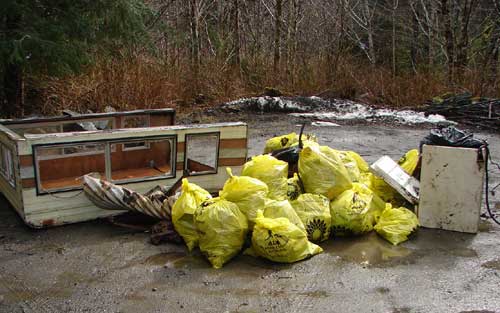 Dishwasher, car parts, car engine and various materials
collected by Moira Wiggenton and Aaron Anderson, USCG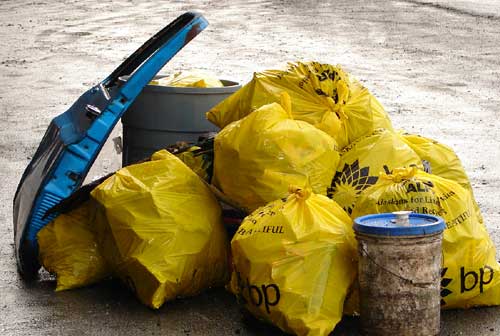 Materials collected by Tongass Chapter, Society of American Foresters.



Received April 11, 2007 - Published April 14, 2007
Note: Comments published on Viewpoints are the opinions of the writer
and do not necessarily reflect the opinions of Sitnews.
Send A Letter -------Read Letters

E-mail the Editor at editor@sitnews.us

Sitnews
Stories In The News
Ketchikan, Alaska