Ketchikan's first woman career firefighter hired by KFD
By Valerie Hendel
April 27, 2006
Thursday

Ketchikan, Alaska - On May 1st, 2006, Gretchen Skillings will begin her duties as a City of Ketchikan career firefighter becoming Ketchikan's first woman to be hired as a firefighter. No stranger to the department, Skillings has served for thirteen years as an EMT (Emergency Medical Technician) and five years as a dispatcher. She has been an active part of volunteer firefighter service since June 2004 and received her Firefighter II certification last year.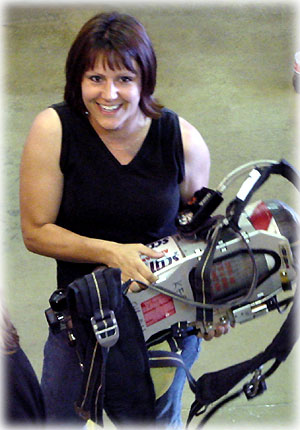 Gretchen Skillings
Photograph courtesy John Goucher
Firefighters pepper Skillings' family tree and include her father, retired Ketchikan Fire Department Chief Dave O'Sullivan, uncle Frank Gregorchuk who also served in Ketchikan, and O'Sullivan's step-father.
When Chief Dave O'Sullivan was asked what he thinks about his child becoming a firefighter, he admits he's "pretty proud of her" although he neglects to mention the 'My Daughter is a Firefighter' bumper sticker on his R.V. Of her three siblings, it was Skillings' brother who as a child dressed up as a firefighter. But Skillings liked that her dad was a fire fighter. "I thought it was cool. We were used to the shift work and the scanner going off all hours." And of course there were the 4th of July parades! When asked if it ever occurred to O'Sullivan that one of his daughters would become a firefighter, he casually responded, "No reason not too. She's been in it awhile and she had to compete against other people."
The position vacancy at Ketchikan Fire Department was advertised nationally and qualified applicants were selected for review. Those who passed written exams were put through pass or fail physical testing. The same test is applied to all applicants and includes timed runs, aerial climb, obstacle courses, and dummy drag. "I'm small but I'm strong," says Skillings. "Traditionally in the past we think only of big strong guys as firefighters. But there's so much more going on now. It's not all about brute strength. There is the whole strategy of fighting the fire and knowing fire behavior. And things are done in teams. I know I can do the physical stuff."
In high school, Skillings was interested in Emergency work. "I wasn't sure if I wanted to do Hospital or Emergency," she explains. "But we all thought that after high school you just go to a four year college. If I knew getting EMT training was an option I would have done that!" Eventually Skillings did find her way around to EMT training. "I volunteered for fire after thatI just kept going. Volunteers get trained in all the same things as the career guys." Later, Ketchikan city combined the EMT/Firefighting positions and Skillings said she was concerned she could not pursue the EMT work. "I thought, oh there goes that. I can't be a firefighter so now I can't do that [EMT]. My boss, Rich, told me women were doing this all over the country. Once I took the Firefighter I course I knew I could do it. After that I didn't have a doubt." According to WFS (Women in Fire Service, Inc.) there are approximately 6,161 women in career level positions in the U.S. Not commonly mentioned in media is the contribution of women firefighters who worked or gave their lives at ground zero.
Skillings says of the novelty of being Ketchikan's first career female "I'm more excited just to get to do it. I really enjoy helping people when they're in a position of needing help. I'm good at it. I stay calm." Skillings said women commonly make up the EMS and dispatch crews. "Other women are even interior qualified, I'm just the first female career firefighter in Ketchikan," she explains. In fact, there are twelve women volunteers according to Ketchikan City Fire Department.
Gretchen Skillings and her husband Cliff are the parents of a six-year old and four year-old twins. When speculating about the possibility of one of their children becoming a firefighter, Skillings pauses. "I don't know. It will probably be the ballerina."


Valerie Hendel is a freelance writer living in Ketchikan, Alaska.
A freelance writer is an uncommitted independent writer
from whom a publisher, such as SitNews, can order articles for a fee.

Publish A Letter on SitNews
Read Letters/Opinions
Contact the Editor
SitNews
Stories In The News
Ketchikan, Alaska