Young Artists Create "Bird Art Exhibit"
By Marie L. Monyak
April 19, 2006
Wednesday

Ketchikan, Alaska - The Eleventh Annual Alaska Hummingbird Festival in Ketchikan has been ongoing since the beginning of the month and one of the delightful events is the Ketchikan High School Art Class "Bird Art Exhibit" at the Southeast Alaska Discovery Center.

The blossoming artists from Louise Kern's art classes from grades 9 through 12 have created a colorful garden in the Discovery Center's main exhibit room.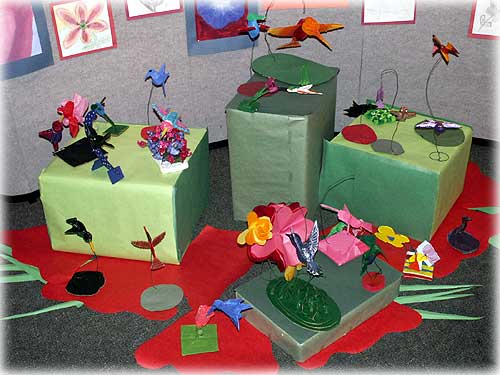 Students chose between sculpting and drawing and the results were impressive to say the least.

Those who chose to draw used graphite and colored pencils or tempura paints for their vivid creations. Using Georgia O'Keefe and her brilliant works as their muse, the students succeeded in capturing the delicate lines and silky texture of flowers in full bloom.

Paper Mache sculptures of hummingbirds were made by students who preferred the reward of creating art with their hands. The realistic birds appeared as though suspended in space prompting viewers to expect one to zoom by at any moment.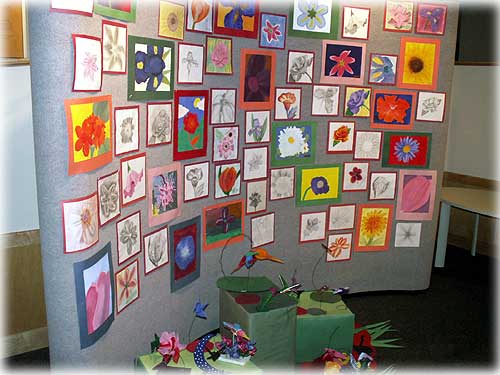 The art class students from Ketchikan High School (Kayhi) not only made a contribution to the Annual Hummingbird Festival with their colorful art but succeeded in welcoming spring in a bold and vibrant fashion.

The Kayhi Bird Art Exhibit may be seen at the Southeast Alaska Discovery Center through April 28th. Winter hours are in effect so it is best to call first 228-6220



Marie L. Monyak is a freelance writer living in Ketchikan, Alaska.
A freelance writer is an uncommitted independent writer
who produces and sells articles to a publisher such as SitNews.
For freelance writing services and costs contact Marie at mlmx1[at]hotmail.com
Send your story ideas to editor@sitnews us

Publish A Letter on SitNews
Read Letters/Opinions
Contact the Editor
SitNews
Stories In The News
Ketchikan, Alaska