Governor meets with Condor German Airlines

Governor Encourages Condor to Start Year-round Alaska Service,
Promotes Increased Winter Tourism
April 15, 2006
Saturday

Frankfurt, Germany - Alaska Governor Frank H. Murkowski met Wednesday with Condor German Airlines and several major German tour wholesalers in Kronberg am Taunus near Frankfurt to encourage Condor to consider year-round Alaska service and promote Alaska as a winter tourism destination.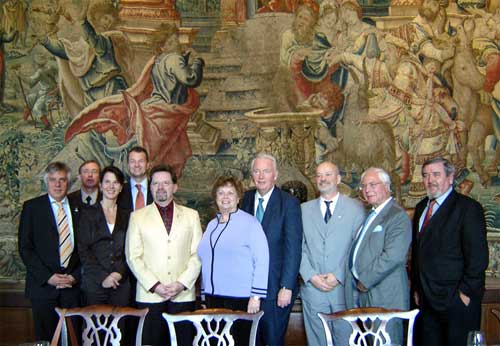 Governor Murkowski met with Condor German Airlines and major German tour operators on April 13, 2006 to push for expanded air service to Fairbanks and Anchorage from Frankfurt. L to R: Güenter Rücker, Air Tours International; Matthias Rotter, Meier's Weltreisen; Nina Dumbert, Thomas Cook AG; Per Illian, Dertour; Nicolas Kitzki, Ikarus Tours; Mrs. Murkowski;Governor Murkowski; Dieter Knöefel, Condor German Airlines; Tilman Uhlig, Terranova Touristik; Boris Ogursky, Thomas Cook AG.
Photo courtesy Office of the Governor

"This meeting with Condor and tourism companies in Germany was a great opportunity to push for additional summer and year-round service," said Murkowski. "Germany is our number one international visitor market for summer. We talked at length about our state's winter experiences and outdoor activities and it is clear that these companies are serious about Alaska and plan to take a closer look at more service."
Condor officials have been actively reviewing Alaska opportunities and indicated they are looking for German tour wholesalers to guarantee a certain minimum load guarantee. For several years, Condor has been operating four charters per week to Alaska from mid-May to September with three flights to Anchorage and one to Fairbanks.
The Alaska Travel Industry Association helped arrange the meeting in Germany through their trade representative in Frankfurt. The governor was accompanied at the meeting by Alaska seafood and tourism leaders, including the state's international trade director Margy Johnson, Chris von Imhof of Alyeska Resort, Luda Gashenko of Clippership Motorhomes, and Dave Carlstrom, former marketing manager of Fairbanks International Airport and now a consultant with the airport.
"We appreciate the governor's personal effort to encourage more year-round travel from Europe," said Chris von Imhof, president and CEO of Alyeska Resort and a long-time proponent of improved international passenger air service and winter tourism. "Attracting more international flights is a high priority for Alaska's tourism businesses and groups like the Alaska Travel Industry Association and the Anchorage and Fairbanks Convention & Visitors Bureaus."
Companies at the two-hour meeting included representatives from Condor German Airlines, Airtours International, Dertour, Meier's Weltreisen, Thomas Cook, Terranova Touristik and Ikarus Tours.
Source of News:
Office of the Governor
www.gov.state.ak.us


Publish A Letter on SitNews
Read Letters/Opinions
Contact the Editor
SitNews
Stories In The News
Ketchikan, Alaska