Victory church gives Holy Trinity all it can

Juneau church donates entire savings to help rebuild burned Holy Trinity facility
April 13, 2006
Thursday

Juneau, Alaska - A small Juneau congregation with no building of its own has turned its entire bank account over to a church that lost its home in a fire.
Mark Everett, senior pastor of Juneau's Victory Foursquare Gospel Church, presented a $7,000 check to the Rev. George Silides of Holy Trinity Episcopal Church during Palm Sunday services.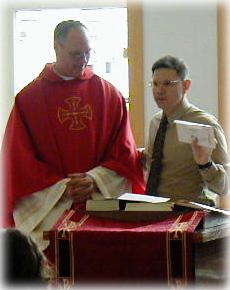 Mark Everett, senior pastor of Juneau's Victory Foursquare Gospel Church, presented a $7,000 check to the Rev. George Silides of Holy Trinity Episcopal Church during Palm Sunday services.
About 25 members of Everett's congregation joined 80 or so members of Holy Trinity during one of the larger church's two April 9th services at the St. Ann's Parish Hall. Silides and Everett preached back-to-back sermons, after which Everett handed over his church's savings.
"Honestly, I believe it was a move of the spirit of God. He just spoke to my heart," Everett said.
Everett, formerly an associate pastor, became senior pastor of Victory church just six weeks ago. He said he was building a fire in his backyard so his children could make s'mores when the idea of the donation came to him.
"I was praying for direction for our church," he said. "A transition is a very difficult thing to go through for a church and I've been really seeking the Lord for a direction for us."
He said God's answer was to help someone in need.
"He said, 'You have brothers and sisters in Christ in this community who are all hurting very much,' " Everett said. "'He said, 'You have to give sacrificially, not in a way that's easy to give, because I gave sacrificially.' "
Members of both congregations broke into tears at the announcement.
Silides said the donation was an extremely generous outpouring of Christian charity. He said it reminded Holy Trinity of the need to handle each donated dollar with extra care.
"We should be shaped by humility and gratitude of receiving it and gaining a conscious awareness of the sacred nature of every gift we have and the stewardship of those gifts," Silides said.
Everett said the back-to-back Palm Sunday sermons gave him "absolute love and respect for Father George."
"For him to trust a complete outsider, a stranger, to come up and to speak over his pulpit, is truly an amazing thing," he said. "That's a real sign of brotherhood and unity."
Holy Trinity's building, at Fourth and Gold streets in downtown Juneau, was destroyed in a March 12th fire. The blaze also burned the church's McPhetres Hall, which was used by many local organizations. One was the nonprofit Theatre in the Rough, which lost its sets, costumes and props. A nearby house and boat were also destroyed. Police have arrested a 24-year-old man and charged him with starting the fire in the boat. They say he did not appear to be targeting the 110-year-old church.
Silides says the church was insured, but the payments will not cover the full cost of rebuilding or replacing its contents, which could total about $2 million.
"We have received an overwhelming flood of prayers and offers of tangible support," he said. "We are certainly encouraged by the accumulating amount of these gifts."
Victory church's donation was one of the largest so far. One of the church's first formal fundraisers since the fire, an April Fool's Day spaghetti feed and pie-eating contest, raised about $4,000. Other benefits for the church, McPhetres Hall, and Theatre in the Rough, have included a special performance of Perseverance Theatre's "Hair."
Silides says he is anxious to remove the remains of the church building. But testing of the debris showed some asbestos and lead, so demolition must be handled carefully. He said rebuilding will take at least two years.
"It is up to us in this hour to do a thing not given to our parents and grandparents before them," he said. "To overcome the loss of our building in a way which widens the circle, deepens our faith, and honors our God above all."
While plans are made for a new building, Holy Trinity is holding Sunday services at 8:30 and 11 a.m. at the St. Ann's Parish Hall next to the Catholic Cathedral of the Blessed Virgin Mary a block away. The two churches have merged their Sunday School programs and held their traditional joint Palm Sunday procession April 9th.
Holy Trinity is also working with other churches, holding Wednesday Night Suppers at Northern Light United Church, a Presbyterian/Methodist congregation, and Maundy Thursday and Good Friday services at Resurrection Lutheran Church.
Holy Trinity has also set up an office in donated space ArcticCorp building 416 Harris Street, Suite 205. The telephone number is 586-3532. Donations can be made to the Holy Trinity Restoration Fund, at the office address.
Everett's church meets at 11 a.m. Sundays at Juneau's Seventh-Day Adventist School, 4890 Glacier Highway, near the Juneau Pioneers' Home. Holy Trinity members are making plans to bring home-made pies to the Victory Easter service as one of several thank-you efforts.
Victory is part of the national Foursquare Church. "Foursquare" is a Biblical term used of the tabernacle in the Book of Exodus. The denomination's founder was Aimee Semple McPherson.
On the Web:

Holy Trinity
http://www.trinityjuneau.org/
E-mail your news & photos to editor@sitnews.us


Publish A Letter on SitNews Read Letters/Opinions
Contact the Editor
SitNews
Stories In The News
Ketchikan, Alaska