Discovering Gardening
By Marie L. Monyak
April 12, 2006
Wednesday AM

Ketchikan, Alaska - This past week's Friday Night Insight Program at the Southeast Alaska Discovery Center drew a large crowd to hear local horticulturist Jeannie Blackmore talk about her personal experiences as a gardener in Ketchikan.

Blackmore began with a bit of background on herself and her husband Pat Haley who provided her with some assistance during the evening. Having moved here two and a half years ago from Oregon, Blackmore said the two of them have 30 years experience as gardeners and in that time she told the gathering that she has had 3 gardens in various climate zones.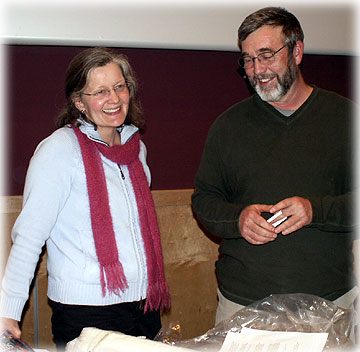 Horticulturist Jeannie Blackmore and Pat Haley
Photo by Marie L. Monyak
According to Haley, the pair, who are both employed by the U.S. Forest Service, transferred to Ketchikan because they own a boat and enjoy fishing and wanted to live in a coastal environment. It would appear their achieved their goal as Blackmore explained that their home is on the water on South Tongass Highway.

Before Blackmore began her slide show she informed the audience that Ketchikan has a Garden Club and proceeded to introduce the president, Riekie Govaars and Pat Osborn, the secretary.

The informative and enlightening slide show was narrated by Blackmore as photo after photo revealed a well tended and cared for flower and vegetable garden. Rhododendrons, curly leaf filbert, daffodils and lilies filled the screen.

The exuberant gardener informed the audience that she would take them through one full year of her garden beginning with last spring and proceeding to present day with the help of the slides.

Blackmore began with what she called a microsite near the waters edge. She explained how different areas around the home may have their own very specific climate zone. One particular area she showed was located alongside her cistern which had a northern exposure and as such it was a much colder location.

After having stripped lengths of alder branches, Blackmore had fashioned a makeshift fence around the cistern in hopes that the hydrangeas she had planted would be encouraged to climb the poles and disguise the tank. Unfortunately the hydrangeas and several others did not survive. She was not ashamed as she explained that learning to accept your failures is all a part of being a gardener.

One slide exhibited perennial bachelor buttons, several other spring flowers and grasses. The close up photo made it possible to see that the grasses were planted in the ground while still in their pots. Blackmore explained that in doing so the grasses cannot spread and become an invasive plant.

A wonderful addition to one of her microsites was a large piece of driftwood. Blackmore explained that color and texture as well as height and sculptures are all very important factors in creating a beautiful garden.

More delightful flowers and shrubs filled the screen as Blackmore continued. Hellebore, known as Lenten rose, Japanese maple and lambs ear filled the screen. There were perennial geraniums, cheerful daffodils and irises all standing tall and strong.

The next series of slides revealed Blackmore's prolific vegetable garden. What was once her driveway is now lined with row after row of spring vegetables. Broccoli, lettuce, peas and surprisingly, artichokes, poked their delicate heads through the fertile soil. Artichokes, Blackmore explained, do well in her yard which is a warmer climate but did not recommend them for a colder area such as Bear Valley.

Speaking of Bear Valley, Blackmore explained one particular problem that she has had to struggle with. "Some people have bears in their gardens, I have a bird problem. I have about 100 to 150 Robins and they decimate everything." Her revelation helped the audience to understand what the long, white, tent-like structure was over her vegetable rows.

Blackmore informed the audience, "This was my Christmas present that year," as she pointed out the PVC hoops spaced several feet apart which held a fabric cover only a foot or so above the plants. "This material is called ramey and it keeps the birds from getting to the plants, it also keeps the temperature about 5 to 7 degrees warmer than the outside air." Several close up photos made it possible to also see the bird netting she used on several other rows of plants.

Pictures taken in summer exposed the successful crops of lettuce, char, bok choy and kale covering the ground whereas peas were happily climbing the alder pea-poles that Blackmore had constructed. She informed the audience that many herbs grow well in Ketchikan as she displayed photos of colorful chives.

Slides of Blackmore's deck showed large clay pots filled with various flowers. "Another way to garden is in containers. If you don't have room for trees, shrubs or veggies I would recommend that you use large containers so the roots have plenty of space and you will have much more productive and beautiful plants. I want to show how cheerful and brilliant things can be," Blackmore stated as she showed the next slide of a potted upright fuchsia surrounded by vibrant lobelia.

One of Blackmore's favorite flowering plants appeared to be the hellebore. "They have the leaf in the bulb and in early, early spring the flower comes up." She showed her next slide of a hellebore from this spring that has been in bloom for the past 12 weeks. She proceeded to show more varieties of hellebore to include a vibrant lime green one she claims has been flowering since November and should continue until June.

"The other thing about gardening, what's really wonderful, is to share plants," Blackmore said. "A lot of my garden is 30 years old. I've had 10 gardens in those 30 years and I've moved plants from there to here [Oregon to Ketchikan]. "When Pat and I moved here we had a truck and a boat full of plants. When we got to Bellingham the guy said, are you having a plant sale?"

Several more slides revealed lovely day lilies, bleeding hearts, Solomon's seal and geraniums. One of Blackmore less successful plantings became apparent as a slide of some not-so-healthy hostas appeared. Planted near the waters edge under a cedar tree, Blackmore explained, "This is where my daffodils are and I planted hostas with them. I thought that hostas can grow anywhere in Ketchikan but they don't grow in the sun and under those trees."

"What you may not be recognizing in these slides is the mulch," Blackmore said. "I walk down to the beach and pick up seaweed and put it all over the place because they have the micronutrients that the plants need. Also, because there's salt in it, the slugs don't like it."

Moving on to the next slide of her compost pile, Blackmore instructed the audience, "Compost is extremely important, it's a way to add nutrients and make your soil more productive. We've got two bins going all the time."

Focusing once again on the vegetable garden Blackwell suggested, "One of the fun things about gardening is that you keep trying different vegetables that no one has tried before. I got a lot of people up here hooked on kolrabi."

She pointed out her broccoli bed, a zucchini plant and her beans. "Beans work really, really well as you can see. We harvested beans for three or four weeks." She then pointed out the leeks as she explained, "Leeks over-winter here. I can still eat last year's leeks. Rhubarb char is another thing that grows really well up here."

Flowers and vegetables aren't all that Blackmore grows in her rich gardens. Blueberry, raspberry and strawberry plants were as prolific as her other crops. Blackmore did however point out, "What I've done is buy the ever-bearing variety of strawberries and raspberries. I realize that when the rain hits a particular flower session, you can lose all of them so rather than doing a single crop I got the ever-bearing ones. I picked them every other day when they're "on" otherwise the mold hits."

"You also have to make sure you leave plenty of room around your raspberries otherwise they will mold." Blackmore suggested always leaving plenty of room for air to circulate around the plants as a preventative measure.

Blackwell was excited as she described her recent project. "We decided to put in a greenhouse and I'd rather have my plants in the ground than on benches so we had to jackhammer about 2 feet down. We have raised beds inside the greenhouse just like outside."

"Another thing I believe is to never leave my soil exposed," Blackmore explained. "Every time it rains, it just pounds and pounds and packs it so I cover everything with the seaweed."

As Blackmore was ending her presentation she invited the audience to feel free to look over the items she had brought which included gardening publications and the various plant covers and PVC hoops she had mentioned. A good number of people from the audience took Blackmore up on her offer while others had a variety of questions for both Blackmore and her husband.

On April 14th, the Friday Night Insight Program will feature bird expert Gwen Baluss who will discuss bird banding studies, migration patterns and local history accompanied by close up photos of birds taken during the studies.
Marie L. Monyak is a freelance writer living in Ketchikan, Alaska.
A freelance writer is an uncommitted independent writer
who produces and sells articles to a publisher such as SitNews.
Contact Marie at mlmx1[at]hotmail.com
Send your story ideas to editor@sitnews us
Publish A Letter on SitNews
Read Letters/Opinions
Contact the Editor
SitNews
Stories In The News
Ketchikan, Alaska