Musings: The Soul Of Landscape
By Marie L. Monyak
April 10, 2006
Monday

Ketchikan, Alaska - "Musings: The Soul Of Landscape" is a soothing display of the works of Ketchikan artist James Mix. This past Friday was the opening reception for Mix at the Mainstay Gallery where guests were treated to this Renaissance mans interpretation of the nature that surrounds us daily.

Mixes' art is primarily executed by way of acrylic on canvas and many of his works show his lack of fear in using bold colors. Trees with Reeds is stunning in its simplicity and brightness. Using bold strokes, in a linear fashion, Mix relates a certain order in the subject matter.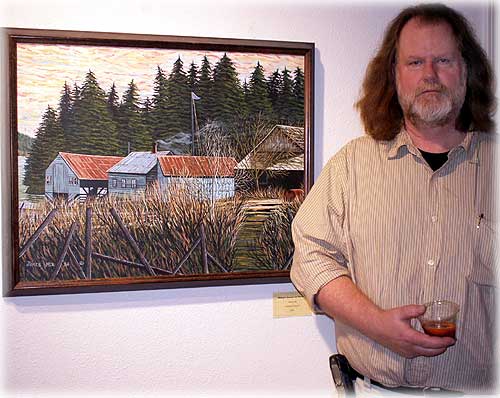 Ketchikan artist James Mix stands next to his work called Olney's House on Pennock
Photograph by Marie L. Monyak

In Mixes' biography provided by the gallery, it recorded six years of military service in the U.S. Army. When I asked Mix if he felt his military background influenced him in the orderliness of some of his works, he replied, "I think all of your life's experiences come in to play."

There's certainly been no lack of influence for Mix throughout his life. Having lived in northern California, Utah and Ketchikan, Mix has worked as a truck driver, coal miner and put in his time at the Ketchikan Pulp Mill. His military service included a tour in Vietnam in the mid sixties and a year stationed in Germany.

This imposing man that stands well over six feet has a gentler and more pensive side that's reflected in his love of not only painting, but photography, world music, history, poetry and literature.

In Magalia Redwoods, Mix is unflinching in his choice of vivid colors. The palette he used transports the viewer to the forest during a hot summer sunset just as the sun is casting its last rays of bright reds and oranges. Mix conveys a great deal of confidence in this piece.

When I commented on his strong use of color, Mix said, "Yes, I'm influenced a great deal by Matisse, Van Gogh and Gauguin. I studied art history a lot on my own." Mix doesn't hesitate though to give credit to his high school art teacher Donald Maxwell whom he said encouraged him to take art seriously and not just as a hobby. "I'm doing something I love, so in a way it is a hobby, it's a chance for me to express myself."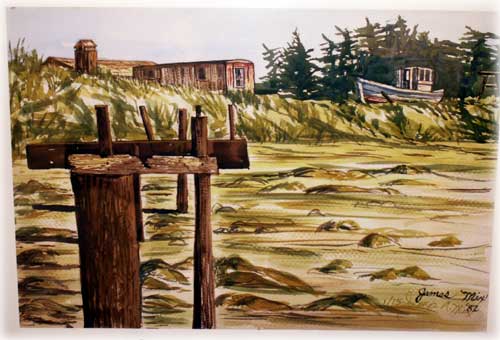 Moss Landing At Low Tide by artist James Mix
Photograph by Marie L. Monyak

With Herring Cove Shed and Low Tide at Moss Landing, Mix used much softer lines and more subtle colors that create a genuine feeling of warmth. In discussing Herring Cove Shed, Mix explained, "That old metal warehouse no longer exists. One thing I like to do is document these old buildings, I've photographed a lot of them." Had it not been for Mix the visual history of the old building may have been lost forever.

Although I encouraged him to select his favorite, I decided to allow Mix to choose the painting he would pose next to for a photograph. After some trepidation, Mix chose Olney's House on Pennock, a wonderful study in color, shape and balance. The shades of blue were stunning in their contrast and I asked Mix about his choice.

"The building is actually grey but I decided on blue, I like to experiment a lot. I learned something from Maxwell," referring to his high school art teacher, Mix continued, "he taught me about repetition, you take the color and spread it around, it makes a balance, it creates a unity in the composition." Mix was certainly successful in this endeavor as he created a clean, fresh feeling that makes one want to step right into the painting.
Mix may have mentioned his early teacher but he also credits classes taken from local artists Ray Troll, Mary Ida Henrickson and Doug Hudson. In his bio, Mix says, "I paint and draw in response to an emotional and intellectual drive, powered by an enthrallment with the details and wide scope of nature."

I asked Mix what his plans are for the near future and he told me, "I'm back in Ketchikan, after a short absence, to care for my elderly parents. I have an opportunity to go out to George Inlet Cannery. I'll be out there in early May in an open studio where the tourists can come by and watch me paint. I want to do a lot of cannery subjects out there."

Mix impressed the audience that roamed through the gallery on Friday evening with his refreshing landscapes so his change of subject matter to painting the old cannery should be something for Ketchikan to look forward to. I know I will.

The Mainstay Gallery is sponsored by the Ketchikan Area Arts and Humanities Council and is located at 716 Totem Way. "Musings: The Soul Of Landscape" will be on exhibit through April 28th. Call 225-2211 for more information.

Marie L. Monyak is a freelance writer living in Ketchikan, Alaska.
A freelance writer is an uncommitted independent writer
who produces and sells articles to a publisher such as SitNews.
Contact Marie at mlmx1[at]hotmail.com
Send your story ideas to editor@sitnews us


Publish A Letter on SitNews Read Letters/Opinions
Contact the Editor
SitNews
Stories In The News
Ketchikan, Alaska