Holy Name Catholic School Dedicates New Playground
By Marie L. Monyak
April 10, 2006
Monday

Ketchikan, Alaska - It was wet and windy Wednesday for the ribbon cutting and dedication of the new playground at Holy Name Catholic School. As the weekly school Mass let out, the Holy Name school children filed into the covered patio area to await Father Pat Travers who would be offering a prayer and blessing the new playground and equipment before cutting the traditional ribbon.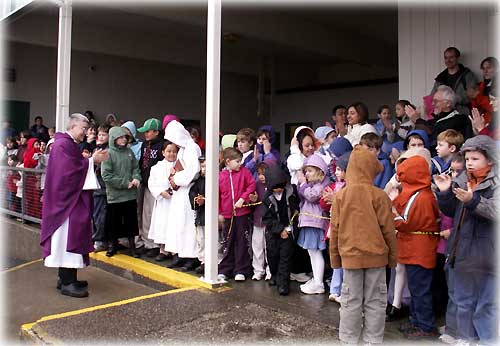 Father Travers speaks to the students before the ribbon cutting.
Photograph by Marie L. Monyak

Barely able to contain their excitement, the children stood patiently and quietly while Father Travers read from the First Letter to the Corinthians, 9:24. The Pastor proceeded to bless the new playground as the children from Preschool through sixth grade stood ready to charge. Monsoons could not have held the children back as Father Travers cut the ceremonial ribbon signaling the opening of the colorful and modern playground.

Clad in typical Ketchikan raingear, the children's spirits weren't dampened by the wind and rain as they climbed the new rock wall, took turns on the new swing set or slid down the wet slide faster than the raindrops. In fact, there was so much running and jumping going on I was quite certain the children were dodging the raindrops, unlike me who was pretty damp to say the least.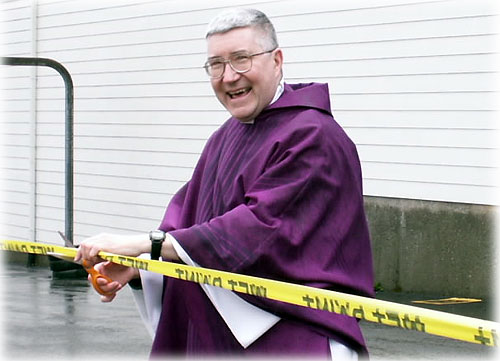 Father Travers cuts the ribbon...
Photograph by marie L. Monyak

The children's pride in their new playground was obvious as many of them climbed on the play structure and posed for a photo. Even more amazing was how quickly the children responded to the impromptu photo shoot and cooperated as though they planned it themselves!

Although the area may appear small for so many children that were enjoying it on this day, it was explained that the school holds three separate recesses so only small groups are using the playground at any given time. It was also pointed out that the neighborhood children utilize the area as well as the school children.

According to School Principal, John Dickinson, the new playground equipment, fencing and cedar chip ground covering was paid for through various fundraisers. The playground planning committee headed by Eric Collins included numerous church members and parents who volunteered their valuable time and talent to remodel or construct the new area.
One of the many new features of the new playground.
Photograph by Marie L. Monyak

The planning committee went so far as to consult with local physical therapist Marggie Sweetman to ensure that the playground equipment provided for the unique physical needs of developing young bodies and minds. Sweetman pointed out that children need a wide range of activities such as swinging, jumping, climbing, spinning and balancing.

In keeping with the school's motto; Educating the Whole Child. Body - Mind - Spirit, Holy Name Catholic School addressed all three elements with their modern, updated, kid friendly playground that will not only provide physical exercise but mental challenges as well.

Now if only it would stop raining!

Publish A Letter on SitNews
Read Letters/Opinions
Contact the Editor
SitNews
Stories In The News
Ketchikan, Alaska