Guardian Flight Fully Accredited BY CAMTS
April 09, 2006
Sunday

Ketchikan, Alaska - Guardian Flight incorporated has become a part of CAMTS, a nationally recognized non-profit organization that "is dedicated to improving the quality and safety of medical transport services."
Guardian Flight is in an elite group as they received "full" accreditation on their first site visit according to Ed Fry the Ketchikan Manager. "It was not only Ketchikan; it included our operation in Fairbanks and Sitka." Fry said, "The site evaluators were very impressed wit all bases especially Ketchikan as we not only have the long range with our Lear 35, but we are also the only dedicated Critical Care Regional Medevac available to the Southeast with Partnerships with local businesses such as Pacifica Airways, Temsco helicopters, and Taquan Air."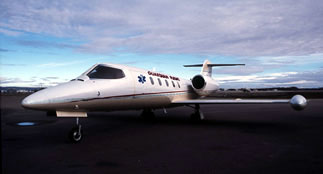 Guardian Flight Jet
CAMTS is an organization of non-profit organizations dedicated to improving the quality and safety of medical transport services, with 16 current member organizations each of which sends one representative to the CAMTS Board of Directors.
The Commission offers a program of voluntary evaluation of compliance with accreditation standards demonstrating the ability to deliver service of a specific quality. The Commission believes that the two highest priorities of an air medical or ground inter-facility transport service are patient care and safety of the transport environment.
Originally developed through an extensive public comment process and published in 1991, revised every 2-3 years, the Accreditation Standards address issues of patient care and safety in fixed and rotary wing services as well as ground inter-facility services providing critical care transports. Each standard is supported by measurable criteria used to measure a program's level of quality.
Accreditation Standards are periodically revised to reflect the dynamic, changing environment of medical transport with considerable input from all disciplines of the medical profession and serve as a marker of excellence for federal, state, and local governmental agencies, as well as private agencies and to the general public.
In order to obtain accreditation, a medical transport service must be in substantial compliance with the Accreditation Standards. To do that, "A medical transport system demonstrates overall quality of service consistent with the essential elements of Accreditation Standards and the professional judgment of the Board. The service demonstrates a steady balance in all dynamic components which comprise their specific program."
Guardian Flight Critical Care Air Transport uses the transport configuration of Registered Nurse and Flight Paramedic. "Over 72% of the areomedical transport services nationwide utilize this configuration" according to Fry; all of the paramedics here in Ketchikan have achieved the credentials of Flight Paramedic-Certified (FP-C) of which there are less than 700 worldwide. In addition to FP-C, we also have the training have the designation of Critical Care Transport Paramedic (CCEMT-P) which gives us the specialized ICU training that our RN's have. We are trained on balloon pumps, ventilators, and other equipment that is not in the street but can only be found in the ICU.
The expertise of nurses and paramedics are shared. The paramedics are seasoned in the street usually high volume EMS systems. Nurses are seasoned Critical Care Nurses that are used to maintaining patients in intensive care units which are high intensity areas of treatment. "We look at our complements in skills as a team" according to Rachael Welk, Flight Nurse for GFI.
Nationwide there are only 124 accredited services. Some States require the accreditation in order to offer services.
On the Web:
Guardian Flight
http://www.guardianflight.com/

CAMTS
http://www.camts.org/


E-mail your news & photos to editor@sitnews.us


Publish A Letter on SitNews Read Letters/Opinions
Contact the Editor
SitNews
Stories In The News
Ketchikan, Alaska