Annual Expo Event Offered Something For Everyone
By Marie L. Monyak
April 04, 2006
Tuesday

Ketchikan, Alaska - At a time of year when most local residents were about to go stark raving mad from months of dark, dreary, rain soaked days it finally arrived - at long last the light at the end of the tunnel - the First City Expo! Hosted by The Local Paper and KFMJ Radio, the Expo was held this past weekend at Ketchikan High School to the delight of many.

The Expo is the first sign of spring, right up there with skunk cabbage and daffodils. It's the first big, city-wide event that allows residents to get out of their homes, get re-acquainted with neighbors, renew friendships with those they haven't seen for months and schmooze with fellow Ketchikanites.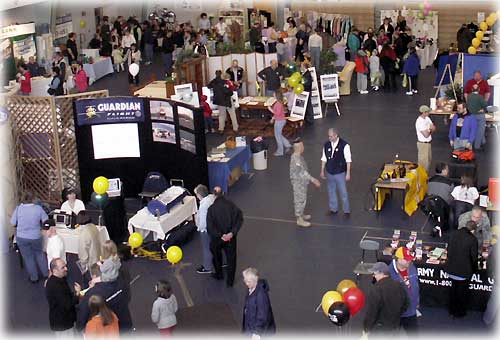 Annual Expo Event
Photo by Marie L. Monyak

More importantly, the Expo is an opportunity for our local businesses and organizations to come together under one roof and display their merchandise or services. Some businesses were competing with one another. Service organizations were enticing new members. Newer businesses were getting the word out about who they are and what they offer. In the midst of all this the food vendors were keeping everyone fed and quenched.

And everywhere you looked were reminders that it's spring! WalMart's booth reminded everyone they have bar-b-ques and charcoal stacked to the rafters, while the display by Duckworth and Duckworth Construction made one consider that long put-off remodel or addition.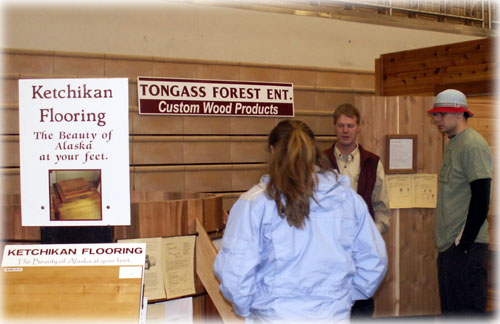 Larry Jackson, owner of Tongass Forest Enterprises, talks to Expo visitors about the custom wood products he produces in Ketchikan. www.akforestenterprises.com/
Photo by Marie L. Monyak

What would spring be without spring cleaning? To get those blinds, carpets and upholstery cleaned, Hummingbird Services was on hand setting appointments and explaining their services. As owners Paul and John like to say; "Call us and talk dirty!"

Maybe it was time for a new fence for Rover or bear proof garbage cans, preferably before the bears realize its spring! Southeast Fence Specialists were present to give quotes and remind everyone of their motto; "Good fences make good neighbors."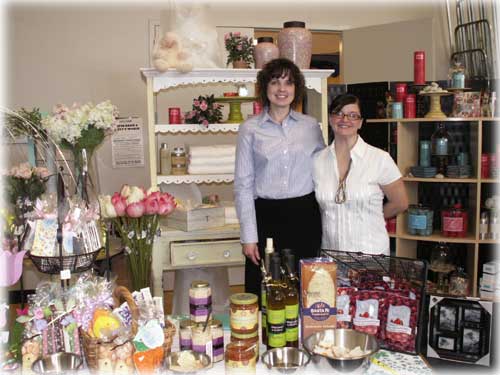 Silver Basin Booth: Beautiful things for your home...
http://www.silverbasin.com/
Photo by Marie L. Monyak

Everyone is familiar with the joke; when the house gets too dirty, just move! For those who dread spring cleaning, the friendly folks at Alliance Realty were showing their listings to interested parties. What better way to start spring than in a brand new home?

For those in need of financing for that new home, the local banks and credit unions were competing for business by offering special rates. Wells Fargo, First Bank and Alaska Pacific Bank were well represented. For those interested in lower banking fees, Tongass Federal and Alaska USA Credit Unions were both displaying the advantages of membership.

With all the talk of spring cleaning and home improvement, people were bound to get thirsty and the Bottled Water Express booth was offering bottled water from two sources, Sitka, Alaska or the Washington Cascades, with home delivery. (haloacytic free!)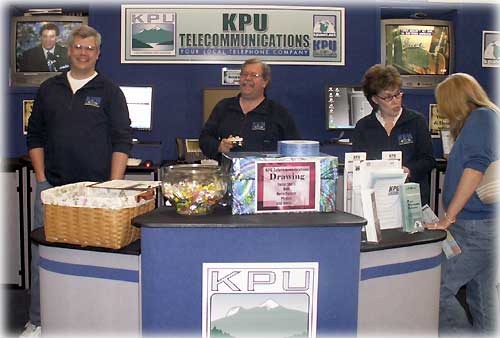 KPU Telecommunications Booth
http://www.city.ketchikan.ak.us/public_utilities/kputel/index.html
Photo by Marie L. Monyak

If water didn't have the punch people needed, The Green Coffee Bean Company had plenty of get-up-and-go in their aromatic bags of coffee beans. With coffees, teas and cocoas, their display had something to please every palate.

There were gender specific booths at the Expo as well. Women weary from just thinking about spring cleaning rewarded themselves with easy care clothing from Weekenders USA or pretty candles and heavenly fragrances from Silver Basin. They also found the shiny baubles at the Cookie Lee Jewelry exhibit hard to resist.

While the women treated themselves, the men talked boating at the Murray Pacific booth in ways that only men can do, but once they found the EZ Dock exhibit with their innovative floating dock it was hard to pull the men away.
Cellular One Booth
http://www.celloneusa.com
Photo by Marie L. Monyak

For folks that felt lost without a phone, the helpful people at the Cellular One booth were available to set up a new cell phone account on the spot, while the workers at the KPU booth were busy educating the public on their new digital television service.

For those that worked up an appetite shopping and socializing, the food court had plenty of offerings to satisfy everyone. Hot dogs, nachos, Teriyaki sticks, bagels, cookies and popcorn kept everyone satiated.

Once nourished, the Expo guests found plenty more exhibits to visit. Numerous service organizations were present to explain their goals and recruit new volunteers. Big Brothers Big Sisters, Friends of the Library, the Coast Guard Auxiliary and the Ketchikan Chamber of Commerce were just a few of the organizations present to inform the public and create an awareness of their mission.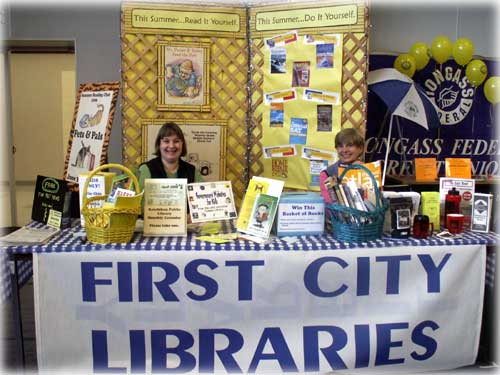 First City Libraries Booth
http://www.city.ketchikan.ak.us/departments/libraries/index.html
Photo by Marie L. Monyak

Holy Name Catholic School, Charter School and the Tongass School of Arts and Sciences were all available to speak to the academics of our local children and explain their educational philosophies.

Guardian Flight and Airlift Northwest were both on hand to discuss their medivac services, the very service no one ever wants to use, but is glad to have when the need arises. And for those interested in becoming citizen soldiers, the Alaska National Guard exhibit provided all the necessary information and sign up forms.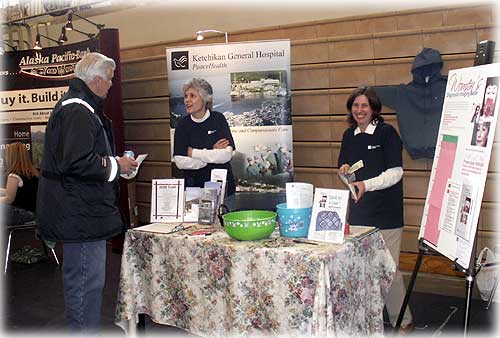 Ketchikan General Hospital Booth
http://www.peacehealth.org/kbase/
Photo by Marie L. Monyak

There were activities for children and numerous raffles and free samples at many of the exhibits. There were too many participants to mention every one but local residents were treated to a wide variety of business and service exhibits and will hopefully be rewarding them in the future with their patronage.

Keeping the flow moving all weekend were the KFMJ radio personalities, Vicki Muzak, Stuart Whyte and Julie Slanaker. At their live remote booth they not only broadcast but they kept their sense of humor by handing out free rubber chicken key chains to the delight of many.

Once again the Local Paper pulled off a successful Expo with the hard work of Debbie Hoyt, Rick Smith and of course the fearless leader of them all; Jacquie Meck! Now that the Expo is over and spring has sprung let's all get to work!
On the Web:

Publish A Letter on SitNews
Read Letters/Opinions
Contact the Editor
SitNews
Stories In The News
Ketchikan, Alaska