Viewpoints
Kind and Generous People
By Jerry Cegelske
April 18, 2006
Tuesday

It is unusual when we run into kind and generous people. Many people are recognized in the community for the many good things they do for the good of the community. I would like to show you what some kind and generous person did for the group that planned to clean up North Tongass and Revilla Road. From the pictures you can see that the Friday night snow we had halted the activity for another day. An indication was the tv reception was deteriorating while the snow was coming down heavily. There was three inches of snow at Mile 16 and the road was not plowed beyond the second waterfall, so the cleanup was postponed.

About ten days ago I had been to the end of the road and checked the dump sites to determine how many people we needed at each location and decided the pull-out at Mile 15.3 would be a good place to meet and assign sites to clean up. It was interesting to see whether there was new trash dumped or just the old stuff. Someone had cut a tree at the end of the road and just left it, probably wanted to use it to start a fire and got cold feet when someone else came by.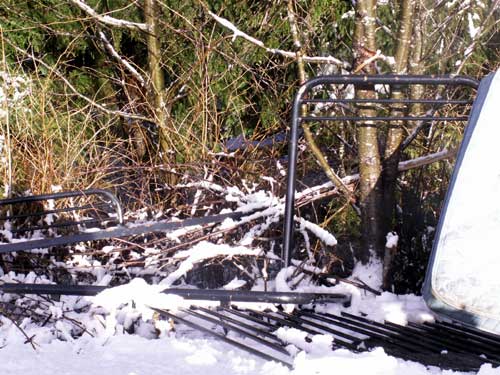 Bunk bed set
Photo by Marie Monyak

Saturday when I went to the pull-out at 15.3 mile, I found that a kind and generous soul had dumped a set of bunk beds and mattresses there for us to clean up. How nice! They put them in an area where all of us could see them so we wouldn't miss them and they were closer to town that had they taken them to the end of the road. We always appreciate the efforts of people that want to help keep the community clean and make sure the people cleaning up the roads have plenty of fun!

I also uncovered the grill from a Ford truck someone had thrown over the guardrail for us to clean up. You would think that people would realize that the landfill is free, or are they just so lazy they refuse to accept responsibility for their solid waste to take it where it belongs? Thanks guys!

The North Tongass- Revilla Road Cleanup has been postponed until May 13 at 9:00 am, starting at the 15.3 Mile pull-out. Your help would be greatly appreciated. Who knows what we will find to have fun with when we give the dumpers three more weeks to leave their trash around.
Jerry Cegelske
Ketchikan, AK - USA
About: Jerry Cegelske is the Code Enforcement Officer for the Borough and attempting to get the community dumping sites and litter cleaned up with public support and action.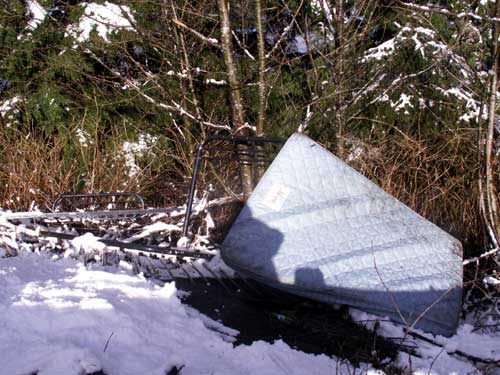 Bunk bed set
Photo by Marie Monyak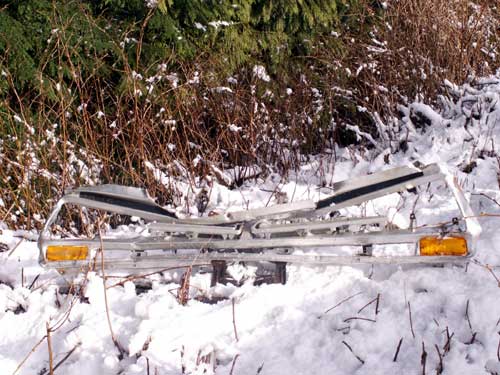 Ford grill
Photo by Marie Monyak




Note: Comments published on Viewpoints are the opinions of the writer
and do not necessarily reflect the opinions of Sitnews.
Write a Letter -------Read Letters

E-mail the Editor

Sitnews
Stories In The News
Ketchikan, Alaska