Ketchikan-born Woman Takes on Big Bike Boys
with Wicked Women Choppers
by M.C. Kauffman
April 19, 2005
Tuesday

Ketchikan, Alaska - A dream has become a reality for Ketchikan-born Christine Vaughn, a 7th generation Alaskan. Wicked Women Choppers LLC the vision of Vaughn - Motorcycle Rider, Designer, Fabricator, Builder, President and CEO - was born out of her personal frustration with the motorcycle industry's failure to specifically address the needs of women riders.
Now living in Herrin, Illinois, Vaughn - who learned the ways of the Haida Tribe and the beauty and bounty of the surrounding islands and waters of Southeast Alaska - said she first got interested in motorcycles at age 10. "My first bike was a Suzuki RM100 and within a couple of hours I was trying to stand up on the seat. My Father thought that my lack of fear could be put to better use in an organized environment so he signed me up to start racing. Eventually I moved on to quad racing and then became interested in street bikes."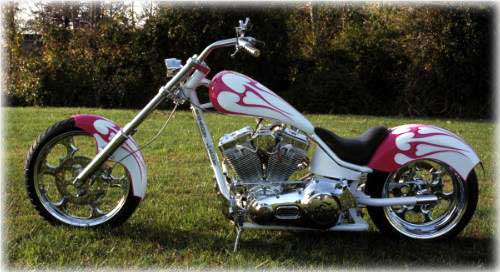 Shady Lady - Pink Flames
Photography by John Mann/Chrome Pony©
Photograph Courtesy Christine Vaughn

Her over-all inspiration comes from the women in her family. Vaughn said, "Gender blurring is a necessity in the Alaska bush - to survive everyone has to be able to do the task at hand." She said, "A stereotypical family could not function in the remote areas of Alaska and it is more the women doing what would be perceived as men's work than it is the other way around. If you are female and your family fishes, you fish. The same hold true for canneries, logging and even the oil fields. I take strength in the fact that I can trace my maternal roots back through seven generations." Vaughn said, "My Great-Great Grandmother ran a, let's say, "boarding house" so the entrepreneurial spirit is in my genes."
"I learned to work on motorcycles out of necessity, Vaughn said. One of the first things she did with her first bike was to take it apart. She said, "When I asked my Father and brothers for help they told me "you took it apart, you can put it back together". It has been a constant learning experience ever since."
The sister of Jamie Easterly of Ketchikan, Christine Vaughn met and married her husband Dan and together they have a teenage son, Joseph Devin Austin Vaughn. The three of them traveled the world with her husband's job with Christine doing double duty as mother and Executive Assistance for her husband.
Vaughn said her husband shared her adventurous spirit and they bought a pair of Harley Davidson Fat Boys after settling in Illinois. She said she immediately set about personalizing her ride and enjoyed the tinkering as much as she did the riding. The end result of was two almost identical, heavily customized bikes, which drew attention wherever they went. At every stop it seemed that offers were being made to purchase the bikes to a point where the offers were too good to pass up and strangely enough, men were buying most of her bikes. Out with the old and in with the new and the process kept repeating itself, said Vaughn.
Based on this success and always looking for a new challenge Vaughn decided to move to the next level, full out custom building - The idea for Wicked Women Choppers was born. Armed with piles of industry magazines and stacks of product catalogs she set about designing Wicked Women Chopper's first model "The Shady Lady".
The next tasks to be tackled, and by far the hardest Vaughn said, were Federal, State and Local governmental approvals for the new business along with dealer and OEM relationships with vendors. In April of 2004 everything started coming together and in March Vaughn received her Federal Manufacturing approval - Wicked Women Choppers was now a viable entity and thus began a new chapter for this Ketchikan-born woman.
Vaughn said she had the idea for Wicked Women Choppers for a couple of years and decided to go ahead with it late in 2003. Offering advice to those who are interested in starting a new business, Vaughn said, "Anyone that is considering starting any kind of business needs to be aware of a couple of harsh realities. No matter how detailed of a budget you prepare, double it. Whatever amount of time you have allocated for a task, triple it."
Vaughn said, "I started with nothing but the idea and knew that without access to parts the business would go nowhere. I formulated a plan to start with the largest ones first and ALL of my initial letters were answered and ALL the responses were favorable. I can't tell you how many Company Owners and Presidents called me personally to pledge their support. Given the fact that at the time we met none of their normal requirements, this was quite an accomplishment."
Vaughn said she is a high school graduate and with about two years of college but no degree. "I have never been good at learning by watching or listening - that could be interpreted as good or bad, but my way of learning is by doing." said Vaughn. She said she has no formal mechanical or fabrication training in building bikes. She learned by doing - "Much of it by trial and error but I don't normally repeat my mistakes." Vaughn said she did take a few stained glass classes and did original stained glass pieces for a number of years.
By December 2004, Vaughn had four full time employees - five counting their painter who paints exclusively for them and several part time employees. Vaughn said the plan was to staff up once production gets going.
Regarding reception for Wicked Women Choppers from other industry types, Vaughn said, "I can't say enough good things about the industry. We have been made to feel not only welcome but also totally supported." Vaughn said there has been absolutely no dissension from anyone in the industry.
Vaughn said she was inspired to design for women out of frustration. She said, "I have built a number of bikes for my own use and always had to fabricate parts to make the bike comfortable and safe to ride. Having to slide forward to reach forward controls is not only uncomfortable but unsafe. Having to balance the bike on the balls of my feet when stopped is the same. All of those issues and more have been addressed in my designs."
Would she build a bike for a man? "Definitely," she said. "I don't want anyone to buy a Wicked Women Chopper because it is made by a women. I want them to buy my bikes because they are innovative and a great value for the money." Vaughn said, " The fact that I am a women does give me insight into the needs of the women rider, but my skills as a designer and builder is what I want people to look at, not my gender."
"Wicked Women Choppers being the name of my company may keep the men away, but anyone looking for quality and value needs to give us a look. Strangely enough, most of our inquiries to date have been from men (go figure)," said Vaughn.
Vaughn said her plan from the start. was to hook up with some heavy hitters in the industry. She said, "If you can get support from the big guys, the others will follow their lead. I don't want to give away any secrets, but my plan was very successful."
These "big guy" companies have been very helpful according to Vaughn. She said, "Brett Smith of S&S called me personally and invited me to Daytona to attend an event they were sponsoring so he could meet me and introduce me to his staff. We have had the same type of response, on a smaller scale, from all of the vendors."
Asked if Vaughn fabricated her own parts she said, "The frame and handlebars are being fabricated to our specs by vendors and I don't know that I would want to change that. The gas tank, oil tank and fenders are special order items with the final fabrication being done in house. We do have plans for a small line of signature parts after we get comfortable with the production bikes."
She said, "The "Shady Lady" comes stock with what most other companies charge as upgrades, but we do have some upgrades available. Our dealers will be able to order the bikes fitted out with what they feel they can sell." She said, "Individual customers can request any changes they want and we will work with them from start to finished product and build a bike to their specifications."
On the paint or powder coating, which do you prefer? "I like the durability of powder coating, but I like the freedom that paint provides you to color match the frame and also to incorporate the paint details from the sheet metal down through the frame (We paint our frames for that reason)," said Vaughn.
Elaborating on the Shady Lady line, Vaughn said, the 2004 Shady Lady was unveiled in September at Bike Fest 2004 in Paducah, Kentucky. The Shady Lady is a "Chopper Style" bike and comes stock with a Polished 96 Cubic Inch S&S engine - a 107 and 113 inch motor is available as an upgrade.
Vaughn said the frame has a drop-seat for easier reach to the ground without sacrificing ground clearance. Everything on the bike is painted, polished or chromed. The bars have internal wiring for a real clean look and the clutch is hydraulic for easier use with "comfort" style levers to accommodate smaller hands.
The rear tire is an Avon 250 on a chrome billet 18-inch wheel. The front tire is a 120 Avon on a chrome billet 21-inch wheel. We went with a larger front tire to give better handling characteristics. Vaughn said the bike comes standard with an enclosed primary belt drive but can be upgraded to a Primo/Rivera Brute IV open primary for an additional cost.
The bikes are designed with the optimum amount of trail to provide a safe ride at all speeds. Vaughn said, "The bikes are designed to turn heads but are made to be ridden." And the cost? The Shady Lady retails for $34,500.00.
Vaughn said all of the major industry magazines have expressed an interest in doing a feature story on Wicked Women Choppers. In 2004, "We have had small segments published in Cycle World, Sistercycle, Canadian Biker Magazine, Women On Wheels and feature stories in all of the local papers." She has done radio interviews with the local Herrin, Illinois stations and a national radio interview for Motorcycle Magic. In addition, The Discovery Channel asked them in 2004 to do an audition tape.
In April 2005, Vaughn was a guest on America's Premiere Motorcycle Talk Radio Show. Vaughn, the crew and the BOM Producers were on hand to talk with Gina Woods about Wicked Women Choppers, The Breast Cancer Awareness Bike, and Wicked Women Choppers new "Iron Angel" TV pilot.
Her company's slogan - and philosophy of life - is borrowed from a Harvard professor: "Well-behaved women seldom make history." And this Ketchikan-born woman is making history!
On the Web:
Wicked Women Choppers
http://www.wickedwomenchoppers.com
E-mail your news & photos to editor@sitnews.us


Publish A Letter on SitNews Read Letters/Opinions
Submit A Letter to the Editor

Sitnews
Stories In The News
Ketchikan, Alaska