Remembering Ernie Pyle, 60 years after his death
By BILL STRAUB
Scripps Howard News Service
April 18, 2005
Monday

Dana, Ind. - It was a scene that had repeated itself so many times during World War II that it was hardly noteworthy - Ernie Pyle was reluctantly heading toward yet another battlefront to join the foot soldiers whose exploits and deaths he dutifully chronicled.
But the journey proved to be Pyle's last. On April 18, 1945, the nation's most revered war correspondent was gunned down by a Japanese sniper on the island of Ie Shima just west of Okinawa at age 44.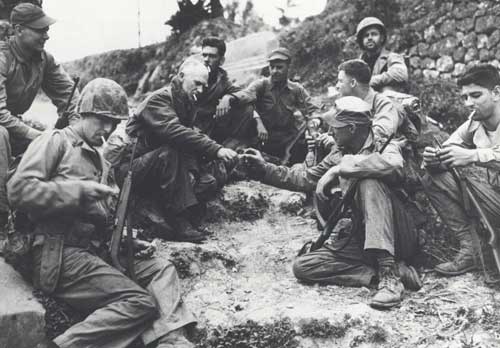 Ernie Pyle takes a break with some Marines on Iwo Jima in 1945.
(SHNS photo courtesy Scripps Howard Foundation)

The jeep transporting the Scripps Howard reporter came under machine-gun fire, forcing the vehicle into a ditch. Moments later, when Pyle raised his head to have a look around, a Japanese bullet killed him instantly, just a few months before the war came to an end.
Lt. Col. Joseph Coolidge, who was with Pyle when the attack occurred, said the next day, "The GI has lost his best friend."
It has been 60 years since Ernie Pyle's death but his legend persists, particularly in a small Indiana town that bred a great man of letters.
To visit Dana, hard near the Illinois border, is to instantly recognize how Pyle managed to empathize with the weary and doomed soldiers he wrote about.
A self-described "simple Hoosier," Pyle emerged from one of those faceless dots on the Middle America map that supplied the U.S. Army during its hour of need. A place where these days farmers gathered at the R&R Junction restaurant just outside of town on U.S. 36 are more apt to discuss newly purchased tractors and the recent rains than world affairs or the goings-on in Washington.
"He was raised right here in the middle of the cornfields of Indiana," said Charity Pollard, acting manager for the Ernie Pyle State Historic Site, which draws 10,000 visitors a year. "Sometimes I don't think people realize what can be found in the cornfields of Indiana. It's extraordinary sometimes what people can do off the beaten path."
Pyle proves that. He was actually born on the Sam Elder spread southwest of town where his father Will toiled as a tenant farmer in the days before electricity spread out from the cities. Unlike those destined to follow in their father's footsteps, Pyle never cottoned to farming, remarking at one time that "anything was better than looking at the south end of a horse going north."
In 1908, Pyle's Aunt Mary took him to see a traveling circus in Terre Haute. From that point on he yearned to see the world. But it was 18 years before Pyle ventured out of Vermillion County, enlisting in the Naval Reserve before heading to Bloomington and Indiana University, where he began his career in letters.
Today there is little to distinguish Dana from any of the hundreds of farm communities that define the American breadbasket, save for the Ernie Pyle House, moved to the state historic site at the corner of Maple and Pyle from his home farm about a mile and a half away. The site also is distinguished by two Quonset huts that house exhibits and some Pyle memorabilia, including a typewriter he used in his pre-war days and an olive-drab sock hat worn on the battlefields of Europe and the Pacific.
The streets of Dana are quiet during the day. The owner of the Home Town Cafe, renowned for its potato soup, passed away recently, depriving the community of 600 of a gathering spot. The First National Bank of Dana is the most prominent building along the two-block main drag. The only sign of activity is folks heading into and out of the post office.
It's planting time around Dana. If the farmers aren't preparing the soil on the flat land that spreads out in all directions as far as the eye can see, they're busy with other spring chores.
"It was a boomtown when Ernie was here," Pollard said. "It had a theater and a bowling alley and the train ran through here. There was actually a lot more going on here then than there is now."
Pyle was a popular writer before he began sending his Pulitzer Prize-winning dispatches from Europe, serving for five years as a roving columnist for Scripps Howard. The Hoosier Vagabond crossed the country 35 times, often with his wife, Jerry, in tow, with a couple of side trips to Central and South America.
With the war raging in Europe, Pyle, already 40 years old, ventured to England to describe for his American audience the Battle of Britain. After Pearl Harbor, Pyle started covering the conflict from an American perspective, taking in the vicious campaigns in places like North Africa, Italy and Normandy Beach over the next three years.
Pyle soon was considered America's most widely read correspondent, with his byline appearing in about 400 daily and 300 weekly newspapers. His specialty was simply written stories about the common soldier, most of whom came from similar backgrounds, many young enough to be his sons. He was particularly fond of the infantry, the grunts who suffered staggering casualties.
"I love the infantry because they are the underdogs," he wrote. "They are the mud-rain-frost-and-wind boys. They have no comforts, and they even learn to live without the necessities. And in the end they are the guys that wars can't be won without."
Sixty years later, veterans remember the "farm boy from Dana, Indiana," with fondness and respect.
"We used to read old Ernie Pyle in the Stars and Stripes (military newspaper)," said Ted Jones, 88, who served as a corporal on New Guinea. "We always liked to read him because he wrote about the common soldier and told everybody what it was really like. He was really good at describing what was going on."
Pollard said Pyle was just another writer to her until she took the opportunity to study his columns.
"He was different," she said. "He had a real gift and people who read him knew that. You could say he was just another journalist but he wasn't - I think he received more respect than a lot of the dignitaries at the time."
Pyle, Pollard said, "took you into the story. After you read two sentences, you were there. He didn't report statistics. He reported on what they were going through, things like going without a bath for weeks on end."
As the war in Europe neared an end, Pyle, his red hair surrounding a bald pate turned gray, was deeply tired and overcome with what he described to friends as a "flat black depression." But he agreed to a new assignment in the Pacific where the war continued to rage. And it was there that he was killed - far from the farm in a distant region of Indiana.
E-mail Bill Straub at StraubB(at)shns.com

Publish A Letter on SitNews Read Letters/Opinions
Submit A Letter to the Editor

Sitnews
Stories In The News
Ketchikan, Alaska