First City Players' Star-Kissed Tuna A Delight
By Sharon Lint-Allen
April 16, 2005
Saturday

Ketchikan, Alaska - Last Friday, First City Players opened a delightful Star-Kissed Tuna at Cape Fox Lodge. But please don't get out your 'Save the Dolphins' signs - it had nothing to do with Charlie the Tuna or Chicken of the Sea. The Tuna being referred to was a theatre production of the hilarious comedy, "Greater Tuna."
It was presented as a Dinner Theatre Event and Ketchikan's Culinary Master, Chef Tim, surpassed himself by catering a huge, delicious Texas Style Barbeque to kick off each night of entertainment.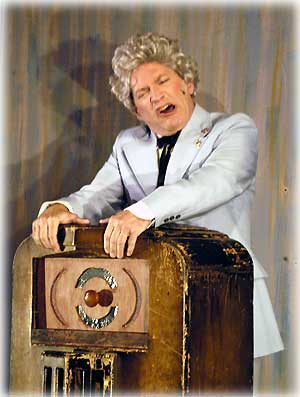 Tim Fowler as the Reverend
Photograph by Jeff Fritzwater ©2005
The two-man show was directed by Lu Anechiarico and showcased the acting talents of Stars Tom Fowler and Keith Smith. Anechiarico is a three-year veteran with First City Players, and although this was her first time directing, she has experience as an assistant director and stage manager. She has also acted onstage in "Noises Off", "You Can't Take It With You" and "Vagina Monologues."
Tom Fowler is a resident of Ketchikan and as such, is more than familiar with the mental structure of a small town. He states in the program that "after a few tries at building props and one stint as the mute Posioner King in "Rosencraz and Guildenstern Are Dead," he decided to try his hand at a speaking part.
Keith Smith is no stranger to the Arts. Well-known in Ketchikan as a writer, poet, and editor, Keith Smith received a B.A. from Oberlin College in 1982 and an M.F.A in poetry from the University of Virginia in 1988. He has taught creative writing workshops, and since moving to Ketchikan in 1996 after four years in Pernambuco, Brasil and Tarija, Bolivia, he has worked as an actor and director on productions such as "A Midsummer Night's Dream,' "The Music Man," "House of Blue Leaves," "Fish Pirate's Daughter," "Chicago," etc.
Keith has also worked as an editor on a number of literary magazines and journals, including the S.E. Alaska publication "Inside Passage". He also co-hosts "The Poetry Lounge" a weekly radio show on KRBD. He is a founding member of The Writer's Forum and has also organized and worked as a panelist for The Humanities Conference in Ketchikan, now in its sixth year.
You may remember Smith as the full time Executive Director of the Ketchikan Area Arts & Humanities Council from 1998 - 2002, and the project coordinator for the new Ketchikan Art Center building project from 2002 -2004. His most recent work includes collaboration in CrossSounds, and publication in the "American Anthropologist" and the "Journal for Anthropology and the Humanities." In his spare time, he works in marketing and development for Baranof & Company, The Warf, LLC., and also is a member of the local School Board.
The production began last weekend with a 6:30 pm performance on April 8th and 9th and is set to close with a 6:30 pm show this coming Friday and Saturday. Additionally, since the tickets were selling so quickly, First City Players added an April 10th performance at the last minute to accommodate popular demand. So, if you're planning on attending and are wondering whether you'll have a good time, the answer is a definitive "Yes."
However, if you don't already have tickets, you're probably going to miss out on a great show. All five performances were sold-out long ago and there is a long waiting list for any last minute cancellations.
If you're not familiar with the history of the play, "Greater Tuna" was based on a political cartoon and began as a simple party skit performed in Austin, Texas over twenty years ago. Not long after that time, Jaston Williams, Joe Sears and Ed Howard transformed that same sketch into a huge off-Broadway success that portrayed one single day in an imaginary Texas town known as Tuna, which is reported as being the State's third smallest community.
It is sketch comedy at its best and first-time director Anechiarico reported that she tried to stay as true to the original vision of the play as she could, describing the effort as having "simplicity of set and very few physical props. Just two actors creating a context for the world their characters live in."
The effort was successful. Deb Turnbull's set was simple and effective; Aubree Danner's lighting, excellent, Brian Short, Kourtney Ludwig, Colin Patton and Elizabeth Nelson's sound arrangements, ideal, and Anna Annicelli and Diane Naab's costumes, remarkable.
Anechiarico agreed. "Anna and Diane should be the envy of every professional costumer," she said in her praise of the crew. "Aubrey, Kourtney, Brian, Jeff and Colin took on a deceivingly difficult technical show and gave it the perfect atmosphere . . . [and] Deb, Ketchikan's very own set designing maven, gave me the set exactly as I had envisioned it and gave my crew a backstage area to die for!"
Turnball herself is more humble about the set, but just as enthusiastic. "'Greater Tuna' is my first set design . . . not too difficult as it pretty much is the standard set configuration for this play," she admitted.
"It is extremely minimalistic," Anechiarico said. "There's basically four chairs, one large table, one very tiny table and the radio mid-stage and that's it."
However, Turnball pointed out there are difficulties in even unpretentious sets. "My challenge was to understand how to build a portable set, something that had to go up and come down a couple of times," she said, proving further her earlier statement as she declared, "I love my job!"
Naab and Annicelli love their jobs too. Naab became involved with First City Players in 1997 and states that "after the design and construction of sets for 'The Importance of Being Ernest' . . . I was hooked!"
Similarly, Annicelli says she keeps saying "yes" to working in costume productions because she "loves being a part of creating the magic backstage!"
And we love the end products of their work. The costumes were outstanding in their ability to bring out the uncanny idiosyncrasies of each personality. Annicelli and Naab's work could be praised alone, for this if nothing else, but given the fact that it was extremely hard to find adequate clothing for each character portrayal, a special acknowledgement should be made for their efforts in solving the many difficulties they encountered.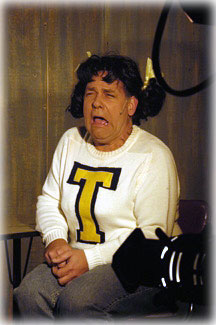 Keith Smith as Charlene
Photograph by
Jeff Fritzwater©2005
First, there was the problem of finding western wear and props in an Alaskan town better known for Xtra-tufs, totem poles and North Face jackets than for Stetsons, saddles or gaudily-embroidered cowboy shirts. Then, there was an added difficulty of integrating the items that were found into workable costumes that fit with the director's image of each character. Additionally, complications often arose when tailoring the garments to ample proportions for the two male actors to be able to portray realistic facsimiles of kids and old women.
Finally, there were all kinds of trials encountered in making sure all the costumes could allow for lightning-quick changes that averaged anywhere from one minute to nine seconds to complete. This problem of rapid costuming set up an incredible progression of obstacles for the two actors. All 20 roles, male and female, had to be played by only these two performers, which involved over 40 costume changes in a little over two hours.
"I have twenty-eight costume changes," Smith declared when asked about his own characters. "Twenty-eight. Count them . . . in a span of an hour and a half. That means I have a costume change on an average of every three minutes!"
That's a lot of schizophrenia to pack into the workings of a watch.
But somehow, when opening night arrived, all of the stage elements were ready and the costumes were perfect. The trio of Anne Annicelli, Diane Naab and Leila Keiry were backstage; calm, poised and ready to help rapidly dress and undress the two stars with able, nimble fingers and the management of the dreaded theatrical juggling act was ultimately accomplished with finesse.
Of course, nothing is perfect, and no one expected the split-second costume changes to go without some kind of a hitch. So it was no surprise when the procedure developed a hiccup or two on opening night.
As an example, on Friday night, something seemed a bit out of order in Act I, and in another spot the audience had to wait a few extra seconds, apparently for one of the actors to correct a hitch in his giddy-up. But, as a whole, the quick-change artistry was more than impressive considering the complexities involved and never deterred from the play in any major way.
As far as the acting goes, it appeared seamless. During the play, the audience was paraded through a typical day in Tuna which began and ended (and often interrupted) with radio transmissions from Station OKKK. The ensuing on-air dialogue resembled what you'd get if you mixed a Greek Chorus with Willie Nelson, String Bean, the Jerry Springer Show and Mayberry RFD. Through that dialogue the audience came to know Tuna, character by character.
Bertha, Pearl, LeRoy, Vera, Elmer. These were the names of some of the people Fowler and Smith brought to life. The two delivered a treasure trove of crude humanity in a mere two acts. Their gift for impersonation and parody was awesome to watch. The genius they both showed in this area could easily rival the talent showcased in any off-Broadway production. The two did an exceptional job of switching roles rapidly while speaking Archie Bunker Bigotry with slow Texan twangs in a biased, Blue-Collar-Comedy Style.
Watching the comedy unfold, the audience experienced a wide array of sentiments. Amusement, bemusement, stupefaction, dismay, hilarity, disorientation, discomfort, bafflement, amazement, shock and disgust were all felt; sometimes all at once and other times, in turn.
The humor was expected, but the underlying tone of ruefulness that also twists its way through the show was not. The jokes were more often sharp-edged as not, although the satire was subtle. Fowler and Smith's raw honesty and unerring ability to inject 20 characters with a smorgasbord of perfect imperfections should not be missed.
But be warned, the acting duo sometimes suddenly move or gesture or speak with an inflection that quickly opens their character's soul too wide for comfort, exposing you to an aching heart that bears too close a resemblance to your own.
Some in the audience were plainly uncomfortable at times. Others ignored all but the blatant surface of the lines and laughed at the insularity, others just shook their heads. But all seemed to agree that from the time the curtain opened on Station OKKK's beginning transmission by Thurston Wheelis (Fowler) and Arles Struvie (Smith) until the lights dimmed with a radio broadcast send-off, we were amongst our own relations.
Each caricature ushered onstage had been layered carefully with line, accent, prop and gesture by Fowler and Smith until its personality finally bounded offstage and into our minds, quickly associating with somebody we knew, have known, or are.
Take Wheelis. Fowler depicted him as the epitome of a corn-fed farmer. He appeared onstage wearing thick black-rimmed 1960-style coke-bottle glasses, a yellow John-Deere-like cap, a worn red flannel shirt, and bib overalls. The only thing missing was a chaw of tobacco and a few mud stains. Likewise, Smith's Struvie was the quintessential cowboy clothed in a black Stetson hat, dark jeans and a cheap, western-style shirt. The drawls and ya'lls were also all in place along with the two bumpkins' irritating tendency for repeating agreeable "we-dids," over and over . . . and over.
During the play, Smith also represented Didi Snavely, Harold Dean Lattimer, Petey Fisk, Jody, Stanley and Charlene Bumiller, Chad Hartford, Phinas Blye and Vera Carp. Didi is a gravelly-voiced female gun shop owner with a rat's nest for hair and a pot-belly. She is married to R. R. Snavely, (played by Fowler) who is a wet alcoholic if ever there was one. R.R. is best known for sighting UFOs in the area of a nearby lake and for secretly sipping from a flask of spirits.
Then, of course, there's the three Bumiller kids; Charlene, Jody and Stanley. Charlene is a pathetic, overweight teenage girl who still dreams of being a high school cheerleader even though she is a senior nearing graduation. Jody is a weedy, sad, baseball-capped little kid who keeps coming home with stray puppies which he swears has "followed him home."
Ultimately, it becomes evident that the strays have been palmed off on little Jody by Petey Fisk, the sweet, shy, schizoid animal shelter activist who is out to save every mutt, meow, duck and snake that enters the town of Tuna. Jody's mother, Bertha, finally makes a telephone call to Petey to warn him against ever sending another canine home with her son, but not until the family has a pack of eight dogs in their back yard yelping and driving all of Tuna nuts.
Stanley is a big, spooky thug of a kid, who is happy to run over dead dogs for crazy aunts, and who wears a marijuana-leafed t-shirt with a nasty little sneer. All of Smith's characters are well-rounded and believable, but the scary part of it all is that his portrayal of Vera Carp resulted in what several commented afterwards as a rather good-looking southern belle.
Fowler, meanwhile, ranged from Wheelis to two matronly, blue-veined, rather ugly women named Bertha and Pearl to a pot-bellied, skinny-legged, sunglass-wearing Dukes-of-Hazard-Southern Sheriff named Givens, and then all the way back down the scale to a hilariously funny cliché-spouting preacher named Reverend Spikes. Like Smith, Fowler is especially credible at the cross-dressing roles.
His Bertha took us back to those horrid memories of sloppy, nasty, hated kisses from ugly, smelly aunts with shrill voices and powdery white hair. Bertha's bright purple sweater, lime green apron and huge clip-on earrings was a perfect costume for this book-burning enthusiast who finds herself past her prime and trapped in a lousy marriage with three troublesome children.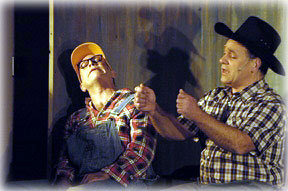 Smith and Fowler
Photograph by Jeff Fritzwater ©2005
Similarly, Fowler's work in bringing Pearl to life is even more convincing. Walking with a cane, Pearl appears onstage as a spidery blue woman with silver webbed hair and a sick vendetta against dogs. She is truly the old woman you love to hate and hope will one day mistakenly eat one of her own "bitter pills" for her crimes against puppydom.
The small-mindedness of the populace was easily spotted, especially when it was related that the Annual high school essay contest had received entries entitled "Human Rights - Why Bother" and "Living With Radiation."
There was also an announcement of a meeting of the organization known as the Smut Snatchers of the New Order which was working toward the removal of the evils of rock 'n' roll from homes, more than a few objectionable words from the dictionary and an abundance of disgusting, satanic books from the library.
Implausibly, those following the directions of the Smut Snatchers were told they could leave their Elvis records at home because "he's a good country boy and he'll be forgiven," and yet incredibly, some of the books selected for destruction include Roots, because "we think both sides of the slavery issue should be shown" and Romeo and Juliet, 'cause it tells about teen-age sex."
By the end of the play, Fowler and Smith looked a bit haggard from the fast-paced acting, but pleased with their performance. The audience seemed much more than pleased. The enthusiastic response brought the two out on stage more than once for another bow and everyone in the audience appeared to have had a wonderful time.
It's been rumored that there are a couple of sequels to "Greater Tuna" out there: specifically, "Red, White and Blue Tuna" and "A Greater Tuna Christmas." Of course, the thought of Tuna residents with fireworks in their hands may give one cause for alarm and Santa may not visit Tuna except to deliver coal.
However, given the popularity of "Greater Tuna" on this run, it's a sure bet that Bertha, Pearl, LeRoy, Vera, Elmer and all the others would be even funnier at holiday gatherings. Perhaps First City Players could be persuaded to allow them to visit Ketchikan a couple more times.
Here's hoping the answer isn't "Sorry, Charlie."
Sharon Lint-Allen is a freelance writer living in Ketchikan, Alaska.
Contact Sharon at sharon(AT)sitnews.us
Sharon Lint-Allen ©2005


Publish A Letter on SitNews Read Letters/Opinions
Submit A Letter to the Editor

Sitnews
Stories In The News
Ketchikan, Alaska