Alaska's Unemployment Rate Drops In March
April 16, 2005
Saturday

Alaska's unemployment rate fell to 7.4 percent in March, a decline of nine-tenths of a percentage point from February's revised rate of 8.3 percent. The seasonally adjusted rate also fell sharply, dropping from 7.2 percent to 6.7 percent, its lowest level since February 2002.
Labor Force by Region
click to view a larger graphic
Ketchikan's unemployment rate fell from 10.3 percent in February to 8.7 percent in March. With a labor force of 6,924 reported in March 2005, 6,320 were reported employed.
Anchorage's unemployment rate fell six-tenths of a percentage point to 5.3 percent, the second lowest rate in the state. Fairbanks and Juneau also saw marked declines to 6.6 and 6.4 percent, respectively. March unemployment rates for Anchorage, Fairbanks, and Juneau were all noticeably lower than the statewide rate of 7.4 percent.
All areas of the state recorded March unemployment rate declines and nearly all recorded rates significantly lower than year ago levels. Only two areas, Skagway-Hoonah- Angoon and Wade Hampton, recorded higher unemployment rates than in March 2004.
Total nonfarm payroll employment increased by 3,300 in March to 294,800. The biggest over-the-month gain came in the trade, transportation, and utilities sector, which added 900 jobs. Most of the increase came from seasonal hiring in the retail trade and transportation industries.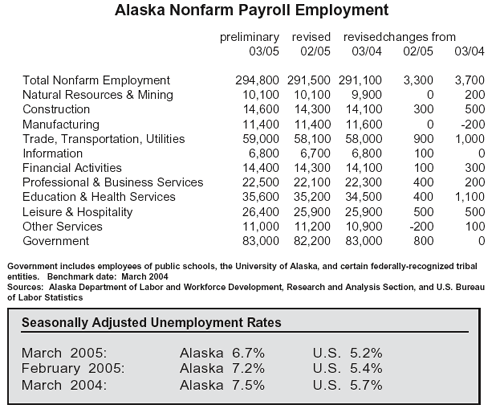 Payroll employment has increased by 3,700 statewide since a year ago, a moderate growth rate of 1.3 percent. Continued growth in the health care industry has helped lift employment by 1,100 in the education and health services sector. The retail trade industry employed about 800 more people than it did last March, accounting for most of the increase of 1,000 jobs in the trade, transportation, and utilities sector. The only sector to show an over-the year decline was manufacturing, where seafood processing numbers were down slightly compared to a year earlier.

Source of News & Charts:
Alaska Department of Labor & Workforce Development
Web Site

E-mail your news & photos to editor@sitnews.us


Publish A Letter on SitNews Read Letters/Opinions
Submit A Letter to the Editor

Sitnews
Stories In The News
Ketchikan, Alaska