Know Before You Go

April is Alaska Archeology Month
April 15, 2005
Friday

Hiking through the lush forest of western Baranof Island, south of Sitka, Alaska, three visitors literally stumbled on a cave that Tlingit people used perhaps thousands of years ago. The cave, with nearly vertical walls, runs deep and faces the salt spray of the mighty Pacific Ocean. Inside, the hikers noticed parts of a cedar box and the apparent skeletal remains of a person.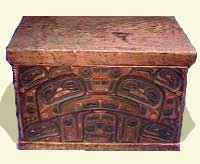 A fairly typical bentwood box showing carving and painting on the sides.
In an example of responsible stewardship the hikers, upon their return to Sitka, immediately notified the Sitka Police Department and the Sitka Ranger District office. Subsequently, they spoke with Sitka District archeologist Pat Bower and provided him information about the discoveries location, photographs of the discovery and observations they had made.
Upon subsequent examination, fragments of the cedar box revealed holes drilled at regular intervals and grooves that would have allowed the maker to bend the cedar to form a box. Bentwood boxes are one of the hallmark artifacts of the Tlingit people. Boxes were made from a single thin board, usually of red or yellow cedar. On one side of the board, grooves or kerfs were shaped at set intervals perpendicular to the board's long axis. This allowed the board to be bent, through steaming, to form the corners of the box. The final corner was lashed together with cedar bark cord. A lid and bottom were fashioned from smaller cedar boards to complete the box. Bentwood boxes served a variety of purposes.
Because of the presence of human remains, Ranger District staff talked with officials of the Sitka Tribe of Alaska, the federally recognized tribe most likely affiliated with the remains. The Native American Graves Protection and Repatriation Act directs federal agencies to consult with descendants of Native American people when human remains and associated items are inadvertently discovered. In keeping with the tribe's wishes, the District Ranger developed a plan of action that calls for leaving the items in place.

Close-up of the kerf cut into the corner of a bentwood box to allow the wood to bend with steam.
This case is a good example of how visitors can help protect the forest's fragile and irreplaceable heritage resources. Federal and Alaska state laws protect important sites and it is illegal to remove artifacts from National Forest lands.
But laws are not enough. You can take an active role to preserve Tongass sites, artifacts and sources of information for future generations. If you make an archaeological discovery here are the steps you can take to help us protect it.
Leave objects where you find them.
If possible, take a photograph.
Locate your discovery on a map or nautical chart.
Report your discovery to any Forest Service office.

Story and photographs courtesy the USFS - Tongass National Forest.

Publish A Letter on SitNews Read Letters/Opinions
Submit A Letter to the Editor

Sitnews
Stories In The News
Ketchikan, Alaska