Eagle Center Provides Second Chance For Injured Birds
By Carl Thompson
April 14, 2005
Thursday

Ketchikan, Alaska - Certain death faces an injured bird unable to survive on its own in the wild. If it were not for facilities like Ketchikan Indian Community's Eagle Center, over a dozen magnificent birds would not be alive today.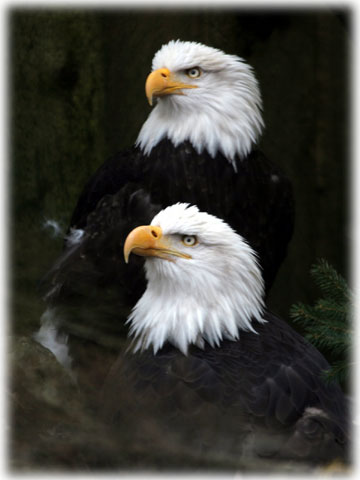 KIC's Eagle Center provides a second chance
for these magnificent Bald Eagles.
Photo by Carl Thompson
Ketchikan Indian Community's Deer Mountain Tribal Hatchery and Eagle Center located in Ketchikan is currently home to 15 birds: two Harris Hawks, three Red-tailed Hawks, four Bald Eagles, one Golden Eagle, two Ravens, one American Kestrel, one Goshawk and one Great Horned Owl. These 15 creatures have one thing in common, they have all been injured to the point that they cannot be returned to the wild.
Through hard work and training, these creatures have become ambassadors for their kind, greeting and helping educate thousands of people who visit Ketchikan every year. Throughout the summer months, the Eagle Center's educational programs provide the public opportunities to observe and learn about these wonderful creatures.
The Eagle Center has three bird handlers who care for the birds year round. The job of handling and caring for these birds is not an easy one. It takes a generous mixture of patience, knowledge and attention to detail to keep the birds healthy and happy.
The bird handlers also educate people on the dangers these birds face from their contact with modern civilization. Many birds are injured every year from contact with vehicles, power-lines and even flying into structures. A common question asked is, if birds can see so good, how do they fly right into a vehicle or the side of a building? The answer... the birds have fantastic far sight and when they get intently focused on an object far away, they sometimes lose sight of what's right in front of them. Unfortunately when birds become injured to the point where they cannot be released back to the wild, they must either be destroyed or if they are lucky, they can be placed in an Eagle Center such as the one in Ketchikan.
When you see a handler with an eagle perched on his arm, remember, the eagles usually weigh as much as a bowling ball. Try holding a bowling ball on your outstretched arm for any amount of time and you will have an idea of what it takes to handle a large bird like an eagle.
The birds also normally get a walk out in the park once a day with the handlers which the birds appear to enjoy. The benefits are two-fold. The birds have a chance to be close to nature and the occasional contact with the public is a great opportunity for people to enjoy and learn more about these wild and magnificent creatures.
The Eagle Center is located at 1158 Salmon Road in Ketchikan, Alaska.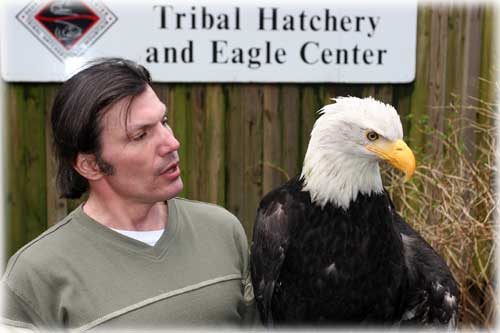 Handler Ron Zelenka with a Bald Eagle
Photo by Carl Thompson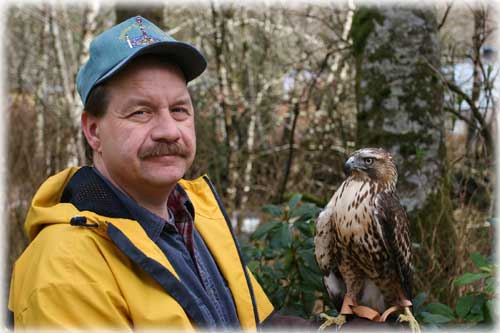 Curator Steve Sarro with a Red-tailed Hawk.
Photo by Carl Thompson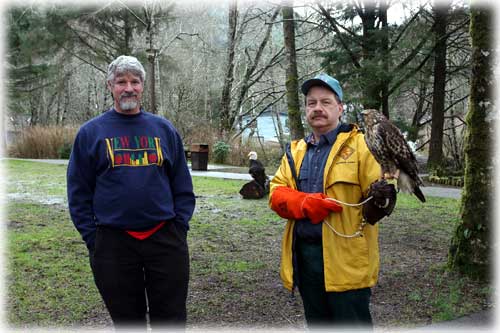 Bill Taylor and Curator Steve Sarro with a Red-tailed Hawk.
Photo by Carl Thompson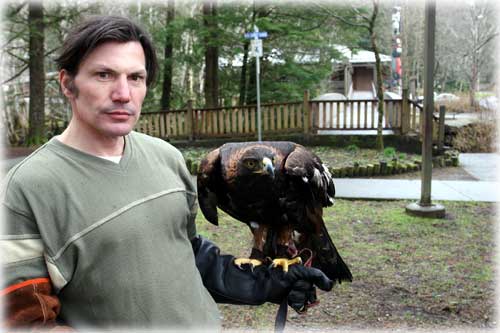 Handler Ron Zelenka with Golden Eagle
Photo by Carl Thompson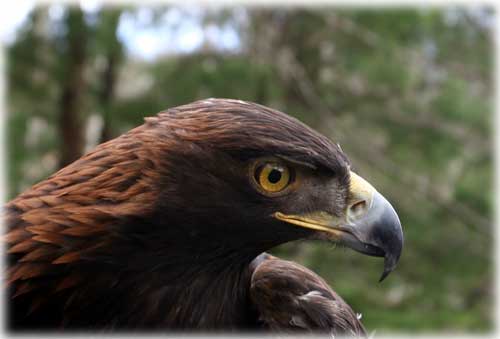 Golden Eagle
Photo by Carl Thompson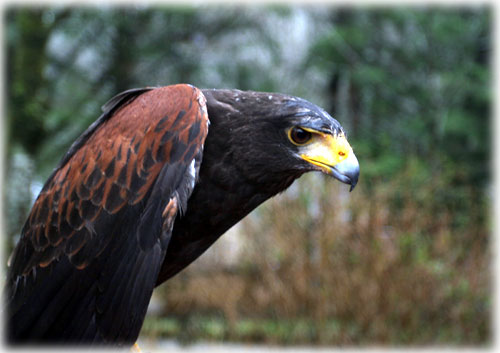 Harris Hawk
Photo by Carl Thompson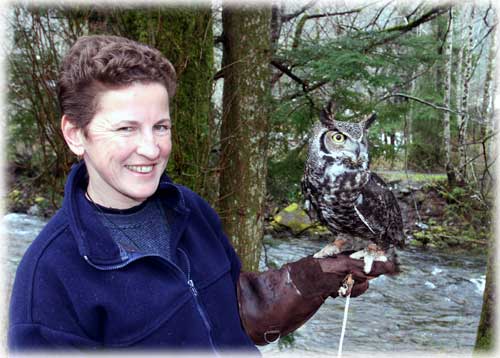 Handler Heidi Cline and Great Horned Owl
Photo by Carl Thompson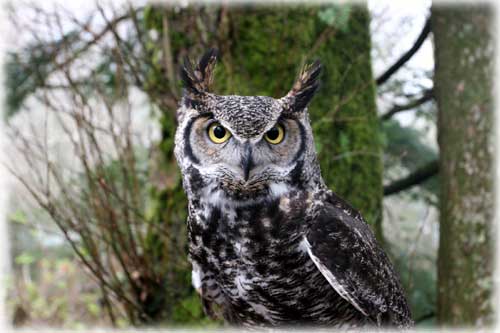 Great Horned Owl
Photo by Carl Thompson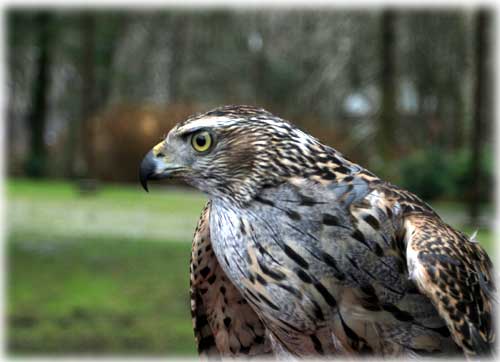 Goshawk
Photo by Carl Thompson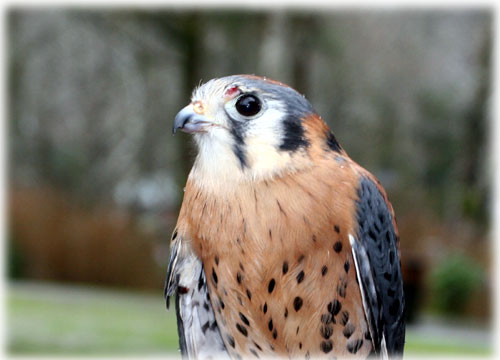 tiny American Kestrel
Photo by Carl Thompson
E-mail your news & photos to editor@sitnews.us


Publish A Letter on SitNews Read Letters/Opinions
Submit A Letter to the Editor

Sitnews
Stories In The News
Ketchikan, Alaska