Ketchikan's Boys and Girls Club: A Safe Place To Learn And Grow
By M.C. Kauffman
April 09, 2005
Saturday

Ketchikan, Alaska - Speaking before the Ketchikan Greater Chamber of Commerce on March 30th, Tony Azure said, "The Boys and Girls Club is an awesome organization!"
Long-time Ketchikan resident Tony Azure is the manager of Ketchikan's first Boys and Girls Club. He said he became involved with the Boys and Girls Club because he saw the service as something that was needed in Ketchikan and thought he could stretch and challenge himself.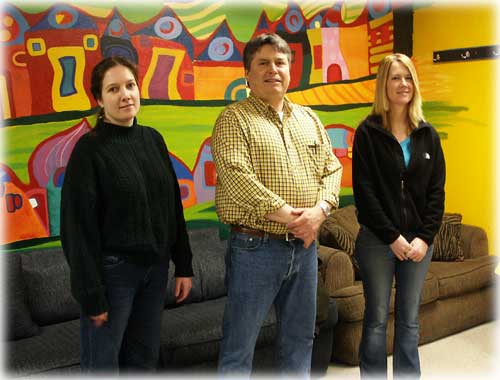 Tony Azure and staff in the Boys and Girls Club study area....
Photo by Dick Kauffman

Explaining the history of the organization Azure said the Boys Club was started in 1860 by three women in Hartford, CT who saw boys running around town being mischievous. They decided to provide a safe place where the boys could learn and grow. "And the same principles apply today as they did then," said Azure. "Providing a place where young people can learn and grow and have structure in their lives."
Azure said the first Boys Club started in Alaska in 1966 and in 1990 the organization officially became the Boys and Girls Club. He said since 1990 the Boys and Girls Club has grown to 35 clubs in the state with many of them in the villages and in remote areas. In Southeast Alaska there are Boys and Girls Clubs in Metlakatla, Hydaburg, Wrangell, Petersburg, Juneau... and now Ketchikan.
Although Azure started working at the Ketchikan Boys and Girls Club in November 2004, the organization came to Ketchikan earlier taking over the facility known as the Warehouse operated by Community Connections in July 2004.
Community Connections had some of the same ideas as the Boys and Girls Club said Azure. Community Connections saw that they could use the resources that the Boys and Girls Club provided. An agreement was reached between the two organizations and in July 2004 Ketchikan's first Boys and Girls Club came into existence - a place where youth can learn and grow.
Azure said it takes about four to five years to build a Boys and Girls Club in a community. The age group served is 8-18 and currently the Ketchikan Boys and Girls Club has over 350 members. He said the program has served an average as high as 50 youths a day. With the Club being relatively new to Ketchikan, the building of the club appears to be well underway.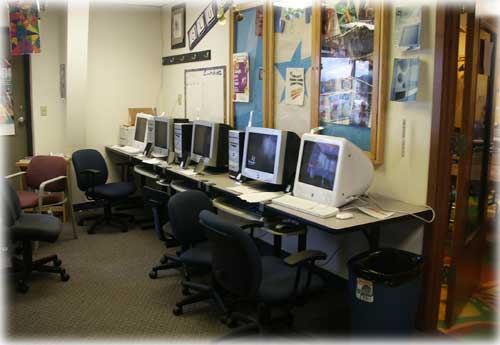 Computer area... Club Tech
Photo by Dick Kauffman

The mission of the Boys and Girls Club said Azure is to inspire and enable all young people, especially those in disadvantaged circumstances, to realize their full potential as caring, responsible adults. To meet that mission, Azure said they have core program areas that they teach. The core areas are:
Character and leadership development
Education and career
Health and life skills
The Arts
Sports, fitness and recreation
The core beliefs of the Boys and Girls Club:
A safe place to learn and grow
Ongoing relationships with caring adults and professionals
Life enhancing programs
Character development experiences
Hope and opportunity
Discussing programs, Azure said one of the programs used in Ketchikan in the development of character and leadership is called Keystones. The Keystones group is made up of teens. Their duty is service to the Club and service to the community. The Keystones elect their own officers and are involved in fund raising and also involved in activities they select such as Ketchikan Indian Community's Operation Christmas. Azure said that was one of the first big positive activities the Keystone Club did - wrapping and helping distribute Christmas gifts to underprivileged children.
He said the Keystones teens also run a snack bar in the Boys and Girls Club and run it as a business. They have a cash register, staff and make money which they might use to buy something for the club such as toys. The Keystones make the decision as to what to purchase with the snack bar's profits.
The Torch Club is for younger children. Azure said the Torch Club hasn't started yet but the younger kids are asking about it as they see all the planning and fun things the Keystones are doing. Azure said the Torch Club will start at some point.
Game Room - Foosball table...
Photo by Dick Kauffman

The first program immediately after school addresses education. Azure said the program is called Power-Hour which is focused on homework. He said every child participates in Power-Hour when they come in after school. Children are required to participate 30-minutes in this comprehensive homework program with tutoring. Incentives are provided for the children to do their homework said Azure. Everyone that participates gets their name in a drawing held each night for a SubWay sandwich. He said the children look forward to this.
Azure said the children also earn points for doing their homework and each week there is also a weekly prize as well as a monthly prize.
He said the Club's education program is getting a lot of support from the community - such as Ocean View providing gift certificates for dinner and the Coliseum theater providing tickets.
"The main thing is that we're seeing the grades go up and they are seeing where the children are improving." Azure said we're seeing the areas they need help in and that they're getting their homework done. He said, "We're seeing a lot of positive results."
After Power-Hour, the game room is opened. Azure said the game room has pool, air hockey, foosball, driving games, and video games. He said, "The video games aren't really a part of the Boys and Girl Club but were already there when they took over the building and it's one of those things that we have to work with." Azure said as children have more options for other activities children aren't as interested in sitting in front of the video games.
Smart Moves is another program the Club offers. Smart Moves is a skill mastery in resistance training - a prevention program. Azure said the program addresses drugs, alcohol, tobacco and early sexual activity.
The Smart Moves program is made up of Smart Girls (ages 8-12) and Smart Boys (starting at 12). Azure said Smart Moves is more than a "just say no" message. The Boys and Girls Club curriculum is followed. He said these programs in Ketchikan are in their infancy and with time they will be able to assess the results.
'Youth of the Month' and 'Youth of the Year' are also new additions to the Ketchikan Boys and Girls Club program. Azure said a senior boy and girl and a junior boy and girl are selected each month that deserve recognition. He said the recognition program recently started.
Azure said the statewide 'Youth of the Year' offers the statewide winners (senior boy and girl) quite a large scholarship as well as money from other organizations. Azure said next year the Ketchikan Club will have a senior boy and girl 'Youth of the Year' for Ketchikan in the statewide competition.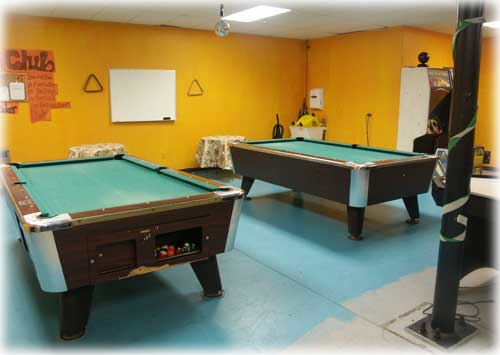 Game Room - Pool Tables
Photo by Dick Kauffman

In the arts, Azure said "We have great art in there." Azure said the club members had 12 entries in the Mainstay Gallery program "Young At Art". He said the youth were allowed to put a price on their art and that some of the young people did - and two sold. He said they were very pleased about that.
Azure said, "It's neat to see them enter these things. Some of the kids are stepping out and doing things that they wouldn't normally just do."
He said they will be working more on the sports and fitness areas and they already have a lot of activities planned for summer. An asset is that Ketchikan already has long-time established sports activities such as the Ketchikan Little League and the Ketchikan Dribblers League, said Azure. However, in other areas in the state such as Anchorage, the Boys and Girls Club provides these activities.
He said they are still in the process of planning for the summer. "It takes a lot to do all this." Azure said it's very challenging and they require volunteer help. He said, "It takes all of us in the community."
So far a fishing derby is planned and tours have been offered. He said some of the children just haven't had some of these opportunities. Over spring break some of the activities included a barbecue in the park, an egg hunt, and planting flowers. Azure said the core of what they do is about providing positive adult relationships.
Regarding other community organizations, Azure said they also collaborate with other organizations such as Big Brothers Big Sisters. He said it's all these organizations that work together with the community that make it better for our youth.
The Ketchikan Boys and Girls Club relies on local funding sources; however, the Boys and Girls Club does have a lot of resources. Azure said when the organization comes into a community it doesn't say it doesn't work - the Club is here for the duration.
The Ketchikan's Boys and Girls Club is located in the Warehouse building at 723 Stedman Street behind Tatsuda's Gas-At-Last. It's open from 2:30 pm until 9 pm Monday - Thursday and 2:30 pm - 10 pm on Friday. Azure said they aren't open on weekends right now.
The Boys and Girls Club is always looking for volunteers. It's a great organization Azure said and he's very happy to be there. "The Club is going to be a positive thing for Ketchikan."
Contact M.C. Kauffman at mc@sitnews.us


Publish A Letter on SitNews Read Letters/Opinions
Submit A Letter to the Editor

Sitnews
Stories In The News
Ketchikan, Alaska