Power Project Progresses At Bar Harbor
by M.C. Kauffman
April 09, 2005
Saturday

Ketchikan, Alaska - Electrician Shawn O'Neil of Hydaburg and his apprentice Justin Walker of Ketchikan have been working over the past month installing and wiring new power pedestals at the south Bar Harbor dock. Both men are employed by I.B.E.W.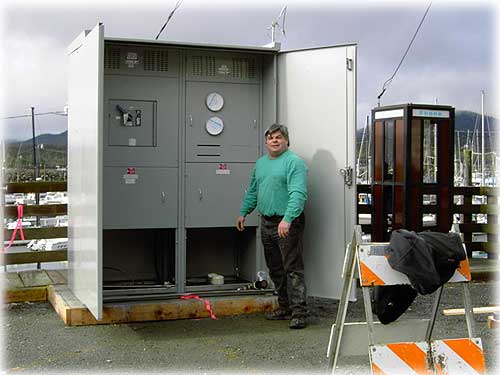 Electrician Shawn O'Neil poses next to the new power box
destined for placement on the new dock....
Photo by Kathleen Stack

With the installation and wiring of the power pedestals completed, the men can now begin work on connecting the huge power boxes - one located by the HighLiner and one located on the new dock. Once wires are run through conduits from the upper power box under the ramp to the power box on the dock, then the new power pedestals can be connected.
Both O'Neil and Walker said they have found this project to be very interesting especially challenges that pop up like figuring out how to safely move a 600-pound power box down a dock. The new heavy power box was delivered but unfortunately left at the top of the dock for the men to move in place.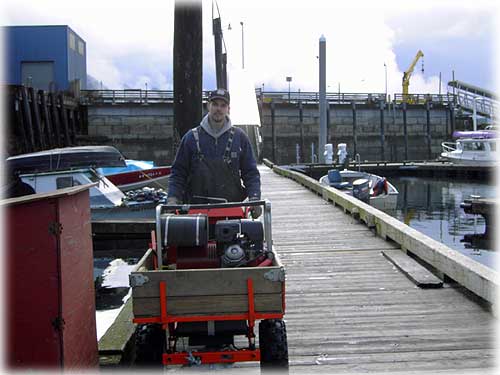 Justin Walker brings a generator down the dock which is needed to power tools...
Photo by Kathleen Stack


With the problem solved and with safety as the first consideration. O'Neil and Walker blocked off the dock before attempting to move the approximately 600-pound power box down the dock. The dock was blocked to protect the many entertainment seeking people who had gathered from any possible injury.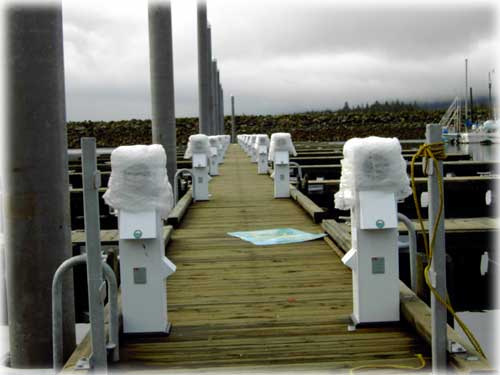 New Power pedestals
Photo by Kathleen Stack

And how was the problem solved? Why with good old American know-how! With the use of two grocery shopping carts and a well choreographed balancing act, the men very carefully were able to move the new power box down the ramp to its proper location on the new dock.
Contact M.C. Kauffman at mc@sitnews.us


Publish A Letter on SitNews Read Letters/Opinions
Submit A Letter to the Editor

Sitnews
Stories In The News
Ketchikan, Alaska