U.S. Coast Guard and Canada to participate in combined exercise
April 04, 2005
Monday

Ketchikan, Alaska - The U.S. Coast Guard and Canadian Coast Guard are scheduled to participate in a joint exercise to assess their ability to respond to a maritime distress scenario at the Dixon Entrance, the shared International Boundary between the United States and Canada, Tuesday and Wednesday.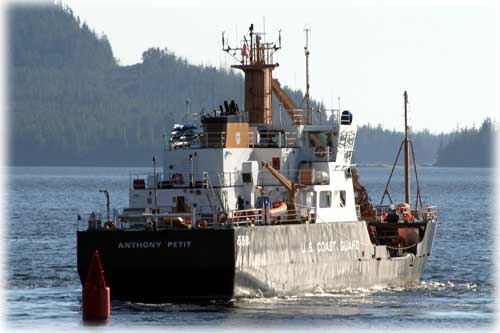 U.S. Coast Guard cutter Anthony Petit, home ported in Ketchikan, will be participating in the joint US - Canadian exercise.
Photograph by Lisa Thompson ©2005

The exercise is described by the USCG as a realistic simulation of a maritime incident that could reasonably occur on the waters bordering the Rescue Coordination Center in Juneau and Joint Rescue Coordination Center Victoria's area of responsibility. The exercise is designed to increase the awareness of each countries capabilities, resources, and provide cross training in responding to a search and rescue mission in shared waters.
A notice to mariners from both countries will be issued to inform mariners in the operating area about the exercise and nature of related radio communications. All radio transmissions will be preceded with the words "Exercise - Exercise". Should a real Search & Rescue incident occur in the area at anytime during the event, the exercise will cease, and full attention will be directed to the emergency.
Search and rescue is an international team effort from Alaska to the coast of Oregon. When lives are at stake the Joint Rescue Coordination Center in Juneau, Seattle and Victoria work together to task rescue resources from either country that can best affect a positive outcome to an incident .
"This is the first major exercise with the US Coast Guard in Alaska in sometime," says Maj. Chuck Grenkow, Officer in Charge of the Joint Rescue Coordination Centre in Victoria. "In addition to the practical aspects or working together on the water and in the air, it is important to exercise and evaluate the internal and external 'real-time' communications that is critical to both the command centres and the search & rescue units."
Capt. Mike Kendall, Chief of Search and Rescue in Juneau, views this exercise as a superb opportunity to bolster an already strong relationship with Canadian forces.
"We're looking forward to honing our cooperation with our Canadian Search and Rescue partners and provide an even better service to mariners on our common maritime border," said Kendall.
U.S. Coast Guard units participating in the exercise are Coast Guard cutters Anthony Petit, home ported in Ketchikan, and Liberty, home ported in Juneau, Air Station Sitka, Coast Guard boat station Ketchikan and the Command Center in Juneau.


Source of News:
United States Coast Guard
Web Site


E-mail your news & photos to editor@sitnews.us


Publish A Letter on SitNews Read Letters/Opinions
Submit A Letter to the Editor

Sitnews
Stories In The News
Ketchikan, Alaska