Tongass Historical Museum Wants Kids
To Stay and Play the FUNDAY Way
By Sharon Lint
April 01, 2005
Friday

Ketchikan, Alaska - More than 80 children and adults participated in the FUNDAY program at the Tongass Historical Museum on March 26th. FUNDAY began with a scavenger hunt through the museum's current display, "Recent Acquisitions." The kids were also given the opportunity to paint with watercolors, create a native headband and put together a scrapbook page.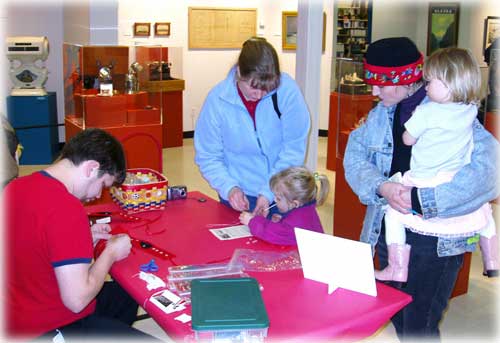 Creating headbands on FUNDAY
Photo courtesy Tongass Historical Museum

Sharon Thompson, Program Coordinator at the Museum, explained that the decision to start the event with a scavenger hunt was made to conceptually explain to young museum explorers what museums really do. In particular, she wanted the youngsters to realize that the Tongass Historical Museum collects things that remind the public of what Ketchikan has been like all through the years.
In an effort to emphasize this point, Thompson asked questions of each child before they started on the scavenger hunt, such as whether they had a special occasion or a trip or an event that they remembered that was special to them. Sometimes she would ask if they had brought something home from the trip. If they said yes, she would then ask what it was, why they had chosen that particular item and whether they still remembered that special trip when they looked at the item.
Then she would explain, "Well, that is what we do at the museum."
As part of the scavenger hunt, the children found and counted beaded purses and photograph albums on display and then gave their opinion as to the condition of those items. They were also asked to write down the title and artist's name of the watercolor painting on display and to find the oldest item in the exhibit.
Thompson said the kids were also asked to find the oldest item because that made them go to nearly every case to look at dates. "That was just to get them into the exhibit and get them to look and find things," she said.
Of course, the kids didn't have to do all the activities if they didn't want to. Seven-year-old Alec Leighton, who is enrolled in the First Grade at North Point Higgins, attended FUNDAY with his mom and enjoyed looking at the items on exhibit.
"I had fun today," he said shyly as he accepted his piece of candy for finishing the scavenger hunt successfully. However, he didn't want his picture taken and he also didn't seem interested in doing any of the other projects.
"Which is okay too," Thompson said. "Some [children] wanted to do the projects and not the exhibits and that's fine, and some of them want to just look . . . that's what I like about this. It is open-ended Discovery Learning . . . they get out of it what they need to or want to. A little bit of structure but not a lot."
However, a favorite of most students seemed to be the watercolor table.
"The Watercolor society was gracious enough to come and they had all different kinds of techniques and the kids got to do their very own watercolors to take home," Thompson explained.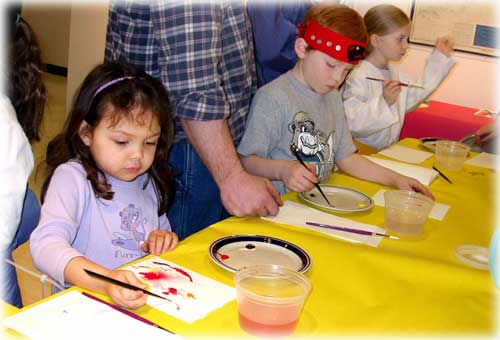 Watercolor activity on FUNDAY
Photo courtesy Tongass Historical Museums

Thompson said it was the first FUNDAY in which the museum had volunteers to help with the activities. Jeanne Snyder and Marilyn Lee volunteered to attend the watercolor table. According to their estimates, about 43 students participated in their activity. The young artists were allowed to use superior brushes, watercolor papers and paints so they could get an idea of what kind of art these quality materials could produce. The paints they used were in the primary colors of blue, red and yellow and they were taught how to mix them into other colors. The kids even got to experiment with different techniques.
"We'd crumple up some plastic wrap and push it down onto the paper - you just put colors on it and push it down and let it dry and then you take it off and then you can do stuff to it. It's cool," explained Snyder and Lee.
Most of the children who participated were about eight years of age, but Snyder and Lee related how one younger girl embraced this particular form of art in a unique way.
"We had one little kid," they said, pointing to an area on the plastic tablecloth covered with bright brushstrokes and small speckles of color. "This is her piece of art," they laughed, adding, "She thinks outside the box."
When asked if they were surprised by anything, they nodded. "You know, the kids didn't come in and go what should I paint? Where am I going to put this? They just got the paint on their brush, whatever way they wanted to even if it wasn't a proper watercolor type of thing and they just put paint on and just made a picture."
Young Aisha was no exception. She had come to FUNDAY with her mother, Rebecca Lakouad. Rebecca said she had seen the notice on the little turning corkboard in the entrance to the library.
"I was keeping my eye out because last year in March they had celebrate a button day where you came in and you could make your own button and it was pretty neat," she said.
Rebecca said her daughter, like most of the children, had enjoyed the painting more than anything else.
Ashia nodded emphatically. "I liked the painting. Watercolors," she enthused. "It was fun."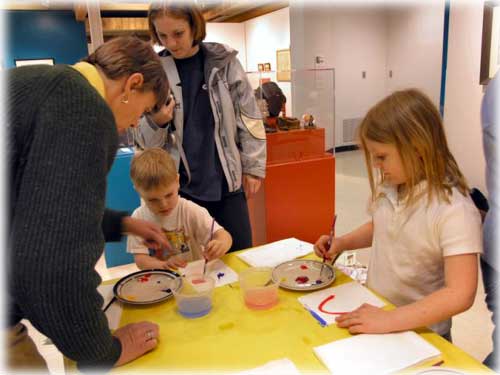 Dean and Holly participate in the watercolor activity...
Photo by Mimi Eddy

Thompson was pleased with the popularity of the Watercolor table and Snyder and Lee related that they hope to be a part of the next FUNDAY as well.
A different project table was located near the button robe created by Irene Bienek with Pam Wimbish. Done in 1999, the Eagle Slipper Pattern was designed by Christopherson Makua. Thompson said that she thought the design was cool because it was not all buttons.
"Look at the beadwork," she pointed out, "It's got black beads . . . I've never seen it done to that degree on a button robe."
When the children were done looking at all the exhibits and finding all the objects upstairs, they received a piece of candy for finishing the scavenger hunt and could have their picture taken in front of their favorite thing in the museum to paste in their scrapbook page.
Of all the items in the museum, the four most popular things picked by the children as their favorite were the typewriter, the ivory exhibit, the Thunderbird mask and the button robe.
"I think the most amazing thing to me was how many children picked the typewriter as their favorite thing," Thompson commented. "The ivory was one of the other favorite things that they liked. And a whole lot of the little boys liked Varnell's Thunderbird Mask and the button robe."
However, one little girl had a very different idea of what her favorite thing in the museum was. Thompson laughed as she related the story.
"One of the little girls today, I said, 'Pick your favorite thing,' and she pointed to her dad. . . So I took their picture together and that was wonderful."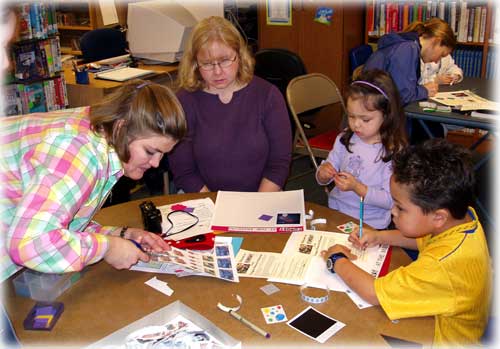 Judy Christensen from Creative Memories helps with the scrapbooking activity...
Photo courtesy Tongass Historical Museum

After the children received their picture, they could then go downstairs and do a scrapbook page. Judy Christensen from Creative Memories graciously came and helped the kids with their scrapbooks. Using construction paper and other embellishments, each student created their own paper memory to take home.
Christensen told them it was kind of like journaling and showed them how different the scrapbook pages were from the photograph albums they had seen upstairs in the museum exhibits.
The average age of the young scrapbook artists was eight, although Thompson and Christensen said that many of the eight-year-olds had older or younger siblings who also decided to do the project.
"Our youngest was three months old," Thompson reported.
"Her art work was awesome!" Christensen laughed, and then added, "The little ones - two- and three-year-olds that did watercolors . . . their parents did their [scrapbook] page for them, but they would ask them questions, like what is your favorite color . . ."
Christensen also said that most every child that came to FUNDAY did a scrapbook page.
"Talking about numbers and how many we know we had," mused Thompson, "we're thinking 80-100."
Thompson said FUNDAY began as a program staff idea.
"Chris Hansen and myself - we wanted to do increased programming at the Historical Museum and [we found] a museum in New South Wales that does a lot of children's programs and they had a similar program," she said.
The museum will try to hold an activity day four times throughout the year, excepting the summer tourist season.
"I think for this size town and this size staff, that we have four exhibits a year is a pretty big undertaking," Thompson said.
They picked the name, "FUNDAY," because they wanted the public to associate that name with the experience of exploring the museum in a fun way rather than having to promote every event separately.
"They don't really have to know what the exhibit is about, you know, we can just say FUNDAY and the kids will know what it means - they can get the content later," Thompson explained.
Thompson hopes the next FUNDAY will bring even more participants. The overall increase in attendees from the museum's first event and this FUNDAY almost doubled. Thompson said the increase was a sign to the staff that the word is out and the public now knows that FUNDAY is a good time for both the children and their parents.
The museum is also encouraging schools and groups such as the Girl Scouts to schedule similar events on a smaller scale.
"We also want to . . . make those [activities] available for special groups. Like we had Girl Scout troop come and they did some of the FUNDAY activities. They were working on their Alaska Heritage badge and so it just worked out really good," Thompson said.
Thompson was also enthusiastic about the possibilities of hosting field trips for school classes. "We would love to have more participation along those lines. I think another one of our goals as staff in the museum as a whole is to do even more outreach next school year to begin making those historical connections and use the museum as an educational resource."
As for other future plans, the museum hopes to expand the FUNDAY program to the Heritage Museum as well. Thompson said such a program there would deal more with the native culture and heritage. They are also looking at collaborative efforts with other communities and how the museum can best serve the youth of the population.
For example, last fall, their carving and weaving classes for youth were well received and the museum hopes to do some family classes in the future where both the adult and the child would attend and learn together.
"The possibilities are limitless and we're just very, very excited about what can we do and the response that the community has had to that," Thompson concluded. "It's very encouraging."
For those who are interested in scheduling a FUNDAY for their group, please contact Sharon Thompson, Program Coordinator at her office in the Heritage Center, 225-5900.
Sharon Lint is a freelance writer living in Ketchikan, Alaska.
Contact Sharon at sharon(AT)sitnews.us
Sharon Lint ©2005
E-mail your news & photos to editor@sitnews.us


Publish A Letter on SitNews Read Letters/Opinions
Submit A Letter to the Editor

Sitnews
Stories In The News
Ketchikan, Alaska