Viewpoints

There's Still Time for Legislators to Stand Up for Alaska Workers
By Commissioner Greg O'Claray
Alaska Department of Labor and Workforce Development

April 13, 2005
Wednesday

People have been telling me that my passion for passing workers' compensation reforms this session is getting personal. You bet it is. I have spent my entire adult life working for the rights of workers as a union representative, a union leader and now as Commissioner of Labor. I know that what happens right now to reform Alaska's workers' compensation system may be the single most important thing I can do, and Alaska's legislators can do, to stand up for the rights of Alaska workers and employers.
Alaska's workers' compensation system needs reform and it needs it now. Why? Because employers throughout the state are facing hard choices over which they have little control - either pay their mandated workers' compensation premiums or lay off workers.
It may sound simplistic, but that's the reality for small business owners throughout the state. Even non-profit service organizations like the Farthest North Girl Scout Council in Fairbanks have written to me saying that they are faced with cutting benefits to camp workers in order to pay workers' compensation premiums that have quadrupled over the past few years. Quadrupled ­ up from $1,630 in 2000 to $6,445 in 2005. That's a lot of Girl Scout cookies in order to provide the same benefits to people working to provide a meaningful camping experience to Alaska girls.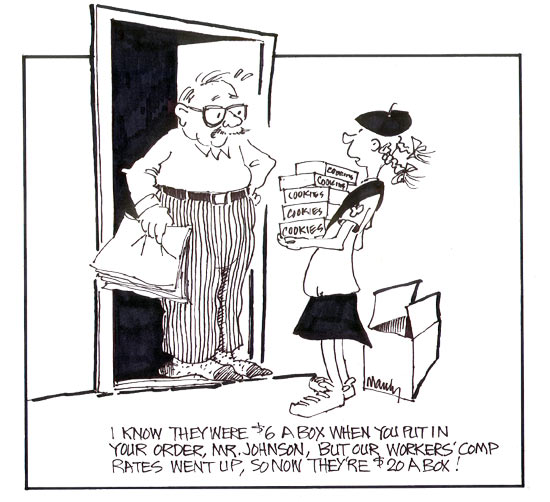 The Farthest North Girl Scout Council in Fairbanks reports its cost for workers' compensation insurance has quadrupled, rising from $1,630 in 2000 to $6,445 in 2005, forcing them to consider cutting benefits to camp workers in order to pay workers' compensation premiums.
---

The workers' comp crisis hurts small businesspeople like Sean Rheault, who started System Solutions, an Eagle River home electronics delivery and installation business, three years ago. He'd love to grow his business and expand his six-man workforce, but says hiring even one new delivery worker would raise his annual premiums from $17,000 to $30,000. So, he must keep working 18-hour days to pay his workers and feed his family. Even though he's never filed a claim, he pays 30 percent higher rates as a start-up company without a track record, and doubts rates will ever drop.
The crisis hurts established businesses, too. Earl Mayo, owner of the East Anchorage landmark How How restaurant, is making do by not hiring his usual 10 extra employees this summer. While it will cut his annual $30,000 bill by $8,000, it will mean harder work for his remaining 25 workers, and zero opportunities for new entry-level workers.
Again, is this getting personal? Well, how much more personal can you get than stories like these of how workers' compensation is hurting Alaskans? Reforming Alaska's workers' compensation laws is about real people and real jobs. It's about making sure employers don't have to lay off real Alaskans in order to pay skyrocketing premiums.
Governor Frank H. Murkowski is taking action by pushing workers compensation reform legislation to protect Alaskans' economic future by making sure injured workers get timely, high-quality benefits while helping employers pay lower rates so they can remain in business. This issue affects people all across the state, whether workers, employers, customers, clients or taxpayers ­- or Girl Scouts.
It's been said that all politics is personal. If so, it's time to get personal with your elected representatives. Contact your legislators today - by phone, fax, Public Opinion Message or personal visit ­ and let them know you want them to stand up for Alaska jobs and Alaska's future by acting now to pass workers' comp reform legislation.
Note: Comments published on Viewpoints are the opinions of the writer
and do not necessarily reflect the opinions of Sitnews.
Write a Letter -------Read Letters

E-mail the Editor

Sitnews
Stories In The News
Ketchikan, Alaska