News In Photos
Hummingbird Feeder Contest Winners Net Big Prizes
by Dick Kauffman
Photos by Carl Thompson
April 21, 2004
Wednesday

Ketchikan, AK - One of the most colorful activities during the 9th Annual Hummingbird Festival sponsored by the Southeast Alaska Discovery Center was the hummingbird feeders' contest. Many beautiful and innovative feeders were entered in Saturday's contest by both children and adults and on display for the enjoyment of festival participants.
Festival events also included guided bird hikes, art shows, and a bird-banding station. The Festival took place April 16th-18th.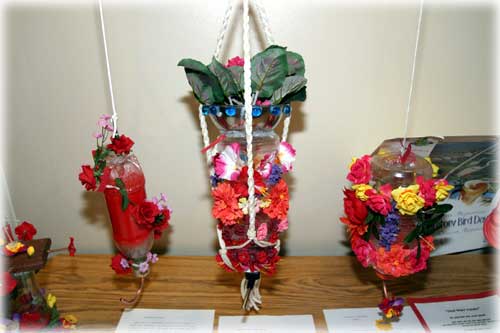 The First Place Overall winning hummingbird feeder is pictured in the center. This beautiful feeder was designed by Shyanne Singstad, age 10. Singstad won a Taquan flight seeing tour for two.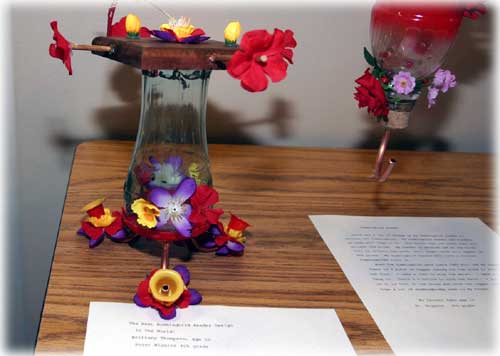 Brittany Thompson, age 10, won Second Place in the 10-13 year-old category with this attractive feeder design (left). Thompson won an Alaska Rainforest Sanctuary at Herring Cove guided tour for two.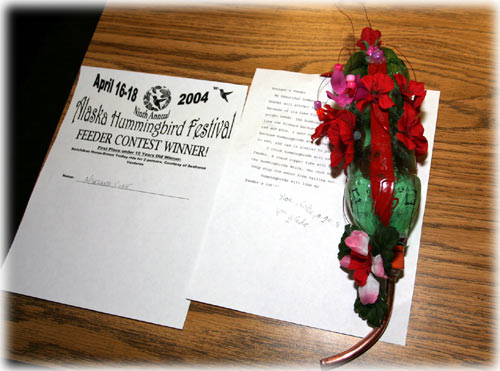 Noelani Coke won First Place in the under 10 category with this delightful design. Coke won rides for two on the Ketchikan Horse-Drawn Trolly Tours.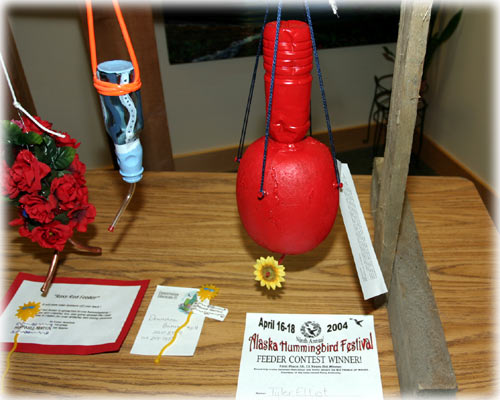 Tyler Elliot won First Place in the 10-13 year-old category . Elliot's feeder (pictured on the right) netted the prize of a round trip on the M/V Prince of Wales from Ketchikan to Prince of Wales.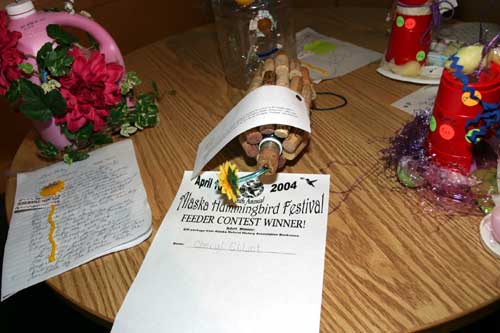 Cheryl Elliot's hummingbird feeder design (center feeder) won First Place in the adult category. Elliot won a gift package from the Alaska Natural History Association Bookstore.
Carl Thompson ©2004
Carl's Alaska Photos Web Site
Send your photos for publication to photos@sitnews.org
E-mail Dick Kauffman: editor@sitnews.org
Post a Comment View Comments
Submit an Opinion - Letter
Sitnews
Stories In The News
Ketchikan, Alaska