Alaska's March Unemployment Declines

April 19, 2004
Monday


Ketchikan, AK - Alaska's wage and salary jobs increased by 3,300 jobs in March and the unemployment rate fell from 8.9 percent to 7.8 percent. In Ketchikan, the unemployment rate fell from 11.4 percent to 9.2 percent. The numbers reflect expected seasonal

movements as the state begins building toward its peak employment months of July and August.

The comparable national unemployment rate (not seasonally adjusted) was unchanged at 6.0 percent. Dan Robinson, an economist with the Department of Labor and Workforce Development, reported the numbers.

All of the state's six economic regions recorded lower unemployment rates in March, with the biggest drops coming in the Gulf Coast and Southeast regions. Anchorage, Fairbanks and Juneau all continued to record unemployment rates below the statewide number. Anchorage's rate of 5.4 percent in March was more that two percentage points below the 7.8 percent statewide rate. Juneau's rate of 6.4 percent in March was more that one percentage point below the 7.8 percent statewide rate.

Ketchikan's unemployment for March of 9.2 percent was higher than the state unemployment rate for March of 7.8 percent. Ketchikan reported a labor force of 6,922 in March and 7,033 in February. The number unemployed in March was reported as 636 and 802 in February.

Statewide, the March increase in wage and salary was scattered across nearly all industries. Alaska has added 3,900 jobs over the year, a growth rate of 1.4 percent. The biggest increase has been in health care and social services where 1,700 new jobs with the biggest percentage gains coming from clothing stores and building materials and supplies stores. Employment in financial activities has increased by 700 jobs and the construction industry has added 600 jobs over the year.

According to Robinson, although government employment saw a seasonal increase of about 800 jobs in March, total government employment is down 100 from March 2003. State government jobs have decreased by about 200 over the year, and employment in local elementary and secondary schools has fallen by about 100 jobs. Federal employment has increased by about 100 over the same period.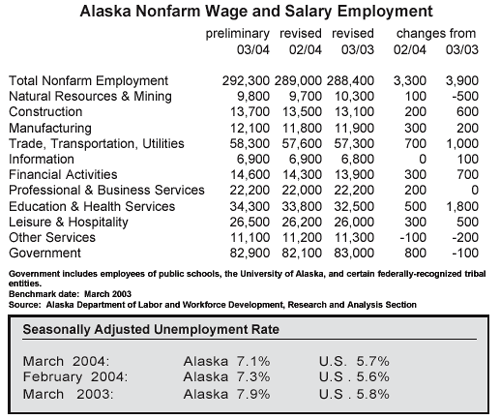 Source of Labor Report & Charts:
Alaska Department of Labor & Workforce Development
Web Site


E-mail your news & photos to editor@sitnews.org


Post a Comment View Comments
Submit an Opinion - Letter

Sitnews
Stories In The News
Ketchikan, Alaska