Governor Urges Legislative Action on Fiscal Problem

Endorses Constitutional Protection for Dividend & Education
April 15, 2004
Thursday

Juneau, AK - Alaska Governor Frank Murkowski announced Wednesday that he would support a resolution to the state's fiscal problem that protects the Permanent Fund dividend and education funding in the Constitution. The Governor said he supports the concepts that are contained in HJR47, being heard in the House Finance committee Wednesday.
"I appreciate the work the Legislature has done to date on facing this difficult issue," Murkowski said. "Good progress is being made in both the House and the Senate. We also recognize the session ends in less than a month, and so the pressure is on to get to a solution.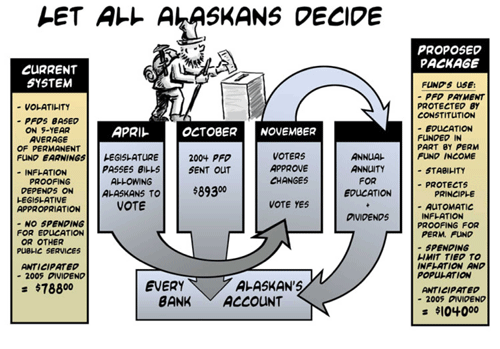 "I would particularly commend the House for the work it is doing to come up with a package. Bills that reflect the variations of the Percent of Market Value approach are being heard in the House Finance committee today. And HJR26, which is the original POMV concept, is scheduled for consideration on the House floor next week. I support what the House is doing, and will support its efforts to obtain a package."
The provisions of HJR47, which have also been put forward by Senate President Gene Therriault, include a mechanism to limit spending to no more than 5 percent of the Permanent Fund's value. It also puts into the Constitution specifically what the income can be used for ­ dividends and public education." And HJR47 maintains the Permanent Fund's future purchasing power through an automatic inflation-proofing mechanism.
"I believe HJR 47 addresses the recommendations of the Conference of Alaskans in a realistic approach," Murkowski said. "Together with a spending limit, also being debated in the House and Senate, this resolution provides a package that the Legislature should be proud to take to the voters of Alaska in November. I believe this is a fiscal plan that would be acceptable to the voters, and reflects their desire to find a fiscal solution, as they have expressed in recent polls.
"It is my intention to speak to individual legislators about this plan. I appreciate the creativity of the House and Senate and the efforts they have made to date in crafting a package. If, through their process, they come up with a better approach, I will support it."

Source of News & Graphic:
Office of the Governor
Web Site

E-mail your news & photos to editor@sitnews.org


Post a Comment View Comments
Submit an Opinion - Letter

Sitnews
Stories In The News
Ketchikan, Alaska